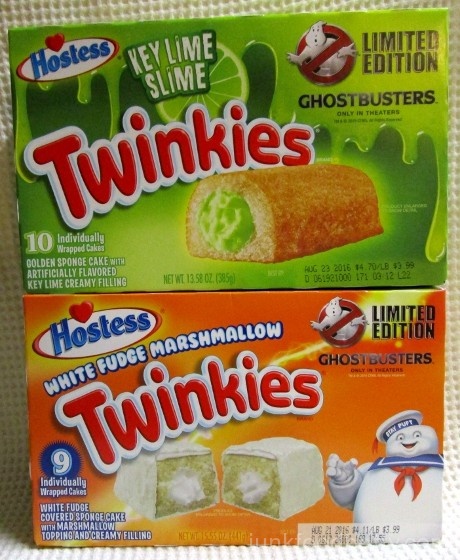 Here we go, folks – not one, but TWO different Ghostbusters-themed Twinkies! It's not what the world asked for, but it's definitely what the world needs.
It feels like this is a thing that should have happened back in 1984, when the first Ghostbusters movie came out. The reason? This.
In case you can't click that or you've never seen the original movie because you lived in a cave or you're under 30 (and still living in a cave), Egon (the scientist nerd) uses a Twinkie as an analogy to let the rest of the Ghostbusters know how fucked they were by the amount of PKE (psychokinetic energy, DUH) in the city. He says that it would be like if the Twinkie he was holding was 35 feet long and 600 pounds.
To which Winston says "that's a big Twinkie", which I'm sure was repeated about 6,000 times around the water cooler the week after the movie came out, because nobody laughs harder than when your "joke" consists of regurgitating a line from a movie you just saw.
If the Internet had widely existed in 1984, I can't believe Hostess wouldn't have teamed up with the movie to get these Twinkies out there. But alas, 1984 was a simpler time. A time less crammed with weird promotional products.
It's not like those things didn't exist before the ol' web – take your brain on a quick nostalgia trip and I'm sure you'll remember Nintendo-themed cereal and the infamous Teenage Mutant Ninja Turtles Vanilla Puddin' Pies – but back then, bizarre food was aimed at kids. Now it's aimed at all of us.
And I love it, of course.
Key Lime Slime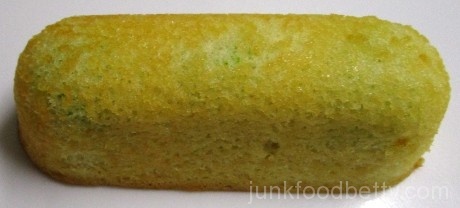 This had to be the easiest marketing meeting ever for Hostess. "When people think of Ghostbusters, they think of slime…what flavor rhymes with slime…C'MON PEOPLE, PUT YOUR THINKING CAPS ON!"
I love that you can see the green filling glowing ghoulishly through the Twinkie sponge cake. It's like a subtle warning sign saying, "don't open this ghost trap!"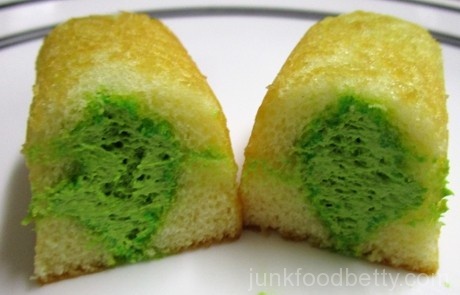 In a fun twist, the Key Lime filling inside the Twinkie looks more neon and more like slime than the filling pictured on the package. The package looks sort of like the Twinkie is extruding Play-Doh; the real thing looks like a malevolent force crawling out of the snack cake.
The lime flavor of the cream is actually pretty mild, which was a nice surprise. It didn't taste like a lime Skittle (RIP) was morphed into cream filling. That would have been jarring. It doesn't taste exactly like a key lime pie, but there was a nice balance of lime and creamy vanilla.
I didn't think I'd like Key Lime Slime Twinkies at all, minus the fact that they were slime-themed Twinkies. But the fact that they kept the lime toned down and mixed it with creamier flavors made it pleasantly snackable.
White Fudge Marshmallow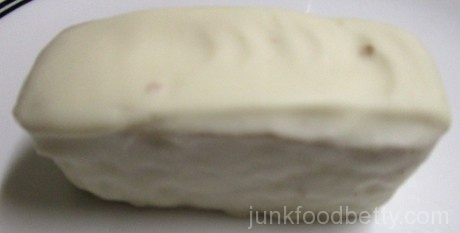 Here we have Amorphous White Blob, an out-of-focus picture of something that could be anything.
Sadly, this is a perfectly fine picture, but the amorphous part stands. White Fudge Marshmallow Twinkie isn't winning any beauty pageants. But isn't it what's on the inside that counts?
This Ghostbusters Twinkie has a somewhat less straightforward description than Key Lime Slime: "White Fudge Covered Sponge Cake with Marshmallow Topping and Creamy Filling". But wait, why isn't the filling marshmallow-flavored? How is it topped with marshmallow but also covered with white fudge?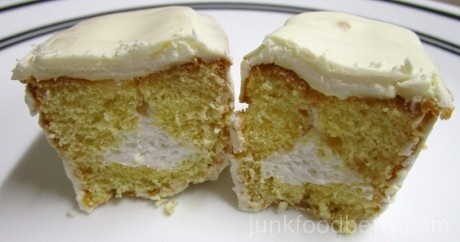 Sure, the inside of White Fudge Marshmallow looks less threatening than Key Lime Slime, but there are surprises hidden in these white layers. If you look closely on top of the sponge cake, that's not just an extra-thick layer of fudge – in between the white chocolate and the cake, there's actually a layer of marshmallow!
Yes, that's where the marshmallow is hiding. It's like a super-thin Peep, or maybe a coconut-less Snoball (I don't like coconut so I haven't had one of those in ages).
This is a pretty inventive use of marshmallow, but that doesn't mean it was good. It completely lacked the flavor of marshmallow, instead serving as a chewy, stretchy layer that threatened to tear apart the Twinkie from its white fudge covering, which was quickly melting between my fingers, creating a sticky mess.
Speaking of that white fudge, it completely dominated all the rest of the Twinkie flavors with it's intense sweetness. If you enjoy the taste of regular Twinkie filling, you'll never taste it here – it's just sweet white fudge all the way down. Again, couldn't they have made the filling marshmallow-flavored?
To me, the White Fudge Marshmallow Twinkie had a weird texture and was a sugar overload, but points for creativity and for giving the Stay Puft Marshmallow man a substantial amount of real estate on the front of the box.
I'm so happy that there are not one, but two limited edition Ghostbusters Twinkies. Key Lime Slime was a slam dunk idea with a surprisingly decent taste, but White Fudge Marshmallow was a step outside the box – plus it was a perfect homage to our friend Stay Puft. Flawed in flavor, but I could feel the heart was there. My hat's off to you, Hostess.
Hostess Key Lime Slime Twinkies and White Fudge Marshmallow Twinkies Limited Edition Ghostbusters
Score(Key Lime Slime): 3.5 out of 5 obviously-absent Slimers
Score (White Fudge Marshmallow): 2 out of 5 hooray-inducing present Stay Puft Marshmallow Men
Price: $2.50 (each)
Size: 10 Twinkies (Key Lime Slime); 9 Twinkies (White Fudge Marshmallow)
Purchased at: Walmart
Nutritional Quirk: Honestly, nothing. It's all just sugar and unpronounceable ingredients. At the end of the day, they are still Twinkies.