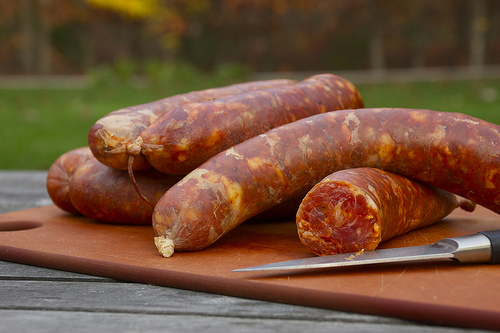 Just can't get enough sausage? Are you insatiable when it comes to long, thick tubes of meat? Well, Papa John's has what you need with their new Five Sausage Pizza. That's right, I said five sausages. Can you handle that much sausage in your mouth?
Let's run them all down: it starts with just "sausage", which is obviously pedestrian, but then moves on to both mild and spicy Italian sausage. Whew, it's getting a little warm in here! But we're not done yet. There's also smoked sausage, which, as everyone knows, is the most sultry of all the sausages.
Most interesting to me, however, is the last sausage – chorizo! Chorizo is typically a spicy, crumbly sausage, for those of you not living close to our friends south of the border who may be unfamiliar with it. I live in the southwest, and I've never seen chorizo available as a pizza topping, even from local joints that have some pretty exotic topping choices.
You can currently get all five of Papa John's sausages in your mouth on a large pizza for the promotional price of $9.99.
Source: Papa John's