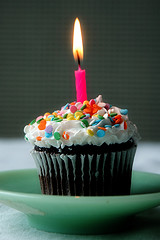 Yep, today marks four years of inconsistent and sometimes infrequent posts on Junk Food Betty! Four years of disappointment, unexpected deliciousness, absolute disgust, crazy gimmicks, and rants about everything from chipotle to use of the word EXXXTREME to things that should not be meat-flavored.
Oh, and puns. So many puns.
I hope you've all enjoyed reading JFB as much as I enjoy writing it. Sometimes I get frustrated with writer's block, but sometimes I manage to fart out a turn of phrase that I can't help but be proud of. Most of all, I love the idea of making just one reader smile, all while delivering subjective information and delving deep into the world of crazy food and marketing tactics.
Here's to another year of writing about the new, the weird, and the "what the hell?" I'll follow them down the rabbit hole so you don't have to.