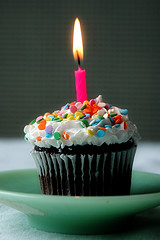 Today marks Junk Food Betty's 5th Birthday!
I'd rather be posting a review than a birthday announcement, but this is a good time to apologize for my lack of posts recently. I recently moved, which is obviously chaotic, and threw off my already inconsistent rhythm.
That said, I want to thank all of my loyal readers and let you know that there are reviews to come! Five years is a pretty long time in Internet years, but I'm glad to be sticking with it, and as always, am grateful to everyone who has found me one way or another.
Here's to another year of crazy junk foods and some more guffaws!