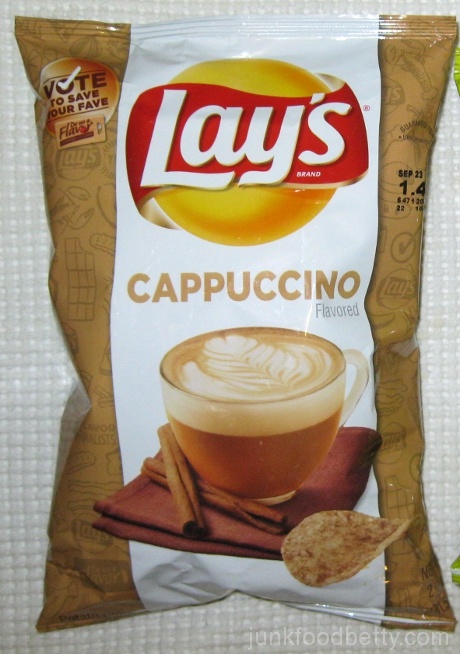 Lay's is at it again with another "Do Us a Flavor" contest. The first one garnered a lot of attention, and the winner wound up being Cheesy Garlic Bread, which was surely better than Chicken & Waffles, but more boring than Sriracha, although those didn't even taste like- you know what, not going to get into that again.
Here's the thing, though – after the contest was over, they continued to sell all three of the flavors in stores. I feel like Lay's betrayed us. How can I trust them again after that? What's the point of a contest if all the flavors are just going to wind up on the shelves anyways?
Well, regardless, I feel it is my duty to cover this round of flavor finalists. This time there are four instead of three. I shall be covering all four, and I figured I shouldn't bury the lead. So here we go, with cappuccino-flavored potato chips.
Cappuccino is, of course, is the crazywacky entry for Do Us a Flavor. There's one in every batch. It's the flavor that will never win, but that everyone will talk about for the weirdness factor.
I predict this will be the worst flavor, which is kind of like predicting the sky will be blue tomorrow morning. I bet it will also get a ton of votes, because people on the Internet are ridiculous, but I'm also sure this whole voting thing is rigged, so it doesn't matter. Again: the Internet.
While we don't get pictures or quotes on the bags this time, we get even more detail this year on the voting website.
Meet Chad Scott, a visiting lecturer at the University of Nevada, Las Vegas. Now you know exactly where to send your angry letters after eating his chips. What does he lecture on? I have no idea, but "creating awful chip flavors" seems the most obvious guess.
He apparently submitted this flavor because "cappuccino is his lifeblood". I hope tasting his own chip creation does not turn him off of his lifeblood forever, because then he will die.
Each flavor finalist has a "fun fact", and Chad's is that he didn't like his name as a youth so he introduced himself as Corey. This is more weird than fun, and raises many questions. Why Corey? Where did Corey come from? Was Corey more charismatic than Chad? Would Corey have taken a life path divergent from Chad, one that led him away from thinking cappuccino-flavored potato chips was a good idea? Maybe I should write a letter.
Okay, time to get to the chips. I guess. Do I have to, mom?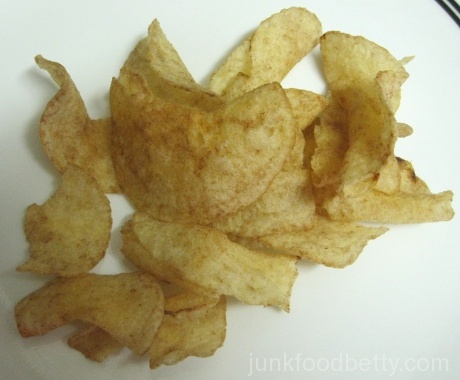 Upon opening the bag, all I could smell was that familiar Lay's potato chip odor. But I was not fooled. The flavor dust looked exactly as you'd expect – a brown, speckled dusting that spoke of things to come.
I'm a little confused as to whether or not I should praise Lay's for this next statement. Cappuccino Potato Chips tasted exactly as they're supposed to. It's so ridiculously easy to describe: take a bag of regular Lay's, sprinkle in one of those high-end instant coffees (something like Starbucks VIA comes to mind), and you've got these chips.
What makes this especially detrimental is that this isn't straight coffee, so more than the flavor of that caffeinated beverage, you get prominent notes of milk and sickly sweet vanilla. These are not things that you want to taste on your salty potato chip.
So Lay's nailed the flavor, but, as we've seen in the past, this is not always a good thing. Cappuccino is a great example of that. While they weren't so bad that they made me gag, they were disgustingly sweet and I threw them away as soon as I'd nailed down the flavor profile, which was quickly.
Oh, by the way, Lay's wants you to know very firmly that these potato chips do not contain caffeine. That's a shame, because that would have been the only redeeming quality about these chips. Unless vanilla-milk-coffee-flavored chips are your thing. Which they shouldn't be.

Lay's Do Us a Flavor Finalist: Cappuccino Potato Chips

Score: 1 out of 5 mysterious visiting lectures
Price: $1.49
Size: 2 7/8 oz. bag
Purchased at: 7-Eleven #21821
Nutritional Quirk: No caffeine. Lame.