When Sonic contacted me with the offer (challenge?) to take their Boneless Wings Taste Test, I was all about it. It's a ballsy move, asking a food reviewer to compare their food side-by-side with another restaurant's.
I was given the option to compare their new boneless wings to their equivalent at either Wingstop or Buffalo Wild Wings. I chose the former, only because it was closer. I've also never eaten at either of these establishments, nor have I tried Sonic's Boneless Wings yet, so it's gonna be fun and new!

Many chickens have given their boneless wings for this endeavor.

Of course, when a restaurant offers to sponsor your taste test, they include criteria. In this case, lots of criteria. So much so that I decided to take their criteria pretty much verbatim in this review. Things are gonna get technical up in this piece!
Let's start with convenience.
Was the restaurant nearby?
Sonic wins this one, as my closest one is 0.7 miles away, and the closest Wingstop is 2.4 miles. Not exactly a harrowing journey across state lines, but hey.
How long did it take you to receive your wing order?
Wingstop allows you to order ahead online, and I was able to go in, grab my wings and leave in under two minutes. On the other hand, I did have to leave my car, which is a big minus in my eyes.
Sonic took a full 13 minutes from finishing my order (which took three tries; I'm not sure where the communication broke down over three orders of wings) to the end of transaction. That is not the fastest of food.
Were the wings still hot when you took your first bite?
Sonic's wings weren't steaming hot, but they were pleasantly warm when I ate them. My Wingstop wings were lukewarm at best, which surprised me, because they were wrapped inside a styrofoam container and placed inside a paper bag.
Did you make a big mess while eating the wings, or was it a relatively effortless and clean process?
This strikes me as a silly question. They're wings! They're messy! That said, Wingstop's Original Hot were actually not very messy at all. Their Teriyaki and Hickory Smoked BBQ were a little bit saucier, but not swimming in it.
Sonic's wings are "tossed and sauced", and it showed. However, they also came with forks and napkins, which I would have appreciated had I been eating these in public. I like to keep it clean when other people are around.
Next, let's go with value.
How was the serving size of the wings? How full were you after eating the wings
Sitting here with well over a dozen wings in front of me, it's hard to answer this question with a straight face. However, Wingstop's wings come in a minimum of ten pieces, which is an ample amount for one person. More than ample, really. Sonic's smallest order is six pieces, which is just right for one person.
Could you make a meal of these wings with a side and a drink?
Both Sonic and Wingstop's wing portions could easily have made a complete meal.
How was the price of these wings compared to the competition?
Broken down, Sonic's wings cost $0.67 each, whereas Wingstop's cost $0.60. However, their website advertises this as a "special", so I don't know if that's their normal price or not.
Sauce! Obviously an important part of the wing experience.
Does the sauce flavor live up to what you expected?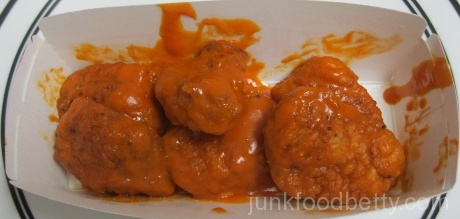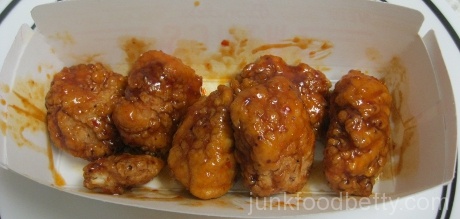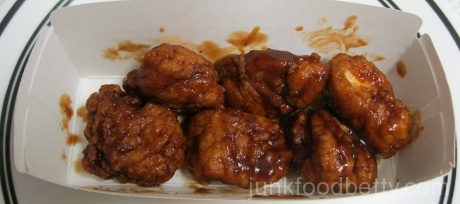 Sonic's Buffalo was a very straightforward buffalo sauce, having that signature Frank's Red Hot flavor (not sure if that's what they used, but it tasted very similar) with a little heat to it. So it did meet expectations. I had some trepidations about their Asian Sweet Chili, but I liked that the sweetness wasn't overpowering, and they had a nice little kick. The Barbecue wings had a very mild but recognizable bbq sauce taste. So I would say they lived up to my expectations.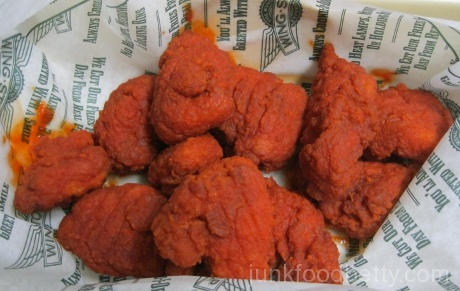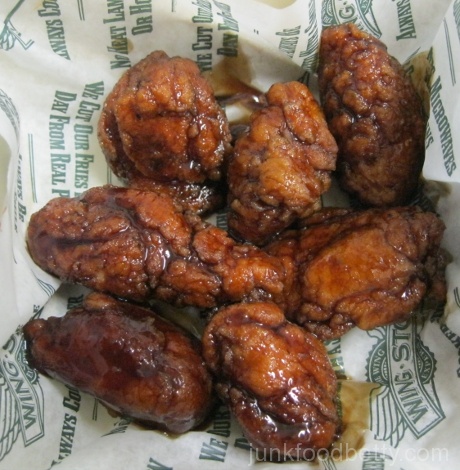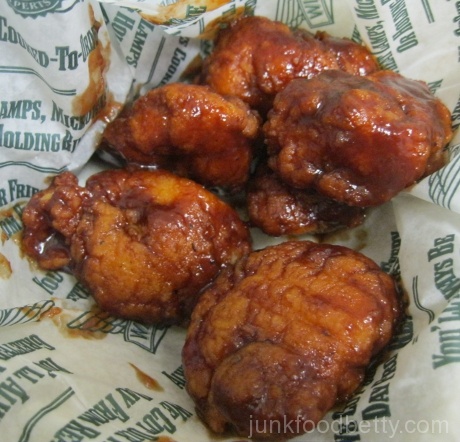 Wingstop's Original Hot had an authentic buffalo flavor with a definite spicy kick. While not very saucy, the flavor was there. It had a different flavor than Frank's, but was definitely flavorful. Their Teriyaki was tastier than I expected, having what I can only call the essence of umami. However, the sauce was so salty. It was like a reduced soy sauce. The Hickory Smoked BBQ totally surprised me – it was not too sweet and had a really nice BBQ flavor that didn't taste like it was straight from a bottle (although I'm sure it was). It also had a good smoky flavor to it. In this arena, I'd say Wingstop actually exceeded my expectations.
Is this sauce flavor unique or different?
Wingstop's Original Hot wasn't really unique, but when I'm looking for a good wing, all I'm looking for is a good buffalo flavor with some heat. Teriyaki was a new wing flavor for me, so I did find it different, but just too salty to eat a whole serving. Hickory Smoked BBQ isn't exactly a unique wing flavor either, but I did enjoy it.
Unfortunately, all three of Sonic's sauce flavors were pretty typical. That doesn't mean they were necessarily bad, just…expected.
Would you order this wing flavor again?
Sonic: Buffalo – yes, because I'm a sucker for buffalo. Asian Sweet Chili – no, because while the flavor was just fine, it's just not my thing when it comes to wings. Barbecue – no, it was just too typical.
Wingstop: Original Hot – yeah, I like a good buffalo wing. Teriyaki – no, far too salty. Hickory Smoked BBQ – maybe, but I'll pick buffalo over BBQ when it comes to wings, at least from a big name restaurant.
Quality: Kind of the point, right? Oh, they mean the quality of the chicken. Well, that's also important.
How much meat is in each wing?
Wingstop's wings ranged anywhere from nugget to almost bone-in wing size. I'm not exactly sure how to measure the amount of meat, but it was, uh, good? Sonic's boneless wings measured about the same, maybe a teensy bit smaller, so also good?
What is the quality of the chicken?
Sonic claims they have all-white breast meat, and that seemed to be true. It definitely had that real chicken quality and not the mushed-up weirdness of nuggets. Wingstop has the exact same claim on their website, and they also didn't have any fakeness in their wings.
How is the wing cooked? How is the texture?
The breading on Wingstop's wings was nice and crunchy, but I have to say, the meat was a little dry. On the other hand, I found Sonic's chicken to be juicier. Their breading was soggy in places, but this was probably due to the extra sauce on Sonic's wings.
Overall taste. Now we're getting down to it.
Lordy, haven't we covered this ad nauseum at this point?
Did you want to take another bite?
I did! Up until I'd eaten like, a million of them. Then I did not.
Would you recommend these wings to a friend?
Honestly, no, and I mean that in regards to both Sonic and Wingstop. Hey, guys, it's nothing personal – in regards to Sonic, I just think they have better menu items on which to spend your money. As for Wingstop, it's just that I know better places locally, so I'd wind up directing my friends in that direction.
And, finally, Sonic wanted to know my overall impression of the wings.
Well, Sonic, I have to say, I've never deconstructed chicken quite this thoroughly before. I think both had their highs and lows – I liked the crunchiness of Wingstop's boneless wings better, but Sonic's were juicier. Sonic's sauce flavors were more pedestrian, but there was more of it, and Wingstop's Teriyaki, while interesting, was just too salty.
And thus concludes the Sonic vs. Wingstop Boneless Wings Taste Test. I can't say there was a clear winner, but what I can say is that I have never eaten so many boneless wings at one time. Guys I am so full.