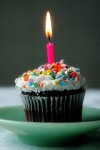 Today is Junk Food Betty's 6th birthday! I never thought I'd make it this far, but then again, I think that every year.
Once again, I want to thank loyal readers, newcomers, browsers, and those who leave comments for reading all my silly words (but probably just looking at the pictures).
Here's to another year of crazy food! Cheers!