Whataburger's A.1. Thick & Hearty Burger has been an off-and-on limited edition menu item for at least a few years now. I'm not sure why they feel the need to compulsively add it to the lineup, take it away after a few months, and then bring it back around a year later, but I suppose Whataburger can do whatever Whataburger wants. Maybe it drums up excitement and anticipation in the burger community. I don't know. I didn't go to burger college.
Whatever the reason, it's moot now, as Whataburger has decided to do away with it forever. As you can see in the banner above, as of December 21, 2009, the A.1. Thick & Hearty Burger will no longer exist to satisfy your meaty cravings. I have had several of them over the years, and wouldn't usually do a review on something that has become fairly commonplace to me, but I feel I owe it to the T&H to give it a proper send-off and immortalize it on the Internet.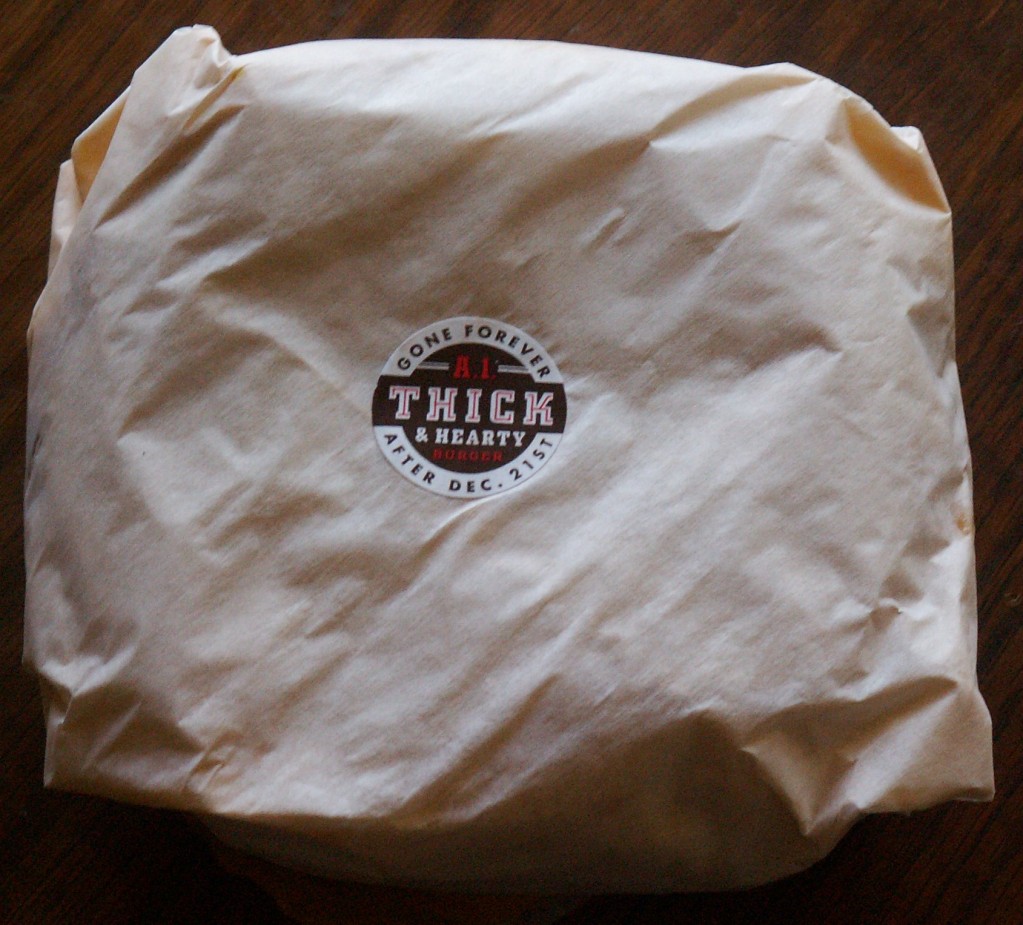 For those of you who don't live in the ten select states in the southern part of the United States that have Whataburgers, Whataburger is like a higher-end fast food burger joint. Sort of like In-n-Out, but with a more expanded menu. You can walk in or drive thru, but either way, your wait is going to be longer than it would be at a place like Burger King or McDonald's, and the food is going to be a little more expensive. Conversely, the food will be of higher quality. If you want to see what you're missing, you can take a gander  here.
Whataburger wants to make sure that you know you should be seriously mourning the passing of the A.1. Thick & Hearty Burger. We're talking weeping, pulling hair, rending clothes. There's a commercial out now that shows a man standing in front of a Whataburger counter; once he catches a glimpse of the "Gone Forever" announcement on the menu above the cashier's head, he goes through the seven stages of grief, throwing his body on the counter, shaking his head, and generally acting like that homeless guy who gets a free cup of coffee at McDonald's so he'll go away and stop making the other customers uncomfortable.
Whataburger wants to make sure that you do not end up becoming that homeless man due to going mentally insane from grief and despair, so they've set up a website where you can "let the healing begin". You can view other people's fond memories of the burger, support a friend, find some coping tips, or sign a virtual card bidding farewell to what is apparently supposed to be a close friend of yours. A hamburger. Listen, I'm not here to judge, if your best friend is a hamburger from a fast food joint, then that's your business. Whatever floats your boat. Some of my best friends are hamburgers. I'm just saying.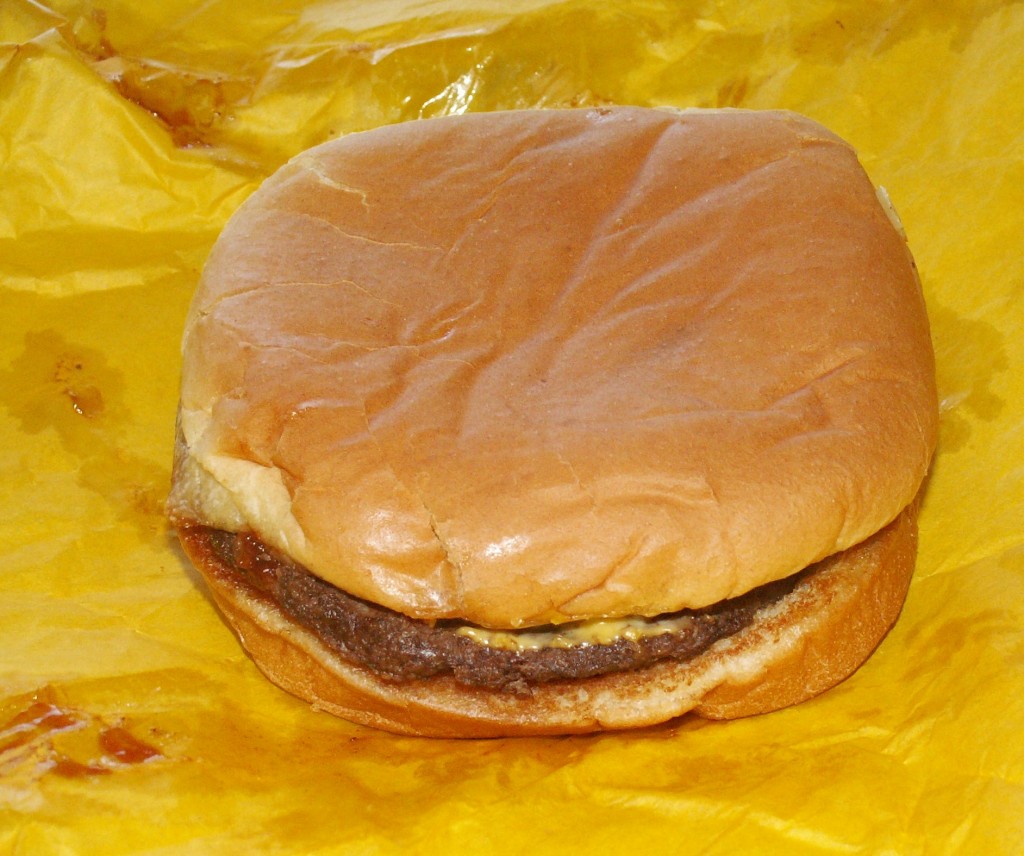 To be honest with you, I am sad to see it go. It is a pretty darn delicious burger. There's two generously sized beef patties, not suffering from the anemia of other fast food burger patties; when you bit into it, you feel like you're getting a real, juicy, meaty burger, instead of that familiar feeling of "I'm not exactly sure if this is made out of beef, but I guess I'll eat it anyways." The bun is a little flatter and denser than most other burgers, but it tastes fine (I mean really, how much can you say about a damn bun), and the denseness makes you feel like you're holding a substantial sandwich. The cheese is strategically placed between the patties, so it oozes out as you take a bite. However, the real stars of the show, what sets it apart from a regular burger, are on top.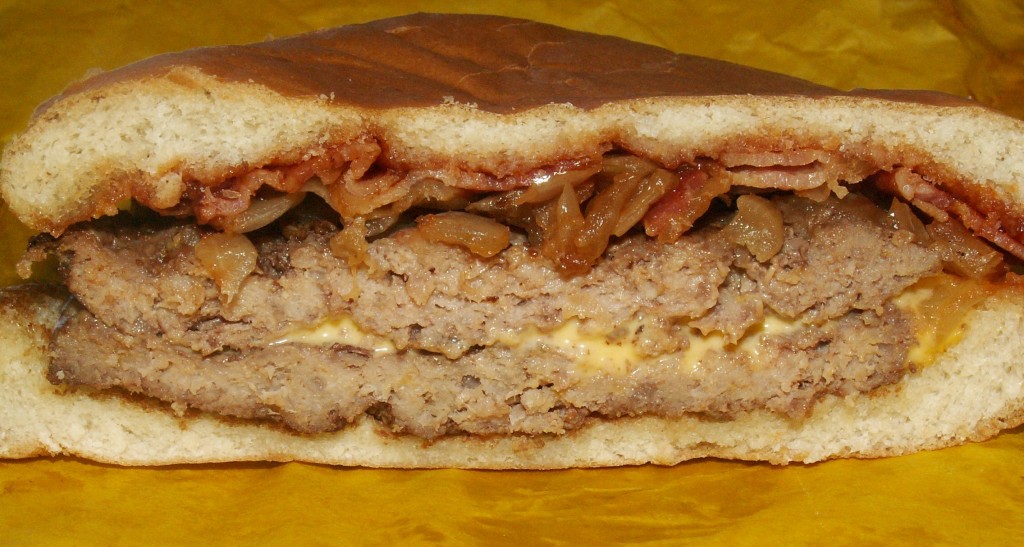 A.1. Thick & Hearty Steak Sauce is slathered on the top bun. It differs from the original A.1. Steak sauce in that it is both thicker and heartier, a shocking discovery, given the name of the product. It's also a little sweeter and smokier than the original, more in the vein of barbecue sauce than steak sauce, with less of a vinegar taste. The bacon is a bit limp, an epidemic trait amongst fast food bacon, but it's still a little crisper and more flavorful than you'd find on other fast food burgers that employ bacon.
While the A.1. sauce is obviously supposed to be the star of the show, what I was really surprised by was how much the onions turn this burger up a notch.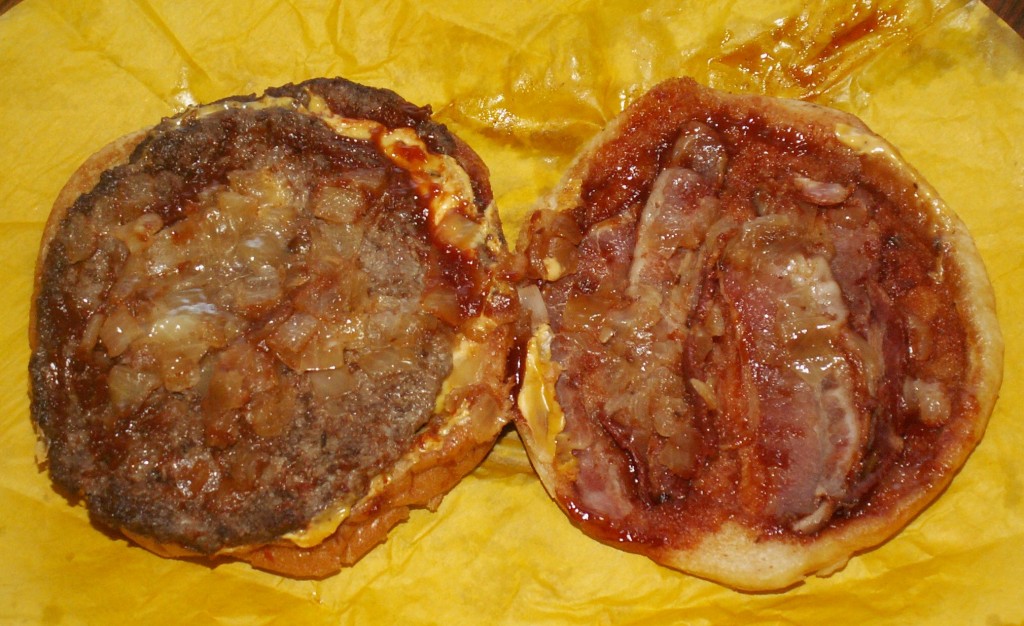 Seemingly innocuous in their bath of sauce, you would expect these little chopped onions to be spongy and flavorless. Instead, they add a welcomed bright note to the burger, giving it a great crunch and mild but definitely present onion flavor that ties together the meatiness of the beef and the smokiness of the sauce.
While not the greatest burger of all time, the Whataburger A.1. Thick & Hearty Burger is a step above your ordinary bacon cheeseburger, and if you're lucky enough to live in one of the ten states that have a Whataburger, I'd recommend that you get out there and try one before they disappear forever on December 21st. Sure, you could make a close facsimile at home with ease, but if you're on the road and looking for a shitty burger to satisfy your protein cravings, the Thick & Hearty burger is a tasty and unique option that will leave your belly and your taste buds satisfied.
Score: 4 out of 5 overly dramatic send-offs
Price: $5.09
Size: 1 1/2 lb. hamburger
Purchased at: Whataburger #421
Nutritional Quirks: Contains 120% of your daily recommended saturated fat intake; also contains "bun oil".