The simplest explanation of the second law of thermodynamics describes the fact that heat, of its own volition, always flows into cold. This tendency has been observed and expanded over the years by science, leading to a much more profound truth: nature tends toward higher levels of uniformity, or entropy. Simply put, the Universe is constantly striving for mediocrity.
This brings me to José Olé Chicken & Cheddar Empanadas.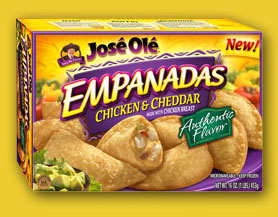 Packaging: Right out of the gate, José Olé starts writing checks his empanadas can't cash, and it all begins with the ingredient list. There are a total of 87 ingredients in the list, which sprawls across one side of the box like a mural of the periodic table of elements, and I'm beginning to doubt the bold claim of "Authentic Flavor" emblazoned on the front. This feeling of grave concern was immediately compounded by the appearance of American Process Cheese Product nestled among the assorted dubious quackery and unrequested (but ultimately insightful) diarrhea treatments.
The reflex reaction of any sane man would be to immediately set fire to the entire grocer's freezer containing José Olé Chicken & Cheddar Empanadas, as an act of simultaneous protest and purification. However, there were two mitigating factors that resulted in another evening spent comfortably at home, rather than enjoying the austere hospitality of the Maricopa County criminal justice system. First, the proprietors of Junk Food Betty are not what you'd call "together", in the psychological sense. Second, there is an inviting visage smiling warmly from the box.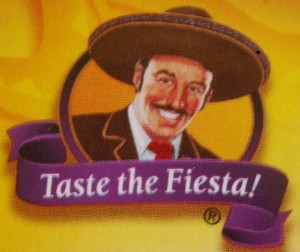 I can only assume that this handsome, distinguished gentleman is the eponymous Señor Olé, beaming powerful waves of avuncular sincerity directly to my father-figure cortex. Here, I thought to myself, is a man who is to be trusted and respected. Here is a man who will deliver Authentic Flavor at a reasonable price, because he is a man of strong moral integrity. From under the soaring brim of his majestic hat, he commands one to "Taste the Fiesta!" Very well, José Olé, you pillar of convenient ethnic cuisine, I will taste your fiesta.
Preparation: There are three proffered preparation procedures present on the package. I chose the mean method in terms of labor – baking – though the paths of microwaving and pan-frying are also available to the discriminating consumer (who, incidentally, will not be purchasing José Olé Chicken & Cheddar Empanadas). After twenty minutes in a preheated 375 °F oven, I was ready to open my mouth and my heart to receive La Fiesta. I was feeling optimistic because, unlike other pre-fried products that bake, I did not have to flip the empanadas halfway through cooking. This is because José Olé knows what a hassle it is to heave my decaying corpus off the couch twice in twenty minutes.
Dining Experience: I can only assume it's due to the highly ferrous nature of the product, but José Olé Chicken & Cheddar Empanadas manage to maintain a steady 10,000 °F internal temperature for like twenty goddamned minutes. It's as if the act of heating them ignited a self-sustaining fusion reaction deep within their chickeny cores.
Once the product had cooled, and been sifted out of the smoking rubble of my once-palatial residence, I noted with appreciation that the empanadas looked, on the outside, strikingly identical to those depicted in the packaging. With trembling hands and a grumbling stomach, I bisected the golden brown pastry and peered into the transcendent face of Authentic Flavor: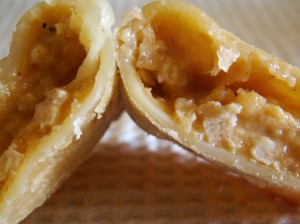 You wound me, José Olé.
Elevated to astronomical heights of ecstatic anticipation, the first bite flooded my mouth with a blandness almost intimidating in its aggression. The experience was something like eating a tight bundle of Kraft Singles deep-fried in a wonton wrapper. The aftertaste of the product creates a wave of salty regret. I continued to eat, desperately chasing the fleeting dream of La Fiesta.
To be honest, there are moments when the empanada isn't offensive. Here and there, you'll experience a bite where the chicken and chilis do come through. Unfortunately, this is interspersed with intervals of American Process Cheese Product Purgatory, and long, harrowing moments of introspection. The final result is a confusing, bitter dining experience, which wasn't made any better by the laughing mug of José Olé staring me down with a mirth I now understand to be the savage joy of the betrayer.
On the bright side, I was reasonably full after the whole ordeal was over. The empanadas are filling enough that you won't be hungry for the hours-long bout of ennui that follows eating them. Furthermore, none of the 87 ingredients were immediately lethal. Overall, however, oral consumption of José Olé Chicken & Cheddar Empanadas is tantamount to yelling "fuck you, mouth!" and then punching yourself in the teeth with a salt lick.
Score: Dos sándwiches de carne de vacuno infeliz.
Price: $6.39, $5.59 on sale
Size: 1 lb.
Purchased at: Albertson's #980
Nutritional Quirks: 87 ingredients, some of which are magnetic