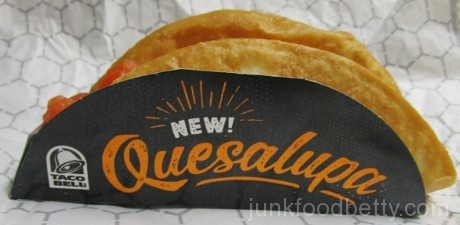 Taco Bell was all abuzz on Twitter last week, touting it had what could be the "Biggest Idea Ever" (shove it, electricity) and showing a bunch of maybe-celebrities holding a green brick, because nothing gets you excited for Taco Bell like a fake greenscreened brick. And Mario Lopez. I saw him in there somewhere.
So excited was Taco Bell about this new product that they wouldn't talk about their new product. Instead, they enticed Twitter followers to pre-order this Holy Grail of fast food online, allowing them to receive the mystery item two days before the rest of the filthy serfs who weren't obsessed with greenscreen bricks.
I toyed with the idea of pre-ordering it, because I had to be honest with myself and realize that I am one of those people who would pre-order Taco Bell. But then I figured, eh, I can wait two days and avoid being That Guy. Plus, I was 99% sure what the new product was anyways.
And I was right! If you watched the Super Bowl, you saw that it was the Quesalupa, which TB describes as "A beautiful, chewy Chalupa shell on the outside, with delicious pepper jack cheese baked right inside the shell. Yes. Majestic, melty cheese stuffed inside the shell. A cheesy shell, filled with seasoned beef, lettuce, tomato, reduced fat sour cream, and you guessed it, even more cheese."
Beautiful and majestic. Two things I always associate with Taco Bell.
While I wasn't willing to pre-order, I did decide to try Taco Bell's online ordering, mostly because you can customize the shit out of your order without shame. Extra sauce and jalapeños on everything, please! (I ordered my Quesalupa as-is for the sake of this review.)
I could tell my local Taco Bell didn't get a lot of online orders because when I pulled up to the speaker I said that I placed my order online and the man immediately said, "Oh, Kelley?" I had apparently been the only person to order online in at least a few hours.
When I went up to the food-getting window, another guy came up and said, "Oh, is this the online order?" So, I guess online ordering isn't very popular in my area. But the transaction did go very smoothly.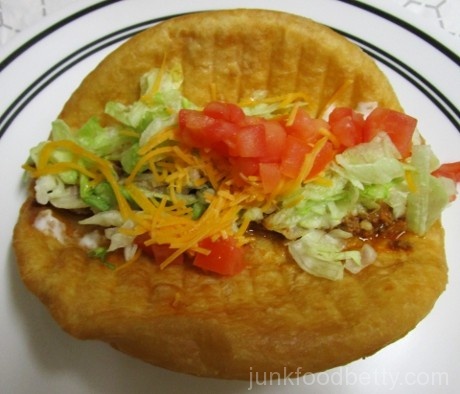 In case you've never had a Chalupa, the draw is the shell – it's fried flatbread, which puffs up and becomes chewy and crispy; almost flaky. So, yes, the Quesalupa is just a Chalupa with pepper jack cheese inside the shell.
Since the inside ingredients are exactly the same as a Chalupa (and many other Taco Bell items), I'm not really going to talk about them. They were sufficiently Taco Bell.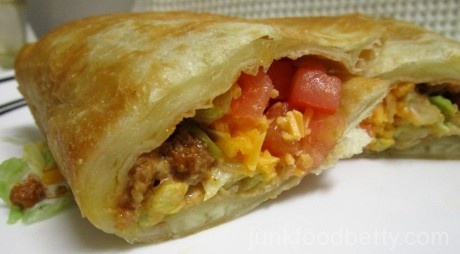 Right off the bat, I had beef with my Quesalupa. In every single advertisement, it shows people pulling their Quesalupa apart, with delicious-looking cheese stretching out between the two halves. I cut mine with a knife in order to take pictures, but I can assure you that at no point was there any stretching, even when I tried.
The issue, as far as I could tell, is that the cheese stuffed into the shell was just a big glomp near the bottom of the shell. Let it never be said that I don't like cheese, but it felt like it was just sitting there, being greasy and congealed. And definitely not stretching.
I guess the fundamental problem is that I wanted enough cheese in my Quesalupa to make it feel like a quesadilla/Chalupa combo, but that amount of cheese resulted in a fatty overload. It felt like a bogged-down Chalupa. And the pepper jack was very mild and didn't add much flavor.
I might be taking an unpopular stance here, but I kind of wish they'd stuffed the Chalupa shell with nacho cheese. Would that make it messy as fuck? Hell yes. But I feel like you could add more of it, and get more flavor, without having the clumpy, greasy effect.
Is Taco Bell's Quesalupa Bigger Than Everything (hashtag hashtag hashtag)? Hardly. In fact, while I was eating it I realized that I felt the Quesarito was a bigger success, and then I wanted a Quesarito instead.
Taco Bell Quesalupa

Score: 2 out of 5 green bricks
Price: $2.99
Size: 1 Quesalupa
Purchased at: Taco Bell #022951
Nutritional Quirk: One Quesalupa has 40% of your daily fat covered, and you'll feel it when you're eating it.