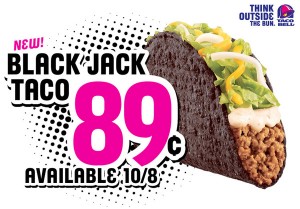 The Black Jack taco is ridiculous. I first heard about it the day before it came out, when Taco Bell started spamming the hell out of my Twitter feed, desperately trying to get me to try it. Well, you've won this round, Taco Bell, despite your terrible marketing slogan. "Black is the new black"? Seriously? That's the best you could come up with? I haven't seen the commercials yet, but I sure hope they come up with something that doesn't sound like an Access Hollywood segment teaser.
See, here's the thing: it is October, and you are releasing a black taco. October. Halloween time. Black taco. Is this setting off any alarms? All you had to do was take another taco shell, dye it orange instead of black, throw some nacho cheese on that motherfucker, and put a ghost on the wrapper. You would have made a friend for life – namely, me. You could have called it the Spooooky Taco Bell Halloween Combo, featuring the Nacho Nightmare and Jack O'Licious tacos. Why do I have to do everything for you, Taco Bell?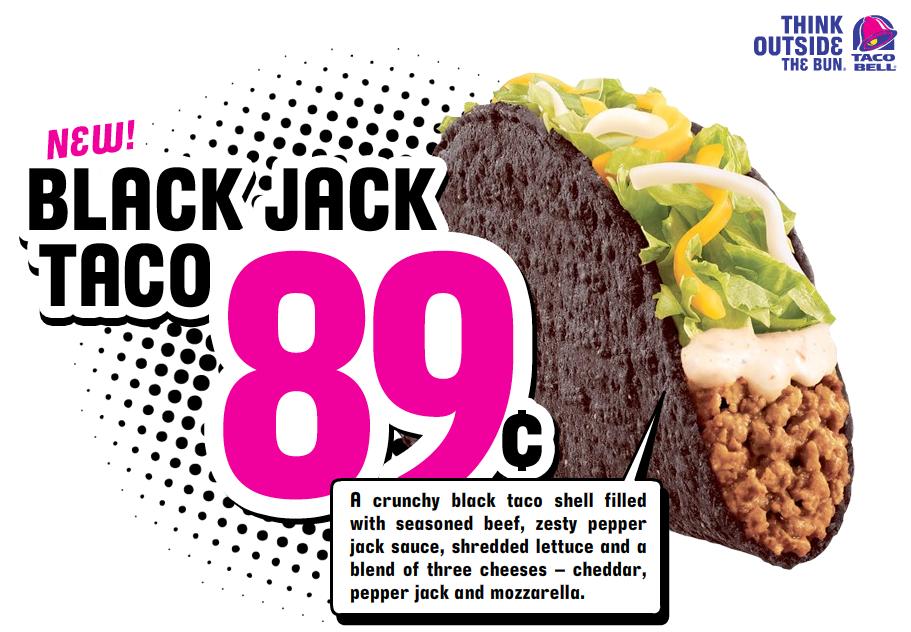 Instead, they decided to call it the Black Jack taco. Because the shell is black, you see, and there is pepperjack sauce inside. Why is the shell black, you ask? I do not know. Perhaps Taco Bell's shell manufacturing facility shares warehouse space with a squid de-inking factory, and there was a terrible mix-up, with hilarious results? I'm going to go ahead and call that the most likely scenario. Cue the laugh track.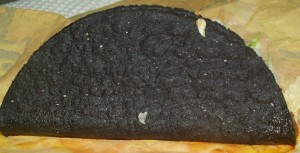 Despite what you may think from the words above, I didn't actually expect the Black Jack taco to be bad. I just expected it to be boring. Judging from the promo photo and the 89 cent price tag, I expected it to be pretty much identical to Taco Bell's "Crunchy Taco", which is also 89 cents on the Value Menu. There's nothing wrong with this menu item; it just tastes like 89 cents' worth of shell, mystery meat, iceberg lettuce and some cheese.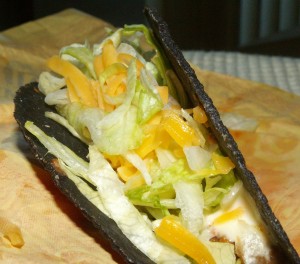 Which is exactly what I got on my first few bites of the Black Jack taco. I'd already expected the sauce to be sparse and unexciting, but I had actually expected it to be there. But then, on the third bite, I got a good mouthful of sauce. And you know what? It was actually goddamn tasty! I can actually say that Taco Bell's use of the word "zesty" when describing the sauce on their website is accurate. It's got a nice consistency, like creamy nacho cheese sauce, but instead of being spicy, it's got a twangy zip that makes your taste buds salivate for more. After those first few dry bites, the middle of my taco had just the right amount of the pepperjack sauce. It oozed out the sides, which would have made a great picture, but I was too busy eating it to stop and get the camera. Bob's taco had a lot less sauce, which was disappointing, but too bad for him. I gots the sauce. I win.
I found myself actually wishing I had another Black Jack taco. No, it's not the greatest taco in the world – it is from Taco Bell, after all – but if you're going to eat a shitty 89 cent taco, why not slap some tasty sauce on there, inexplicably dye it black, and give it a stupid name? The point is, I would shell out 89 of my very own cents to buy one again, of my own volition, and that's not something I can say too often on this site. So, way to go, Taco Bell – you made a retarded gimmick and a moderately tasty taco. Wear your crown of mediocrity proudly.
Score: 4 out of 5 hamburgers, all dyed black
Price: 89 cents
Size: 1 taco
Purchased at: Taco Bell
Nutritional Quirks: May or may not contain squid ink?