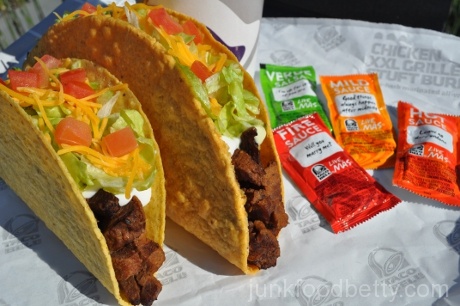 Taco Bell loves going XXL: So far they've gone plus-sized on their Chalupas, Grilled Stuft Burritos, and most recently, their nachos.
Not content to sit on their wide-bottom laurels, they've now gone XXL on their tacos, touting the new XXL Crispy Steak Taco as their "BIGGEST taco ever."
According to Taco Bell's press release, "The XXL Crispy Steak Taco features double the marinated steak, fully loaded with lettuce, tomato, shredded cheese, avocado ranch sauce and reduced fat sour cream, all in a new crispy shell."
The XXL Crispy Tacos will launch at participating Taco Bells nationwide on February 27. The steak offering will be priced at $2.99, while the shredded chicken option will be $2.79 and the seasoned ground beef $2.49.