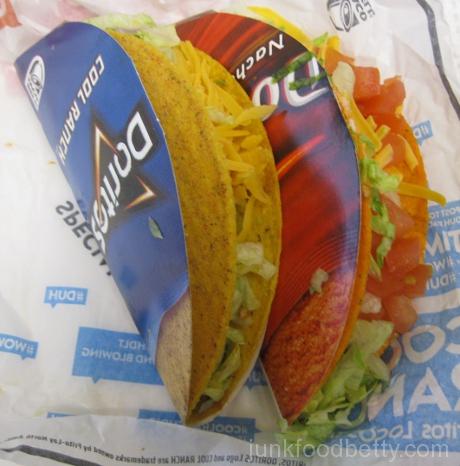 Taco Bell first unleashed the Doritos Locos Taco upon the world early last year with their Nacho Cheese offering. The Internet could not have been more abuzz about it. A Taco Bell taco with a Doritos shell?! How could this be?
Every food review website on the planet was on this like…a food review website looking for blog hits. And yet, somehow, Junk Food Betty was strangely silent.
Why? I don't know. I remember wanting to review it. And yet, somehow, it never happened. In fact, I never tried the Nacho Cheese Doritos Locos Taco. I felt like I was doing penance for my neglect by denying myself the experience, which sounds incredibly stupid when I type it out.
Thankfully, the junk food gods gave me a second chance. Much like its Nacho brother, the Cool Ranch Doritos Locos Taco was announced as an upcoming Taco Bell menu choice well before it came out. And, like its cheesy brethren, it received major attention from the Internet. Taco Bell is doing it again? With Cool Ranch Doritos this time? The sales of fainting couches sold on eBay spiked all over again.
Here's the thing, and I say this looking over my shoulder, waiting for the Internet buzz police to break down my door: to me, Locos Tacos sound pointless and boring. It's a regular Taco Bell taco with Doritos flavor dust on the shell. It's a food crossover designed entirely for the hype machine.
That said, I'm a goddamn sucker, and after missing out on Nacho Cheese, I damned well wasn't going to pass up on the Cool Ranch Doritos Locos Taco. ONE OF US. ONE OF US.
Taco Bell Cool Ranch Doritos Locos Taco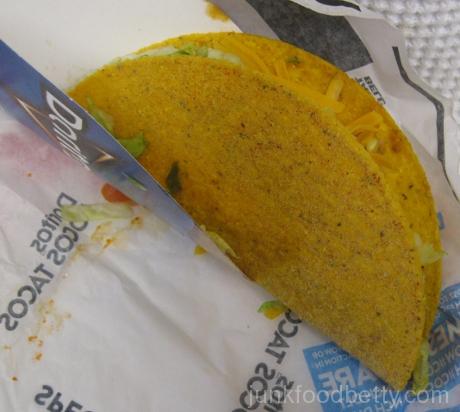 This taco launched on March 7th, but Taco Bell had a secret: if you asked for it, you could get one a day early, even if it wasn't on the menu yet.
Did I say secret? What I meant to say was they advertised this fact on Facebook, Twitter, and the front page of their website. I'm surprised someone wearing a Taco Bell polo shirt didn't knock on my door and yell "YOU CAN GET IT A DAY EARLY" when I answered it. Remind me not to tell Taco Bell about that thing I did that one time that nobody can ever know about.
And yet, some Taco Bell locations didn't get the memo, and therefore people chomping at the bit for a Cool Ranch taco were met with blank stares, which pissed them off, especially since they'd probably gotten five phone calls from Taco Bell (some during dinner, some in the middle of the night) letting them know that they could get it a day early. Perhaps Taco Bell should have used some of this marketing energy to inform their own restaurants about this promotion.
I have to say, I'm rather fond of the packaging of Locos Tacos. The custom-made sleeve is presumably designed to keep your fingers flavor-dust free while letting you know you're definitely eating a Doritos taco, but if you're not worried about flavor dust when you eat Doritos chips, why would you care when you're eating a Doritos taco? Whatever, it's still cute.
A regular Taco Bell Crunchy Taco contains seasoned ground beef, shredded lettuce and shredded cheddar cheese. This taco contains the same, except it's wrapped in a Cool Ranch Doritos shell.
Because Taco Bell's regular Crunchy Taco is boring as hell, it's been a really long time since I've had one. However, the Cool Ranch Doritos shell seemed a little thinner, like a regular Doritos chip. It also had all the flecks and markings of a Cool Ranch Dorito.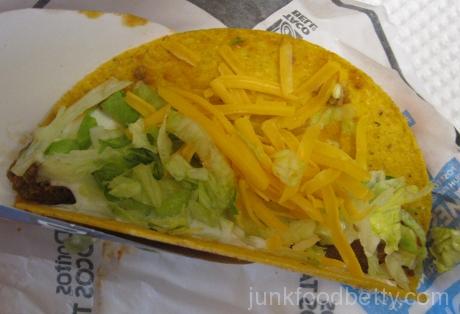 Upon first bite, you get a little bit of that iconic Cool Ranch flavor, but it's quickly swallowed up by the seasoned ground beef. However, the shell does have a nice crunch, and the flavor dust sticks to your lips, which gives you a little burst of Doritos flavor after you're almost done chewing.
I was suspicious about Taco Bell's choice to make Cool Ranch their next Locos Taco flavor. Nacho Cheese seemed like a natural (nachoral HAHAHAHA), but when I think taco, ranch isn't exactly the first thing that comes to mind.
Lucky for me, even though I ordered a regular Cool Ranch Doritos Locos Taco, mine came with a hidden surprise – sour cream! You wouldn't think one innocent ingredient would turn things around, but I think the Cool Ranch combined with the sour cream made for a much more enjoyable Loco experience.
I'd like to think I got a rogue Taco Bell employee who knew this and was secretly slipping sour cream into each regular Cool Ranch Doritos Locos Taco. The more likely scenario is that the Taco Bell employee that made my taco didn't give a shit about what they were doing because they work at Taco Bell. But the tiny optimist in me hopes for the former.
Taco Bell Nacho Cheese Doritos Locos Taco Supreme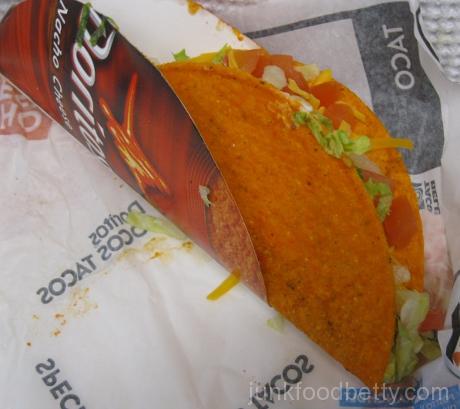 Figuring that reviewing the Cool Ranch Loco in a (somewhat) timely manner was my penance, I decided to rock out a Nacho Cheese Doritos Locos Taco Supreme.
Hey look, it gets its own branded sleeve! Still cute.
In case you weren't aware, in Taco Bell speak, "Supreme" means "regular taco with diced tomatoes and reduced-fat sour cream".
Why is Taco Bell's sour cream always reduced-fat? I never understood that. You could order the fattiest, greasiest thing on Taco Bell's menu, which I don't even want to look up, and if it contained sour cream, that sour cream would be reduced-fat. Weird.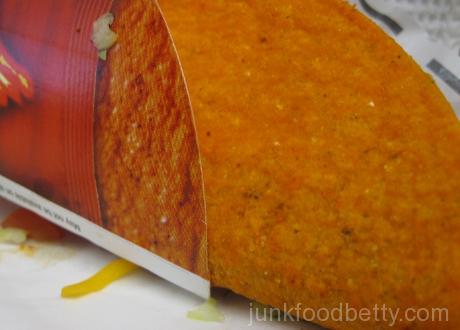 Ignoring the fact that I spend too much time thinking about Taco Bell's ingredient choices, the Nacho Cheese Doritos Locos Taco Supreme offered no surprises. A lot of the words I wrote about the Cool Ranch variety apply here – the shell was a bit thinner, it tasted like Doritos, blah blah blah.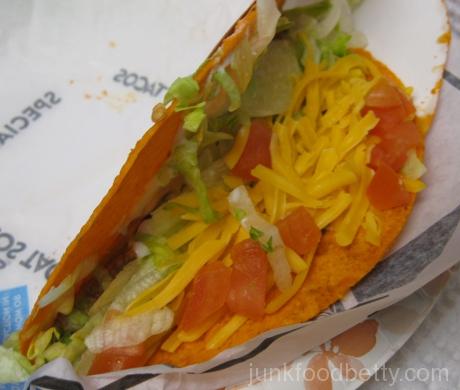 If anything, the Nacho Cheese Doritos flavor wound up being more muted than the Cool Ranch version. Maybe it was the gloriousness of the Supremity. Maybe it was pitting nacho cheese flavor dust against real (real?) cheese. For some reason, the Nacho Cheese just didn't stack up compared to the Cool Ranch. A surprising verdict from my taste buds.
But you know what? I feel better. I feel catharsis. I have now reviewed the Taco Bell Nacho Cheese Doritos Locos Taco.  Supreme.
Now that I've done my duty as a person on the Internet who talks about food reviewing Taco Bell Doritos Locos Tacos, I can summarize both pretty easily: they are amazing, mind-blowing, and worth every bit of the buzz they've received.
Wait, no, I said that wrong. Let me rephrase: these tacos have Doritos shells, which makes them a little less boring than regular Taco Bell Crunchy Tacos and Crunchy Taco Supremes. Hooray? Oh, right, and they have custom sleeves! Double hooray?
I didn't think to check the prices of these versus their boring un-Dorito-shelled counterparts, but I'm assuming they're the same. In that case, why not Dorito-ify your taco? It's a little extra flavor added to an otherwise lackluster menu item. Hooray! Go Loco with the change you found in your sofa cushions.
Taco Bell Cool Ranch Doritos Locos Taco

Score: 3.5 out of 5 sour cream surprises
Price: $1.39
Size: 1 taco
Purchased at: Taco Bell #004989
Nutritional Quirks: OH MY GOD THEY MADE THE SHELL OUT OF COOL RANCH DORITOS
Taco Bell Nacho Cheese Doritos Locos Taco Supreme

Score: 2.5 out of 5 feelings of taco closure
Price: $1.69
Size: 1 taco
Purchased at: Taco Bell #004989
Nutritional Quirks: Seriously, reduced-fat sour cream. WHY?
All those other guys who reviewed Cool Ranch Doritos Locos Tacos (surely an incomplete list): The Impulsive Buy, Brand Eating, GrubGrade, Man Reviews Food, Fast Food Geek, So Good