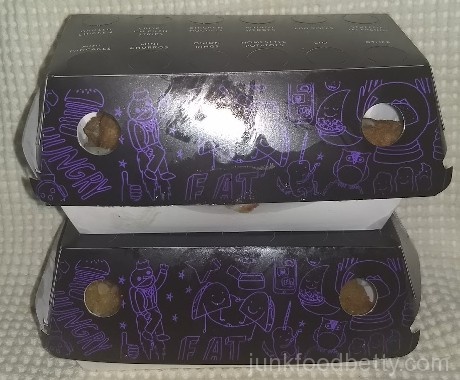 It's rare that I'll order french fries as a side to my fast food order, but their cousin, the hash brown patty, is another thing entirely. It's a thing of beauty. Shredded potatoes that are formed into a hand-held shape and then deep fried into a greasy thing of glory? Yes please, all day long.
The only time I really like fries is when they've been smothered with cheese and other various toppings, so when Jack in the Box decided to do this with hash browns, I was excited. You've taken one of my favorite things and then done my other favorite thing with it, which is cover it with more stuff!
I'm amazed that nobody in fast food has done this before. I mean, does anyone even go to Waffle House for anything other than having the pleasure of ordering their hash browns smothered, covered, chunked, diced, peppered, capped, and topped, in any damn combination you please?
It's a classic hangover remedy, which makes it a natural for Jack in the Box to be the first to add this to their menu. They're officially called Munchie Mash-Ups, part of the Munchie Meal line, renowned for advertising to stoners and/or drunks.
In addition to these two flavors, there's also the Wakey Bakey Hash, which is a mixture of eggs, bacon, pepper jack cheese and white cheese sauce with hash browns. I'm glad I didn't have to say "Wakey Bakey" into the drive-thru ordering box, since I hate eggs and therefore cannot objectively review anything that contains them.
Jack'd Jalapeño Hash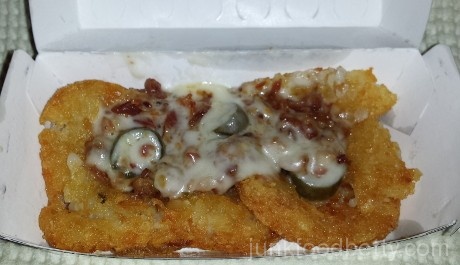 "What do you call Crispy Hash Browns and Tasty White Cheese Sauce mashed up with Jalapenos, Bacon, and Pepper Jack Cheese?" This is the question Jack in the Box's website asks of me. They believe the answer is "Ridiculously happy." I counter with "Not enough toppings."
I'm getting ahead of myself, however. First off, it appears that the base of these Hashes is two hash brown patties torn in half. The same type that you can get off the breakfast menu. Which means we're off to a good start, because Jack's hash browns are patties of greasy goodness.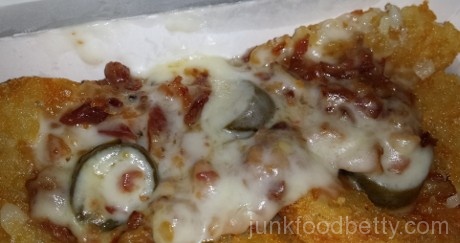 I know I started off by saying there weren't enough toppings, but it turns out that if you actually mash it up (as was promised in the name, but I'm willing to put in a little work) all the hash browns get coated quite nicely.
The jalapeños were your typical pickled sliced nacho affair, but there were enough of them to add heat to almost every bite. The bacon added a nice little crunch, but it was bacon bits and not the real thing. Not surprising, but a little bit disappointing.
It was hard to tell if there was any pepper jack cheese – maybe it blended in with the white cheese sauce, which was sort of generic as far as cheese sauces go, but added a lot of creaminess to the crispy hash browns.
I feel like a lot of this sounds disparaging, but when you combine all of these ingredients, something very simple but very delicious happens. Peppers, bacon, creamy cheese sauce and crispy hash browns all add up to a highly satisfying treat that straddles the line between a snack and a meal, depending on your appetite.
H'Angry Chicken Hash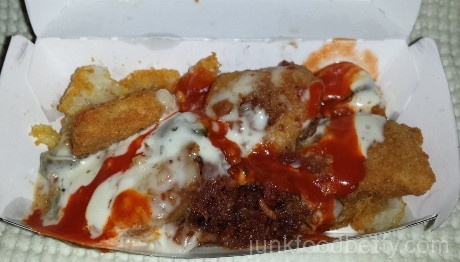 "When hunger is mashed up with anger, it's called h'anger. When Chicken Nuggets, Frank's RedHot® Buffalo Sauce, and Ranch are mashed up with Crispy Hash Browns and Tasty White Cheese Sauce, it's called Jack's new *$3 H'Angry Chicken Hash Munchie Mash-Up. And it cures h'anger."
These are Jack's words. My response is that h'anger is a dumb portmanteau, and also that nobody uses an apostrophe in it. Way to take an already awkward and passe catch phrase and make it sound even more like it's coming out of the mouth of your dad who just interrupted your high school sleepover to ask what everybody wants on their pizza. Anchovies all around, right, gals? Yes, he's trying too hard after the divorce, but he's doing the best he can.
Ol' H'Angry starts with a base of those two halved hash browns patties, but after that things go a little off the rails.
It's a mess, but kind of a beautiful one. Five – five! chicken nuggets perch precariously upon our hashers, drenched in ranch, Frank's, and the seemingly ubiquitous Tasty (don't tell me how to feel) White Cheese Sauce.
Oh, yeah, and there's that big chunk of bacon in the front there. I was going to mention that this Mash-Up would have been perfectly fine without it, and then I read the description on the website and realized that it doesn't belong there in the first place. Thanks for the errant extra clump of bacon, Jack in the Box employee!
Buffalo sauce, ranch, and chicken always go well together, and having all these condiments PLUS the cheese sauce made what are nothing more than kid's chicken nuggets taste a little more special.
There's really no way to eat both the chicken and the hash without things getting awkward, so I treated it as two snacks in one box. With three condiments, there was enough sauce left after I ate the nuggets to cover the hash browns, although I gotta say they worked less well with the potatoes than the chicken.
I liked both of my Hash Munchie Mash-Ups a lot, and for *$3 I'd say you're getting a pretty good bargain, especially the H'Angry Chicken one. While you get a 2-for-1 deal with the chicken, I wound up liking the combination of ingredients on the Jack'd Jalapeño one better.
These may sound like a gimmick food – or do they? I can't even tell anymore – but they're legit tasty and might go into my regular rotation of Jack in the Box foods I order, which is something I can't say of anything new they've come out with since the Spicy Nacho Chicken Sandwich.
*Sorry, Hawaii and Guam, they're $4 for you for some reason. Still an okay deal.
Jack in the Box Jack'd Jalapeño Hash and H'Angry Chicken Hash Munchie Mash-Ups
Score (Jack'd Jalapeño): 4 out of 5 smothered, covered, chunked, diced, peppered, capped, and toppeds
Score (H'Angry Chicken): 3.5 out of 5 well-meaning, newly-divorced dads
Price: $3
Size: 1 Munchie Mash-Up
Purchased at: Jack in the Box #1516
Nutritional Quirk: A whopping 2,090 milligrams of sodium in one H'Angry Chicken Hash. You're gonna be H'Thirsty after eating that. I'm sorry.