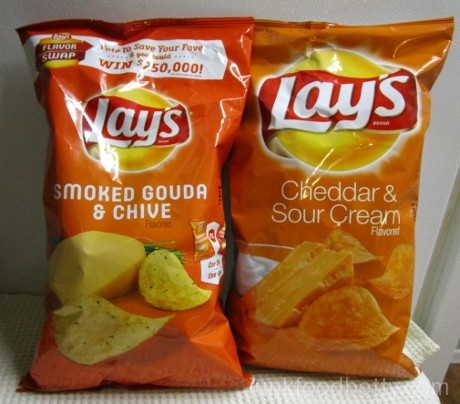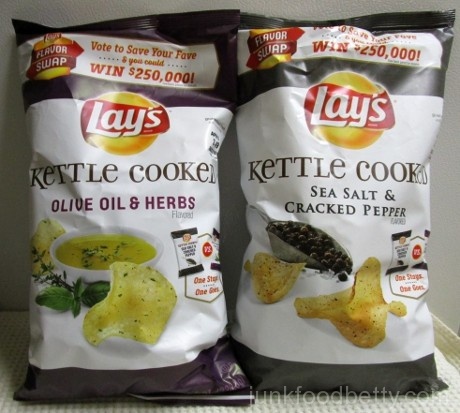 I feel like Lay's Flavor Swap campaign was designed to make reviewers like myself buy a bunch of different Lay's potato chips whether we want to or not. In fact, that would be true of the general populace – if you want to vote on which Lay's flavor you'd like to keep, you basically have to buy all eight bags, or at least four if you've got the original flavors already memorized.
In between Lay's Do Us a Flavor Contests and now Lay's Flavor Swaps, 25% of my income and 75% of my cupboard space is going to Frito-Lay.
As I mentioned, there are four swaps comprising eight different flavors, four already-existing and four new. I'm covering two swaps in this post and the last two in an upcoming post.
Smoked Gouda & Chive vs. Cheddar & Sour Cream
Right off the bat, Lays' is going and breaking my heart. I consider Cheddar & Sour Cream to be one of the most perfect potato chip flavor combos. I prefer the Ruffles version, but I'll definitely reach for some Lay's in a pinch.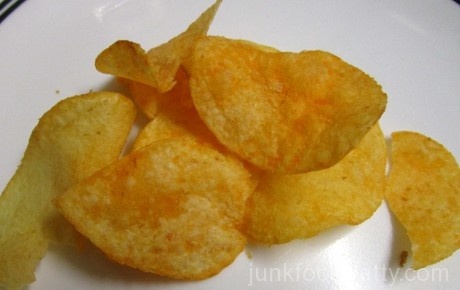 It's the perfect combination of sharp cheddar and tangy sour cream. Sure, it sounds simple, but that's why it works. It hits your tongue with enthusiasm. To see such a classic go-to removed from store shelves would be a real blow.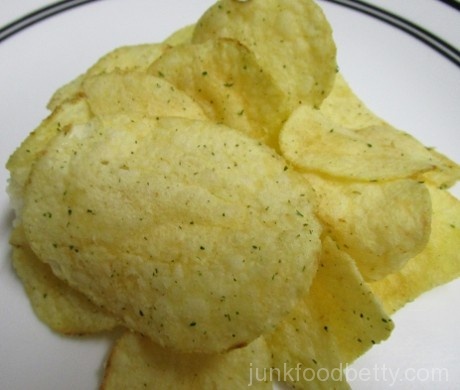 Now, on to the newbie contender: Smoked Gouda & Chive. (I'm keeping the "pre-existing" flavors relatively brief because those are flavors that have been around for quite a few years now.)
In an interesting move, with this flavor they've swapped the sour cream with chive, when traditionally sour cream goes with chive in potato chips.
The traditional green flecks meant to represented chive on potato chips are obviously here from the start. Gouda isn't bright orange like cheddar, so its flavor dust is pretty much invisible.
I gotta say, Smoked Gouda & Chive is pretty fantastic. The chive hit me first, and tasted exactly like the green stuff from Sour Cream & Chive Lay's. For a split second, that was all I could taste, and I was about to raise my arms in victory for Cheddar & Sour Cream.
But then the Smoked Gouda hit my buds, and damn, it was a fine flavor. They really nailed that smoked cheese taste. I couldn't have identified it as gouda specifically, but you could really taste that it was a smoked cheese, and as I started to eat more of the chips, the chives and smoked cheese struck a really nice balance.
Verdict: Damn you, Lay's. Why you gotta make this so hard right off the bat? Okay, okay. I'm going with Smoked Gouda & Chive, but only if you promise me my Cheddar & Sour Cream Ruffles are safe.
Kettle Cooked Olive Oil & Herbs vs. Kettle Cooked Sea Salt & Cracked Black Pepper
Our original flavor here, Sea Salt and Cracked Black Pepper, is another favorite of mine. I can see how it would turn some people off, though. The pepper is not only pronounced on the chips but also as a flavor, which some people (pussies) might consider so strong as to be offputting.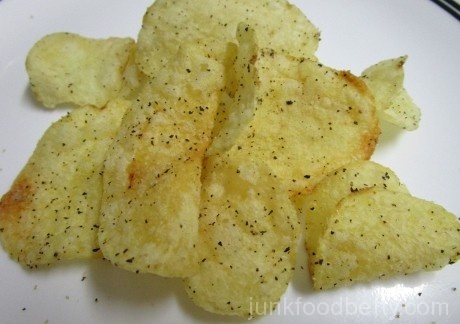 If you don't have fresh peppercorns at home that you put in a mill and then crank over pretty much everything you eat, these chips probably come on too strong.
Plus, the sea salt makes them salty even for a potato chip, and it along with the pepper can abrade your mouth after too many chips. Again, stop being a pussy. These taste great.
As per tradition, you can see the little green flecks of herbs on the Olive Oil & Herbs chips. Those herbs are listed specifically as basil, oregano and thyme in the ingredients.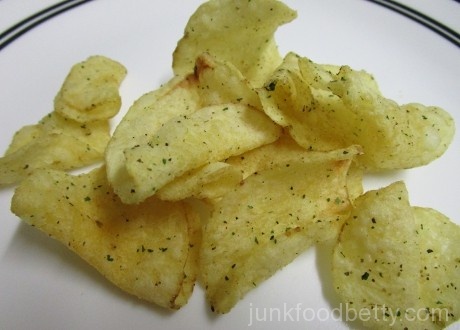 The herbs really pop, specifically the basil and thyme. I feel like the olive oil added a depth of flavor, but that's one of those bullshit sentences that really means "I think it was there but I can't really tell you how it tasted." INSIDER SECRETS!
There were also hints of onion and garlic powder, which don't count as herbs, but rounded out the flavor profile nicely.
I liked the in-your-face herby flavor, but it felt like familiar territory. I reached into the depths of my swiss cheese brain and shook out the memory of reviewing Lay's Kettle Cooked Creamy Mediterranean Herb Flavored Potato Chips.
Impressive job, memory! Olive Oil & Herbs taste remarkably similar to these chips that were introduced five years ago and have since gone to that farm upstate where all failed Frito-Lay flavors retire to. I assume they failed because they used the word "Creamy" in the name.
Even beyond these old chips, I still feel like the "herbs and powders" formula has been done before. Olive Oil & Herbs taste just fine, but they're nothing new and exciting.
Verdict: I'm sticking with Sea Salt & Cracked Black Pepper. Those herbs just didn't leave me with enough mouth abrasions.
I was gonna skip the usual round-up, but considering we have some new flavors here, I decided to throw it in. Also, look for the other two Flavor Swaps being reviewed soon on a Junk Food Betty near you!
Lay's Flavor Swap: Smoked Gouda & Chive and Kettle Cooked Olive Oil & Herbs

Score (Smoked Gouda & Chive): 4.5 out of 5 "take my Cheddar & Sour Cream Ruffles out of my cold, dead hands"
Score (Kettle Cooked Olive Oil & Herbs): 3.5 out of 5 "been there, creamed that"s
Price: $2.50 each
Size: 8 oz. bag
Purchased at: Safeway
Nutritional Quirk: Not really quirky. Feeling slightly off after eating so many chips.