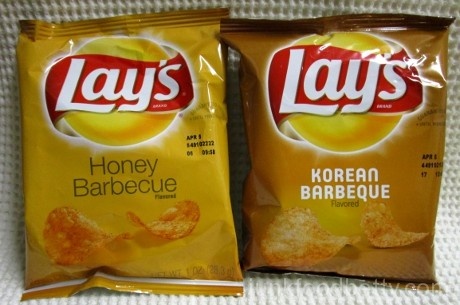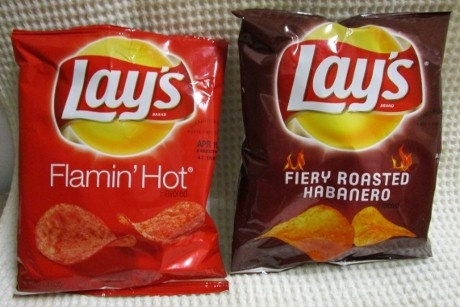 Welcome to part two of Lay's Flavor Swap! Otherwise known as "I didn't want to photograph and review eight bags of chips all at once". You can read part one here.
Buying the chips gradually succeeded in not making me look like a crazy person, but failed in that my Safeway inexplicably stopped stocking some of the flavors. What the hell, Safeway?
This forced me to go to Walmart, which resulted in me buying this: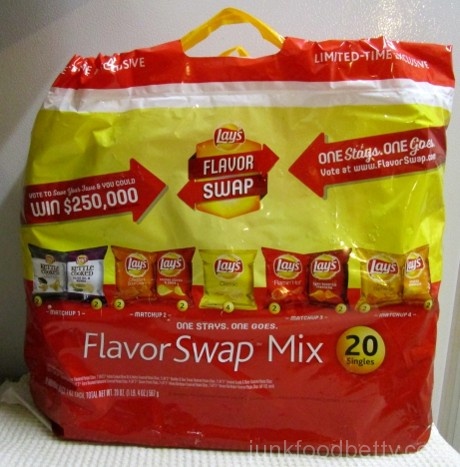 Which was nice, because I now have 20 small bags and not 4 more big bags, but also infuriating because I already bought 4 big bags. My kitchen cabinet looks like an actual grocery store chip aisle. Junk food review problems.
Brief rundown of the Flavor Swap concept: one flavor stays, the other disappears off shelves, based on Internet votes. One is an existing flavor and one is a new flavor. It's a duel to the potato chip death. The streets will run red with flavor dust.
Honey Barbecue vs. Korean Barbecue
This one is particularly interesting to me, because I've never had Honey Barbecue Lay's before. In fact, I've never even seen them on shelves. When I first heard of the Flavor Swap, I tried to use Frito-Lay's "flavor locator" to find them, and there were none in a 50 mile radius, confirming that I wasn't just blind.
So, before now, Honey Barbecue hasn't existed in my area, which makes this more of a Flavor Addition than a Flavor Swap.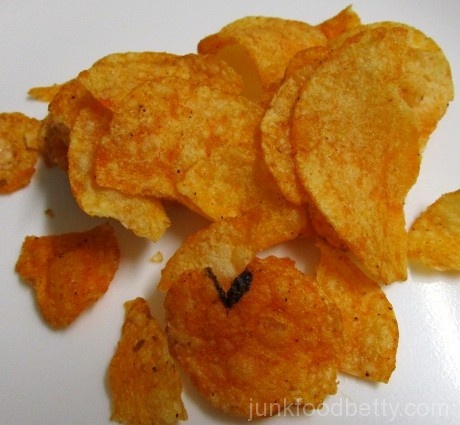 I gotta say, I wasn't exactly wowed by my first Honey Barbecue experience. They basically taste exactly like regular Lay's Barbecue, with just a touch of sweetness at the end.
I prefer my barbecue with more vinegar than sweetness, but that's a personal preference. I'm sure for some people this is their go-to Lay's flavor. At least I know I wasn't really missing anything before this.
But how about its contender, Korean Barbecue?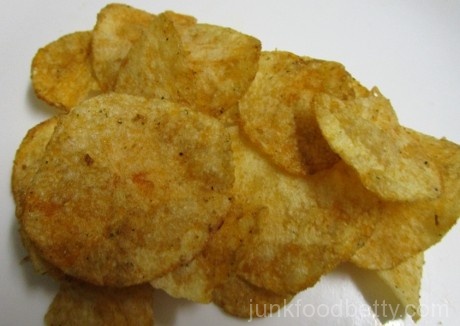 As opposed to the ho-hum taste of Honey Barbecue, Lay's Korean Barbecue punches you right in the face upon first bite. There are strong tastes of both ginger and soy sauce. It's definitely a more savory flavor than the honey variety.
While there's no taste of actual meat (thank you, Lay's), there's a definite sense of umami here. I'll admit – I've never had Korean barbecue – but if the flavor of these chips were applied to some ribs, I would definitely enjoy them. Swap or not, this is a solid, unique and interesting potato chip flavor.
Verdict: Korean Barbecue, no question. Honey Barbecue tastes almost exactly like regular Lay's Barbecue, and the Korean kind is vastly different not only as a Lay's flavor but even up against other brands.
Flamin' Hot vs. Fiery Hot Habanero
At this point, Flamin' Hot is more of a…genre than a flavor. A category? Anyways, what I'm trying to say is that Frito-Lay has pretty much Flaminized every product they have. Off the top I can think of Lay's (of course), Cheetos, Doritos, Funyuns, Takis, and I think even sunflower seeds.
Of them all, I have to say Flamin' Hot Cheetos are my favorite, especially the con Limon variety. I'd never had Flamin' Hot Lay's before, simply because I never felt I needed to. There are much more enticing flavors out there.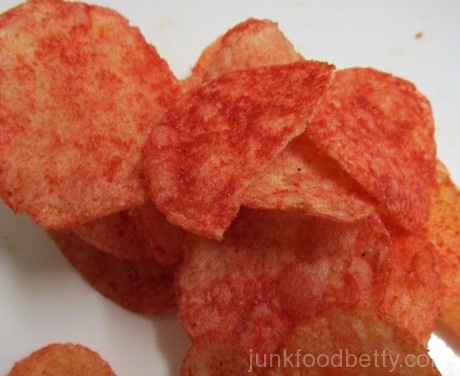 And I was right, because Flamin' Hot Lay's taste just like every other Flamin' Hot snack, except less intense than Cheetos because the flavor dust isn't as thick. It's a one-trick pony – heat, but no distinct flavor to speak of, minus some hints of onion and tomato. Which is fine, if that's what you're looking for.
I was curious to see how Fiery Hot Habanero would stack up against Flamin' Hot, since that flavor is so recognizable and yet so generic at the same time.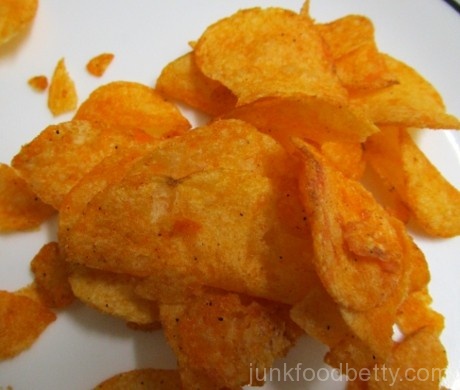 Right off the bat, I could see physical differences. Flamin' Hot Lay's sported the iconic Crayon-red flavor dust, whereas Habanero is a more organic orange hue with dark flecks, which somehow made it look more dangerous.
Fiery Roasted Habanero has a heat that's slow on the taste buds but will hit you right in the back of the throat before it takes over your entire mouth. Most notably, there's an actual fire-roasted flavor to these chips, as opposed to Flamin' Hots' generic heat.
The bag lists actual habanero peppers as an ingredient, and I'm inclined to believe them. Not only do these have a more authentic roasted pepper taste, but the spicy heat builds and stays far longer than Flamin' Hot. The heat isn't intolerable, but it might be too intense for some people, who probably shouldn't be trying chips called "Fiery Roasted Habanero" in the first place.
Verdict: Fiery Roasted Habanero, hands down. Not only does it have that roasted pepper taste, but there's also like, ten other Frito-Lay products to choose from that are Flamin' Hot-flavored.
Lay's Flavor Swap: Honey Barbecue vs. Korean Barbecue and Flamin' Hot vs. Fiery Roasted Habanero

Score (Korean Barbecue): 4 out of 5 uses of "umami" to describe chips
Score (Fiery Roasted Habanero): 3.5 out of 5 not another Flamin' Hots
Price: $6.98 (for bag of 20 1 oz. bags)
Size: 1 oz. bag
Purchased at: Walmart
Nutritional Quirk: I wonder how many calories worth of Lay's I have in my cupboard right now.