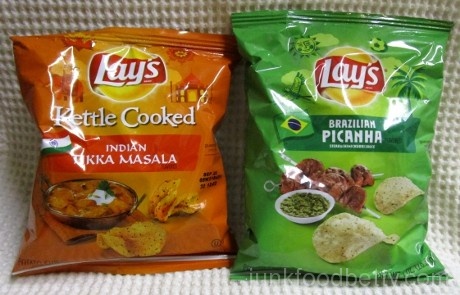 Here we have the last half of the Passport to Flavor varieties. I'm pretty excited about these last two flavors, as they represent some of my favorite flavors. Without further ado, let's dive in!
Kettle Cooked Indian Tikka Masala
Previously we traveled from Greece to China; now we're heading off to India. The flight from China to India is only four and a half hours – that's less than it takes to cross the United States!
Lay's calls it Indian Tikka Masala, but this dish purportedly originated in Glasgow and is actually a British national dish. In case you weren't aware, Indian food is insanely popular in the UK.
The pictures Lay's uses to symbolize India are a lotus flower, an elephant with a fancy…riding thing on its back, something that I'm pretty sure is supposed to be a mandala, and the Taj Mahal. If they were being fair, it would have British things on it, like…rain, and, I don't know, a TARDIS? Just a big picture of Morrisey on the bag.
Our back-bag blurb for this one says, "Packed with flavorful spices like turmeric and cumin, the tomato-based dish Tikka Masala is a fixture in global cuisine. Open this flavor and bring some khushee to your day!"
I love that Lay's is trying to teach us foreign languages, one potato chip bag at a time. Here we have the Hindi word khushee, which I learned means joy or happiness! Or picnic. Picnic was also listed as a defintion.
I barely got the bag open before my nose was assaulted with the smell of curry spices. Oh, what a delightful odor!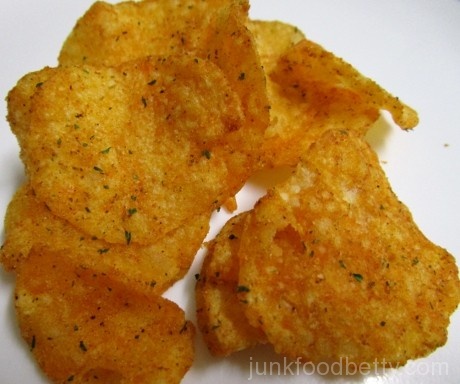 The chips are an appropriately bright shade of orange, considering that real Tikka Masala is often so violently colored that it looks like it's going to commit federal crimes on your digestive system.
Unlike the Chinese Szechuan Chicken flavor of Lay's, the chicken flavor wasn't super prominent in Indian Tikka Masala. Instead, you're punched in the mouth with the flavors of tomato, turmeric and cumin, along with a level of heat that is not shabby.
Lay's definitely captured the essential flavors of Tikka Masala, but managed to do it in a way that isn't so heavy that you can only eat a few at a time. These are totally munchable, especially if you like your chips with a little bit of a kick. Warning: you'll definitely crave some solid curry after eating some of these.
Brazilian Picanha
From India we go to Brazil, our final destination. The flight was 19 hours; at this point, you want to kill yourself, but the flight is mostly empty so you get an entire row to yourself so you can lay down. Score! But the only in-flight movie available is Gigli. You win some, you lose some.
Brazil is represented by a sun, a parrot, a soccer- sorry, football, and a palm tree. Damn, I feel like Lay's really phoned it in for Brazil. Which is especially insulting since these chips came out around the same time as the Olympics.
I've never had picanha, but it sounds amazing. There's a Brazilian steakhouse near me called Fogo de Chão, where people just walk around with giant slabs of meat and cut it off for you right at your table. This sounds like the most amazing thing in the world to me.
Lay's has a trick up its sleeve with this flavor: in teeny-tiny print under the chip name, it says "Steak & Chimichurri Sauce".
So maybe I've never had proper picanha. But I've had the shit out of some chimichurri sauce. It's like pesto's Argentinian cousin, except made with parsley and oregano. It's so, so good. I just got at least 80% more excited about these chips.
Now let's learn something from Lay's: "Picanha, the finest cut of Brazilian steak, is skewer-grilled with coarse salt to lock in flavor. Mix in the bright flavors of chimichurri sauce & you'll be saying 'mais, por favor!'"
I didn't have to look this one up, because I have a rudimentary knowledge of Spanish and there's some overlap into Portuguese, so this obviously means "more, please!" Much easier to understand than the picnic word.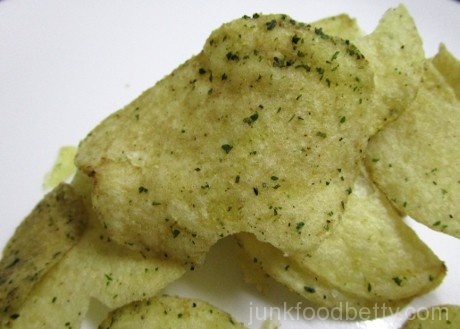 Might as well lay it out there: Brazilian Picanha potato chips taste like actual grilled steak and what dark goddamn magic is Lay's hiding in their flavor laboratory?
These chips are goddamn delicious. My problem lies with the chimichurri flavor, though. Maybe it's just my experience, but I was hoping for a stronger presence with more kick. Instead, it was more laid back, throwing some garlic and a little herbiness in with the predominant steak flavoring.
That said, the ingredients list does include everything in chimichurri, even extra virgin olive oil. Once I adjusted my expectations, I found out I liked Brazilian Picanha even more. The steak is the real flavor here, and it shines in all of its unnaturally realistic glory.
These were two solid flavors from Lay's and a great way to end our Passport to Flavor trip. I hope you had a great trip!
Lay's Passport to Flavor Kettle Cooked Indian Tikka Masala and Brazilian Picanha Potato Chips
Score (Kettle Cooked Indian Tikka Masala): 4 out of 5 digestive federal crimes
Score (Brazilian Picanha): 4.5 out of 5 men walking around with meat slabs
Price: $5.98 (for an embarrassingly large multipack of 20 bags of Lay's)
Size: 1 oz. bag
Purchased at: Walmart
Nutritional Quirk: Along with beef fat, Brazilian Picanha also contains "beef extract". Perhaps we're better off not knowing what that is.