In case you don't remember because you were completely high when you read my last Munchie Meal review, Jack's Munchie Meals are available between 9pm and 5am, aka Prime Stoner Time. Each one comes with two tacos, an order of halfsie fries (half french, half seasoned curly) and a 20 ounce drink to help you combat cotton mouth.
The real star, however, is always the entree. Previous Munchies have included things like the Stacked Grilled Cheese Burger and Loaded Nuggets, and the newest Munchie Meal is just as stonertastic: the Hella-peno Burger. A name that should leave me groaning, but I find myself smirking instead. Call it contact high.
Jack made more than a passing nod at the idea of their Munchie Meals being stoner-themed when the first batch came out, and this time around, I feel like they've embraced the idea with a vengeance.
Nowhere is this more apparent than the commercial for the Hella-peño burger. We start out with a girl sitting in a beanbag chair in what has to be the classiest room I've seen since I went to a friend's kegger in college. His house was inhabited entirely by males, and the height of their artistic interior decoration was a poster of two girls making out, which was placed front-and-center in their living room.
This should give you an idea of what their garage looked like, which is pretty much what this girl's room looks like, complete with lava lamp and Big Mouth Billy Bass. It looks like a garage sale threw up in someone's 1970s wood-paneled basement. I've known many dedicated pot smokers in my day, and most would be downright offended by this aesthetic.
"Would you rather have spoons for hands…or elbows for ears?" The beanie-clad girl asks in a dreamy, disconnected voice.
The Jack puppet, who is sitting in a beanbag chair next to her, replies, "I'd rather have food," to which I wholeheartedly agree, if only to end this commercial.
After briefly describing the Hella-Peno Munchie Meal, this whole embarrassment ends with the puppet saying, "I'll eat it with my spooooooon haaaaands," to which the girl replies, "What? I can't hear you. Talk into my ellllbooooow."
Shut up.
It's also hella-apparent that they're hella-stoked about the name, encouraging people to Tweet with the hashtag #hellahungry. They also describe the burger as "hella-hot" and mention that the Munchie Meal is available hella-late. Are you hella-tired of this yet?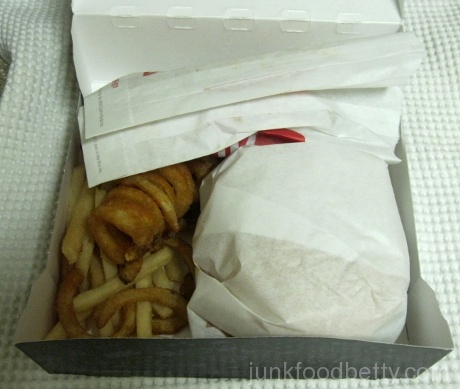 Now to the actual burger. According to Jack, the Hella-peño is "A burger heaped with both stuffed and sliced jalapeños, gooey cheese and taco sauce."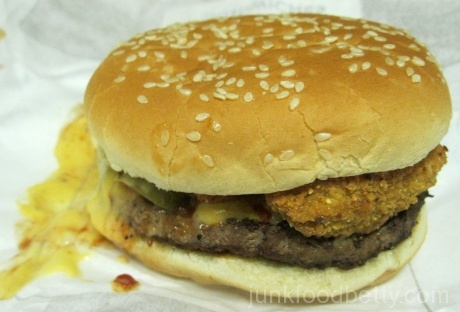 Right off the bat, I could tell that gooey cheese was definitely present, as it had leaked all over the wrapper. You may find this gross; I find it a harbinger of good things to come.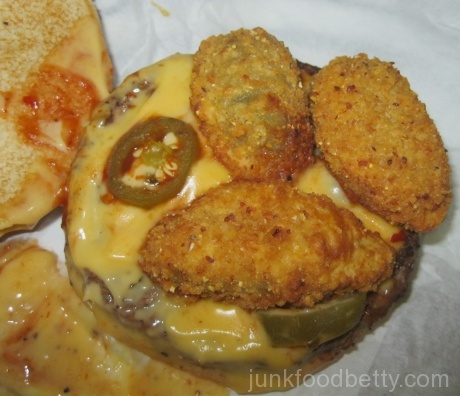 And good things were there, indeed. Upon removing the top bun, I was so pleased to see that the stuffed jalapeños covered almost every square inch of the burger. Topping coverage – a rare sight, indeed! There were a few sliced peppers, as promised, covering the areas the stuffed ones missed. And, holding it all together, a mess o' cheese. Lookin' good, Hella-Peno burger.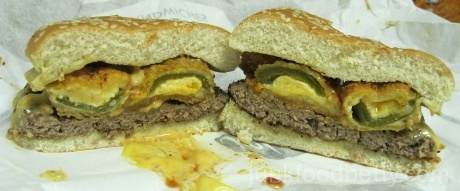 And, I have to admit, it tasted hella-good. (Sorry. I really am.) The combination of stuffed and sliced jalapeños meant there was a delicious amount of heat in every bite, and the breading of the stuffed ones remained, through some sort of dark magic, perfectly crunchy. So often have I seen fast food restaurants promising crunchy toppings, only to receive a soggy mess. Not the case here!
And the cheese was everywhere. I feel like half of it had leaked out onto the wrapper, which was unfortunate, but the cheese stuffed inside the poppers definitely took up the slack, adding at least double the amount of cheese you'd find on a regular cheeseburger and probably triple the calories, although I'm pretty sure you're not concerned with that if you're eating a Munchie Meal at 2am.
The Hella-Peno burger was not without fault, however. Jack in the Box's taco sauce, which is a laughable approximation of hot sauce to begin with, completely disappears under the heat and flavor of the jalapeños. In fact, pretty much everything takes a backseat to the jalapeños and the cheese. I almost forgot there was an actual burger in this Hella-Peno burger.
These are minor complaints, however. I love jalapeños. I love cheese. I love the crunch that the breading added to the burger. I love that, for once, there was actual topping coverage.
I will, however, bitch about the fact that a.) Munchie Meals are only available from 9pm to 5am, and b.) you can't just buy the Hella-Peno burger on its own. Don't get me wrong, I enjoy Jack's tacos, aka grease pockets, and the halfsies are nice, but I'd like to have a choice of when and with what I order my Hella-Peno burger.
In the end, what's important is that if you like jalapeños, and you like cheese, and you like some actual crunch on your burger, then the Hella-Peno is for you. Putting poppers on a burger screams gimmick, but it really works. And if you scream gimmick to my elbow, I will use my spoon hand to punch you in the face.
[Disclaimer: Jack in the Box kindly provided me with a gift card to purchase this product and contacted me in regards to potentially reviewing this product. This has in no way influenced my review of said product; neither has any drug, illicit or otherwise.]
Jack in the Box Hella-Peno Burger Munchie Meal

Score: 4.5 out of 5 Big Mouth Billy Basses
Price: $6.00
Size: 1 Munchie Meal
Purchased at: Jack in the Box #106
Nutritional Quirk: While I couldn't find nutritional info on the burger itself, the entire meal claims to only have 1,600 calories. This has to be either wrong, or a miracle. However, it does fess up to containing a whopping 3,644 milligrams of sodium, which sounds just about right.