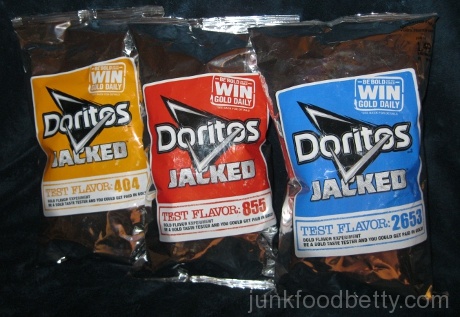 Frito-Lay recently announced the flavors of their Doritos Jacked Test Flavors, as well as the winner via fan votes on their "Bold Experiment" website.
I fully intended to review these mystery flavors before they were announced, but I got derailed by my move and just plain ol' missed the boat. Look at that picture at the top! I took that picture!
Well, now that the cat's out of the bag, I figured I'd share the actual flavors of the Test Flavors as well as what I predicted they were. If you're thinking I could easily cheat, that's true; but I think you'll see by my predictions that I'm being honest, possibly to the point of embarrassment.
Test Flavor #404
My guess: "Garlic-Lime Chicken" – there was a strong citrus presence right off the bat with some definite garlic notes. There was also a bit of spice, but I couldn't figure out how that fit into the equation. I picked chicken only because it seemed to make the most sense when paired with lime. There was no strong chicken flavor, it just…seemed to make sense.
Actual flavor: "Caribbean Citrus Jerk". That actually makes a lot of sense, and is way more interesting of a flavor name than my guess.
Test Flavor #855
My guess: I went with "Spicy Taco Deluxe" due to what tasted like spicy taco seasoning, but with a strong sour cream flavor and some cheese. I figured it would be a good bet, given the recent collaboration with Taco Bell and their Doritos Locos Tacos.
Actual flavor: "Spicy Street Taco". Okay, so I was kind of close on this one, but the taco seasoning was pretty easy to spot. However, I strongly dispute the use of the term "Street". I challenge you to find a street taco that contains sour cream. Or cheese, for that matter.
Test Flavor #2653
My guess: Easily the most interesting of the bunch, I decided on "Mole Enchiladas". I figured the chipotle and chocolate combo (confirmed by the ingredients list) made this one a dead giveaway. I was also very pleased with the flavor of these chips and they were my favorite of the bunch.
Actual flavor: "Chocolate Chipotle Bacon". Bwaaaa? I mean, both chocolate and chipotle were listed as ingredients, but bacon? I contributed the smoky flavor to the chipotle, and wanted to give Doritos points for actually capturing that aspect of the pepper. If it really had turned out to be Mole, I would have patted myself on the back and never been the wiser. I feel like they threw the bacon term in there just for a buzzword. Also, I'd be 1000% more likely to try Chicken Mole Enchilada Doritos as opposed to Chocolate Chipotle Bacon ones.
And the winner? Spicy Street Taco. Way to be boring, America. Frito-Lay goes on to describe it as "a bold combination of sriracha sauce and savory taco spices cooled with a kick of sour cream." I tasted no sriracha, no street taco has sriracha or, again, sour cream, and I'm generally disappointed by this entire thing. The end.