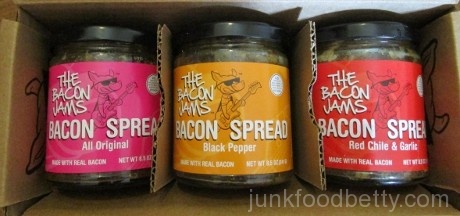 I'm not one to back down from a food challenge. I'd like to think that's readily apparent. So when I was given the opportunity to try Bacon Jams, I took a deep breath and did two things:
I looked up The Bacon Jams to make sure this wasn't some sort of fake product, which it obviously isn't (although that would make for an interesting review, I guess)
I found out that bacon jam is actually a real thing, and not just some hype invented by this company. In fact, in Austria it has its own much cooler and unassuming name, Verhackert.
I kind of want to call Bacon Jams Bacon Spread Verhackert for the rest of the review, because it just sounds so much better.
I'll be straight – I try to be objective on all my reviews, but sometimes it's difficult. This is one of those times. The idea of bacon jam does not give my taste buds any enthusiasm. I just keep thinking of bacon stuck in sweet, gelatinous goo, and it makes my stomach lurch a little.
While my stomach flips, my brain goes on yet another rant about bacon. I love bacon, I'm just so tired of Internet bacon hype. The Bacon Jams seem to be part of this hype.
And while my stomach flips and my brain rages, my heart ventures to ask the question: What if I actually like bacon jam?
I have to say, my heart (but not my arteries) softened a little after I read about The Bacon Jams' humble beginnings. It was created by a group of home brewers, including a food scientist, and was funded by Kickstarter. After all that, now you can buy it from SkyMall!
Okay, SkyMall went bankrupt, but still.
Knowing that they take their product seriously – despite having a pig playing a guitar as your logo – and this isn't just some Archie McPhee-style product made me a little less scared to try it.
All Original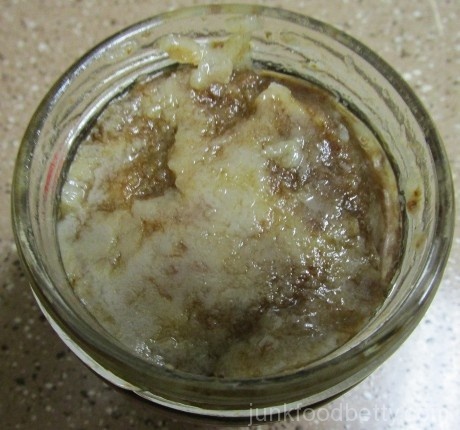 I will tell you I almost gave up my profession and changed my address when I opened the All Original jar and there was fat on top. That whole "less scared" thing kind of flew out the window.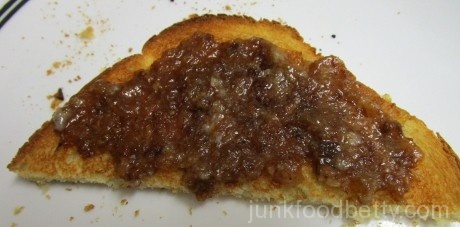 I chose toast to spread my jam upon, as it seemed the most bland of the foods I could pick to let the real jam taste shine through.
Part of me wants to tell you that, after all this build-up, Bacon Jams was awful and I immediately vomited into my kitchen sink. But the truth is…it's not that bad. I know that's also not a gushing endorsement, but that was how I felt after my first taste of All Natural.
The first taste that comes through is bacon. Reassuring, right? And not Bacon Bits bacon. Not artificial bacon flavor with Liquid Smoke. Honest-to-goodness, cooked on the stove bacon.
Almost immediately after the bacon comes the sweetness. It's not a cloying sweetness, however. I was immediately reminded of eating bacon after I'd accidentally gotten some syrup from my pancakes on it. Or, maybe you put syrup on your bacon on purpose.
That was it. Sweet, mapley bacon. Oh, and onions. The texture was chunky, but not like crispy bacon. I assume being suspended in jam inevitably softened the bacon itself. I attribute most of the chunkiness to the inclusion of the onions, which worked to make the texture more pleasant as I chewed, keeping it Bacon Jam and not Bacon Jelly, which somehow manages to sound worse.
Red Pepper & Garlic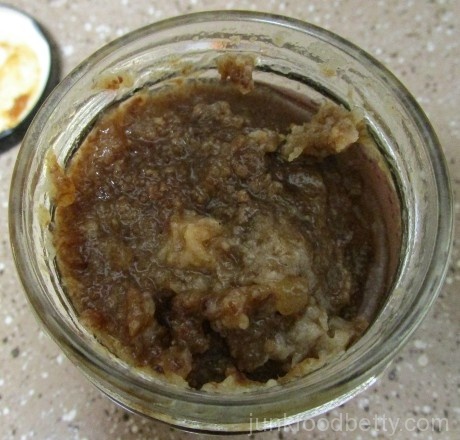 I found this flavor to be most intriguing, as red pepper and garlic aren't flavors you commonly find associated with bacon.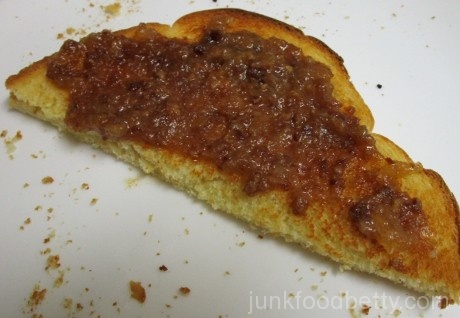 This was the least bacon-y of the Jams. It's hard to imagine a food where bacon is the main ingredient not tasting like bacon, but the flavor is definitely muted. Instead, the stand-out here is the onions and garlic. It's like a sweet onion-garlic spread.
What of the red chile, you ask? I also ask. Because it wasn't there. I could see it, but I just couldn't taste the spicy bite of it. Perhaps the fat from the bacon neutralized the heat? All in all, it was the most subtle jam of the three, and the least bacon-y.
Black Pepper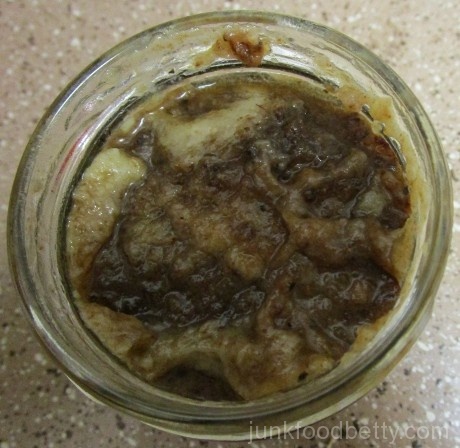 Black Pepper was my favorite of all the Bacon Jams, if I had to pick a favorite.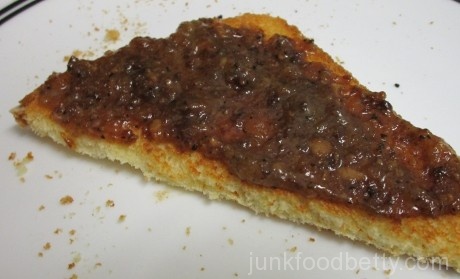 If you enjoy thick-cut bacon coated with black pepper, this is the Jam for you. It was the most savory of the Jams, which is why I liked it the most. There was still some sweetness there, but that black pepper bite cut through it quite pleasantly. The ever-present onion also complimented the pepper nicely.
After ingesting three slices of The Bacon Jams Bacon Spread toast, my stomach felt a little funky, but I attribute that to the sweetness – which is also my biggest complaint about Bacon Jams. I get that many people like their bacon sweet, and that this is also a jam, but that part just wasn't my cup of tea.
That said, Bacon Jams is actually a quality product, with goddamn real bacon – which it better have, for the price of $15 per 8 ounce jar. All Original will please maple bacon fans, while those who like a savory bacon (still with some sweetness) might prefer Black Pepper. As for Red Chile & Garlic, it just came off as kind of weak.
While I wouldn't buy this for myself, I could definitely see others enjoying this on toast, or on top of a bagel schmear, or maybe even on a BLT or grilled cheese. As for The Bacon Jams, they have higher aspirations, whichi were showcased in a nice little recipe book that came with my jar. Some of them I find to be quite a stretch, like S'mores Bacon Jam (hurgh) and Swedish Meat Balls with Bacon Jam Sauce, which sounds like they just made a scary dish scarier.
So, I didn't throw up, which was good, especially after opening up that first jar. But I didn't fall in love, either, which is also good, because of how much this stuff costs. If you've got the money and love bacon, WHICH IF YOU ARE ON THE INTERNET RIGHT NOW READING THIS I AM SURE THAT YOU DO, then you might try giving it a shot, if just to experience a unique pork product.
[Disclaimer: I received this product for free from The Bacon Jams. This in no way colors the objectivity of my review, as is evidenced by the amount of time I reference vomiting.]
The Bacon Jams Bacon Spread: All Original, Black Pepper and Red Chile & Garlic

Score (All Original): 2 out of 5 layers of fat
Score (Red Chile & Garlic): 1.5 out of 5 missing chiles
Score (Black Pepper): 3 out of 5 Swedish meatballs
Price: Free
Size: Three 8 oz. jars
Purchased at: Delivered for free
Nutritional Quirk: Contains real, actual bacon! Also contains only 2 grams of fat per tablespoon serving, which is way lower than I thought it would be.