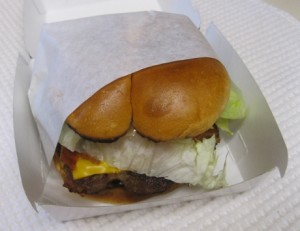 Jack in the Box always delivers on the marketing side of things, and the Bacon Insider burger is no exception. First off, we have the commercial.
I want to hate the jingle, but for some reason I find it difficult to do so, even though I managed to memorize the entire thing and get it stuck in my head after just two viewings. Well, I guess that's the sign of a good jingle.
What does it say about me that I'd rather have the curly fry tree than the chopper out back?
What we really need to focus on here, though, is the bork. In case you haven't figured it out, it's beef and pork, represented in the commercial by pigs with cow-like markings on them.
This creative take on the "stuffed burger" concept seems cute and innocent in the commercial, but I sense some dark, Island of Dr. Moreau-esque undertones. This is punctuated by the bork at the very end of the commercial that proclaims, "Moink?"
It's the desperate cry of an abomination, confusion showing in the question mark as it struggles to understand its place in nature when, in reality, it has none.
I'm just fucking with you. I instantly fell in love with "Moink?" and have said it like, five times today. It's a delightful portmanteau.
If you want a real bonus treat, watch the Spanish-language version of the commercial, which contains mariachis wearing Mexican pointy boots, a thing I did not know existed until now. The boots, not mariachis. Credit to sometime guest-reviewer Robert for finding this gem.
Also true to form, Jack in the Box has created a special promo site for the Bacon Insider, including a tour of Jack's farm and a game where you control a bork in…virtual space? that shoots bacon at regular hamburgers and turns them into Bacon Insiders. If this weren't Jack in the Box, I'd consider that a bizarre sentence.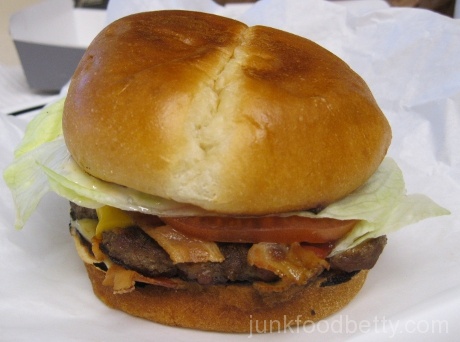 Here's Jack's long-winded description of the Bacon Insider: "Jack's newest creation is a bacon triple threat. A juicy beef patty mixed with savory pieces of bacon. This new bacon and beef patty is sandwiched between hickory smoked bacon and topped with creamy bacon mayo, lettuce, tomato, and American cheese. All served on our new soft warm brioche bun. This burger is sure to make you want to 'bring home the bacon.'"
Can we pretend they never used the phrase "bring home the bacon" and just stick with "moink" and "bork"? I'm sure the Swedish Chef would agree. Bork bork bork.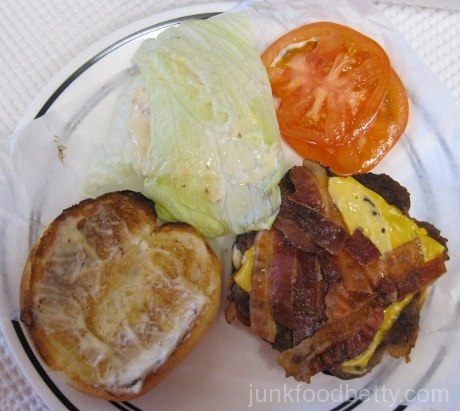 The Bacon Insider, deconstructed. The lettuce was a little sad, but the tomatoes were juicy, and look at that lovely bacon configuration. Instead of letting the slices just flop out the sides, they've been neatly arranged to fit in the burger. And plenty of it, too!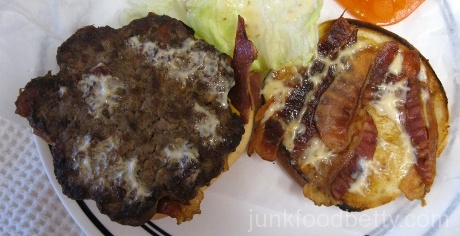 But wait, there's more! And by that I mean more bacon and bacon mayo underneath the bork patty. Double bacon layer. That's pretty awesome.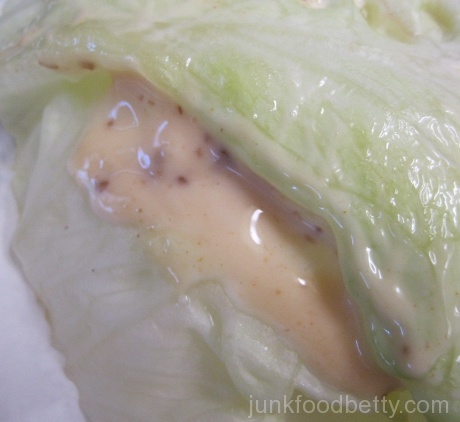 Speaking of the bacon mayo, I tasted some on its own and it was tangy (because it's mayo, duh) but only vaguely bacon-y. As you can see, there were little speckles in it that looked bacon-ish, but it wasn't like there was some JitB employee hand-crumbling pieces of bacon into the condiment.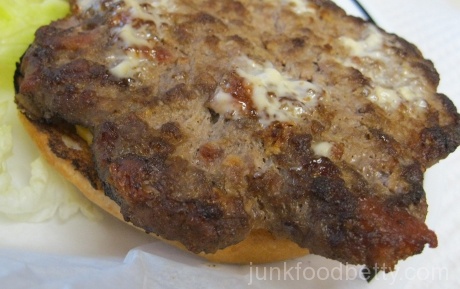 Now we come to the bork patty. There were definitely some visible bacon pieces in the burger, and when tasted on its own, the bacon was impressively noticeable. In my experience, most "stuffed" burgers don't actually gain any flavor from whatever they're stuffed with, so this is a bit of an accomplishment.
Now that we've deconstructed the Bacon Insider, the real question is, how did it taste altogether?
I found it to be what is probably the most baconiest fast food burger I've ever had. The bacon strips were what I would call mid-level crispy, and the configuration of the strips, in addition to having them on top of and beneath the burger, guaranteed that I got bacon in each and every bite. How often does that happen with a bacon cheeseburger?
Looking at the big picture, it seems like it's the proliferation of bacon strips that did all the heavy lifting on the Bacon Insider. Maybe the bork patty and the bacon mayo added a little extra bacon support, but I could also argue that their flavor disappeared under all that bacon.
The bottom line, however, is that the Jack in the Box Bacon Insider burger really does deliver the bacon goodness. (I almost made a "bring home the bacon" joke there, and then realized what I was doing and quietly backspaced. Oh, wait, I probably wasn't supposed to tell you that.) I credit the amount and configuration of the bacon strips, but I do wish the bacon mayo and the bork patty had been able to shine a little more. However, it made for a great marketing campaign, and I learned about Mexican pointy boots!
At the end of the day, all I can say is…moink?
[Disclaimer: This Bacon Insider burger was purchased with gift cards provided by Jack in the Box. This is no way compromises the integrity of this review.]
See below for giveaway rules!
Jack in the Box Bacon Insider Burger
Score: 4 out of 5 Bork bork, bork bork bork bork.
Price: $4.99
Size: 1 burger
Purchased at: Jack in the Box #106
Nutritional Quirks: 68% of your daily recommended amount of total fat. But with that much bacon, can you really find that surprising?
Thanks to Jack in the Box, I have TWO freebies to give away today! One lucky person will receive two $10 Jack Ca$h Cards, and another will receive one $10 Jack Ca$h Card and a special "What Does the Bork Say" (size large) t-shirt!
Just leave a comment on this post – the two winners will be chosen at random and announced Tuesday, February 18, 2014. Make sure to include your email address – this information is not public but I will need it to contact the winners!