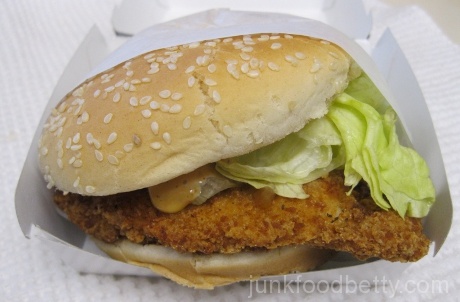 Jack in the Box didn't form a large campaign around their Blazin' Chicken Sandwich, instead opting for a sexual harassment commercial that, while mildly amusing, I found frankly disappointing.
Normally, I would barely notice or care if a fast food place went pedestrian when it comes to sandwich marketing – after all, new menu items come out all the time, especially if you're Jack in the Box – but as soon as I heard the description for the Blazin' Chicken Sandwich, I was struck with the Lightning Bolt of Marketing Brilliance.
"The new Jack's Blazin' Chicken has spicy crispy chicken, Ghost Pepper Ranch sauce, and sliced jalapeños."
I took two words away from this: Ghost Ranch.
Jack went all out with their Bacon Insider Burger, giving us an inside view of Jack's farm that includes a curly fry tree and a helicopter.
But you know what's missing? Jack's motherfuckin' Ghost Ranch.
Imagine the commercial: Jack's tooling around the farm, moving hay bales or experimenting with the genetics of mutant animals or what have you, and suddenly he hears a strange noise coming from a corner of the farm that has long since been abandoned and neglected.
He parts the branches of a grove of weeping willows to find a spooky-looking ranch, complete with fog machine and maybe a graveyard for all the previous failed genetic abominations he's created. Suddenly, he hears a loud noise…
"MOO!"
Jack jumps three feet in the air, probably not soiling his overalls since this is a rated G commercial, but then he sees a chicken with a loudspeaker!
"Aw, I messed it up," the chicken says, looking crestfallen. "I was supposed to say 'BOO!'"
"That's okay, I'll keep your secret," Jack says amicably. "What is this place?" But as he looks back the chicken is suddenly…gone.
Flummoxed and freaked out, Jack notices a strange glowing a little ways away. He goes over to explore, and finds a whole field of ectoplasmic slime! But right in the middle of the goo, he spots it – the ghost pepper plant.
And then some other spooky stuff happens. I kind of ran out of ideas at this point.
Sooo let's move onward to the actual sandwich!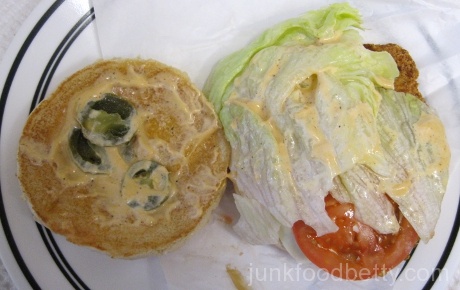 There's three heat factors to the Blazin' Chicken Sandwich, and I will address them separately first. Let's start with the jalapeños.
Dear every fast food chain ever: Why can't you put more than three fucking peppers on my sandwich? This is a widespread, chronic problem that continues to frustrate me. Is this some sort of rule? The three jalapeño max? Pickled jalapeños must cost, like, half of a cent each. So why can't you give me enough to cover my whole sandwich?
That said, there was nothing special about these peppers, but they did add a nice touch of heat to the sandwich.
Next up, the spicy crispy chicken. I actually quite enjoyed my chicken – it was juicy and definitely crispy, with a thick breading that had an excellent amount of seasoning and a nice touch of heat. I'm assuming it's the same chicken they use on Jack's Spicy Chicken Sandwich, which I've never had, but I'd put it up at the top of my list of spicy chicken sandwich filets.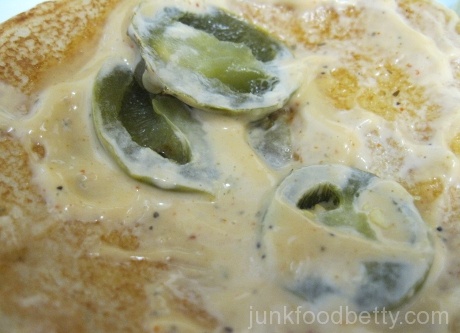 And finally, the ingredient designed to set the Blazin' Chicken Sandwich apart: the Ghost Pepper Ranch. While my lack of jalapeños was disappointing, the amount of ghost pepper ranch on my sandwich made up for it.
I've come up with a scale when it comes to fast food peppers: take whatever spicy ingredient they claim they're using and take it down about two notches (unless you can see physical evidence of the pepper itself). For example, if you see "habanero", think "jalapeño".
Therefore, when I saw "ghost pepper", which is actually the first time I've seen a fast food place with the balls to use them, I figured "habanero". Which is not an unimpressive amount of heat, mind you.
Jalapeño slices and spicy breaded chicken already make a great combo, but I have to say, I was really impressed by the Ghost Pepper Ranch. The base was distinctively ranch dressing, with its signature tanginess, but the ghost pepper part of the equation really did pack a punch. It hits you immediately and builds with every bite. In fact, my lips were burning after just a few bites, and continued to do so after I'd finished the sandwich.
The Ghost Pepper Ranch wasn't just heat for heat's sake, though – it was also quite delicious. The ranch balanced the heat, which is exactly what it should do, and the flavor of the peppers also managed to come through the spiciness. I'm so glad I got a heaping helping of it, and I wanted more even after my sandwich was done and my mouth was burning.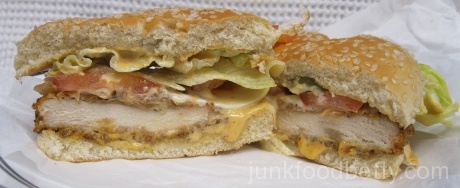 Now let's put all these ingredients together. I got some sad lettuce, as per usual, and some nice tomatoes that I didn't feel were really necessary. The bun was pedestrian sesame, and the cheese, which Jack in the Box calls "Swiss-style", was actually melted and added a nice creaminess to compliment the crunch of the chicken, which was not at all soggy, I might add.
I just noticed on Jack's website that I was supposed to get grilled onions on my sandwich. They were nowhere to be found. That sucks. They wouldn't have been necessary, but they would have been a nice addition.
By the way, maybe it was just the amount of Ghost Pepper Ranch on my particular buy, but my Blazin' Chicken Sandwich was messy as hell. I didn't care, since I was eating it in the privacy of my own home, but my buns were sliding all over the place (teehee) and the whole thing needed constant rearrangement to keep from falling apart completely.
All in all, I call Jack in the Box's Blazin' Chicken Sandwich a rousing success. I got a sucky amount of jalapeños, but Jack makes a nice spicy chicken, and the shining star was the Ghost Pepper Ranch sauce. I wasn't exactly crying tears of capsaicin horror, but it was legit spicy and delicious at the same time. I want Jack to start offering Ghost Pepper Ranch as a side sauce. I would put it on everything.
I usually conclude a supposedly-spicy fast food sandwich by saying something like, "you suck, this wasn't at all spicy, I hate when fast food even mutters the word spicy, blah blah blah", but in the case of the Jack in the Box Blazin' Chicken Sandwich, I can recommend it with a clear conscience if you're looking for a kick from your chicken. Just ask for extra jalapeños. And extra-extra Ghost Pepper Ranch. And extra napkins.
[Disclaimer: This Blazin' Chicken Sandwich was purchased with a gift card courtesy of Jack in the Box. This in no way influences my review or changes my mind that Jack should have had a Ghost Ranch.]
Jack in the Box Blazin' Chicken Sandwich

Score: 4.5 out of 5 soiled overalls
Price: Free (regular price $4.69)
Size: 1 sandwich
Purchased at: Jack in the Box #111
Score Quirk: I'm calling this a "score quirk" because I gave it high marks despite the lack of onions and not enough jalapeños. Sometimes you can't blame the company for the franchise. Plus I got extra ghost pepper ranch so nyah.