There seems to be some confusion surrounding Domino's new Specialty Chicken. I first heard mention of it from Conan O'Brien, where he described it in his monologue as " new pizza where, instead of dough, they're using fried chicken." Half-listening, I thought to myself, "Oh, that must not be in this country. The United States has gotten pretty insane with our pizzas, but not that insane."
And yet, as I was doing my usual Internet food-trolling duties later that day, I came across the Specialty Chicken.
I love the mysteriousness of the name. What makes this chicken so special? Is it because it is, indeed, a chicken pizza crust? Domino's themselves describes it as "100% whole breast white meat chicken covered in our toppings, sauces and cheeses."
Well, that sounds like a chicken pizza crust to me!
At this point, Specialty Chicken became known as "Domino's Abomination" in my household, two words I tried desperately to portmanteau. "AbDomination" was the best I could come up with, which still reeks of trying-too-hard so I don't even know why I'm telling you this.
So far, Domino's Abominations come in four flavors: Classic Hot Buffalo, Sweet BBQ Bacon, Crispy Bacon & Tomato and Spicy Jalapeno-Pineapple. Given the concept, I only chose two, as the idea of eating or even possessing four chicken crust pizzas was too daunting for my mouth.
When my special chickens arrived, they came in the same box that Domino's uses for their sandwiches and wings. Upon opening, I was more than a little disappointed by the size. Instead of a whole pizza, it was more the size of a slice.
I'll discuss the basics before I get to the specific toppings. First of all, Specialty Chicken is not a chicken crust. While Domino's description above is questionably accurate, what they fail to add is that the chicken basically comes in nugget form. Call it disappointing or encouraging, this does not a chicken crust make.
That said, the pieces were lightly breaded with a nice seasoning, and the chicken was surprisingly tender. I wish I'd taken the time to count exactly how many there were – I'd estimate a little over six per.
The real failing here was the topping coverage. The Crispy Bacon & Tomato managed to hold it together, you might say, but the Spicy Jalapeno-Pineapple just looked like a disaster.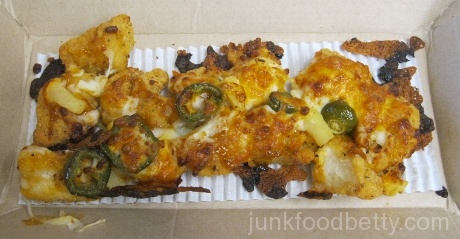 Starting with the latter, Domino's describes it as "Tender bites of lightly breaded, 100% whole breast white meat chicken, topped with sweet and spicy mango-habanero sauce, a blend of cheese made with mozzarella and cheddar, jalapeno and pineapple."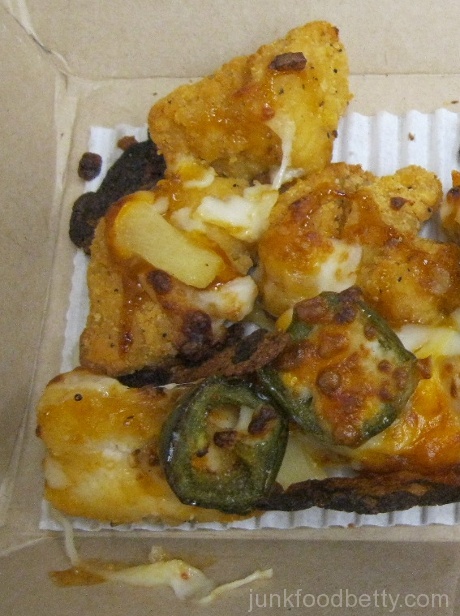 I feel like I was missing a fair amount of all of these things except the chicken. There was a lot of cheese overflow, resulting in some lovely cheese crisps, but that wasn't the point. I had to actually work to get cheese, a piece of jalapeno and a piece of pineapple on the same piece, and I didn't even know there was a sauce until I read the description.
That said, when I managed to get the toppings in tandem with the chicken, the spicy and the sweet worked quite well together. I'm not a huge pineapple fan, but it worked well to balance the impressive level of heat from the peppers. If there had been any trace of the mango-habanero sauce, I feel like that would have taken this Specialty Chicken to the next level.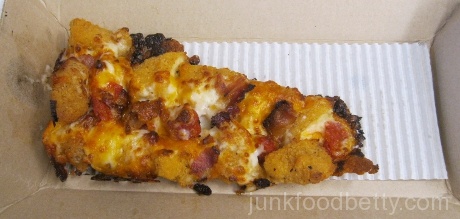 The Crispy Bacon & Tomato actually kind of resembles a pizza slice. Domino's describes it as "Tender bites of lightly breaded, 100% whole breast white meat chicken, topped with garlic parmesan white sauce, a blend of cheese made with mozzarella and cheddar, crispy bacon and tomato."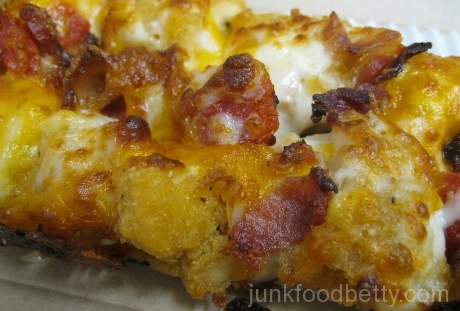 The toppings were joyously more prominent on this Specialty Chicken. The garlic parmesan white sauce definitely made its presence known, adding a creamy lubricant (phrasing) that compliments the toppings and the cheese that binds it all together.
I actually had a bit of fun pulling these chicken pieces apart, watching the cheese stretch and enjoying the smoky bacon that was actually crisp, along with the juicy tomatoes. The tomatoes were more scarce than the bacon, but I'd rather have that than the other way around. The sauce was tangy and really brought it all together.
All of this sounds overly complimentary in the face of my description of the Spicy Jalapeno-Pineapple Specialty Chicken, but in reality, neither of these delivered on the toppings-to-chicken ratio. If you ordered a pizza and half of it was completely topping-less, you'd probably call Domino's asking for your money back. If we're treating this like a chicken pizza, that was exactly the case here.
I'm amending my initial moniker of Domino's Abomination and calling Specialty Chicken Domino's Disappointment. If these had initially been described to me as "breaded chicken pieces smothered in sauce, cheese, and toppings", I would have responded with, "Fuck yeah, where do I sign up?"
While this is what Specialty Chicken was meant to be, this is not what I got. Everything was lacking except the chicken – barely any toppings, cheese that didn't even start to cover each piece of chicken, and sauce that was meager or tasted non-existent. Furthermore, the price for these things is completely overblown – I was able to eat both in one sitting, which comes to $12 for a lunch from a fast food joint. I feel like Domino's Specialty Chicken could be so much more if they lowered the price and upped the toppings.
Domino's Specialty Chicken

Score (Spicy Jalapeno-Pineapple): 2 out of 5 sad "Where's the sauce?" jokes
Score (Crispy Bacon & Tomato): 2.5 out of 5 creamy lubricant jokes
Price: $5.99 each
Size: 12 pieces each
Purchased at: Domino's #7602
Nutritional Quirks: Domino's website tells me there were 12 pieces each, but I swear I got cheated.