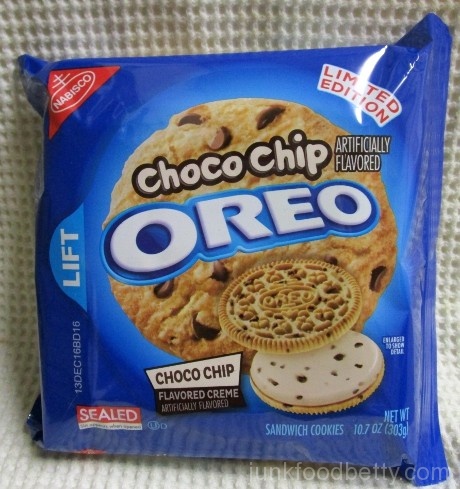 If I'm counting correctly, Choco Chip Oreos are the sixth Oreo to come out in 2016. An astonishing number. And yet, I've only reviewed one out of the other five. Why so lax? Why aren't I on these like sugary creme on sugary cookie?
I'm just so Oreo-d out. I probably could have drummed up some interest in the Fruity Crisp ones, but I just never got around to them. My brain and my cupboard just didn't have room for it.
But for some reason, these Choco Chip Oreos caught my attention. On the outside, it looks like a pretty boring premise, and not unlike the Limited Edition Cookie Dough Oreos from early 2014. But once you look deeper, it becomes somewhat of an Inception-esque cookie creation: The cookie part looks like chocolate chip cookies and the creme is "Choco Chip" flavored.
The sum of its parts is an Oreo, a cookie unto itself that has inspired countless knock-offs and mix-ins, that is masquerading as a chocolate chip creation, and entirely different type of cookie that also has countless mix-ins.
It has finally happened. Oreo has taken the cookie and folded it in upon itself, causing some sort of cosmic cookie implosion. This is the end, my friends. It's been a good ride.
Okay, so that's drastic. The cookie world will not end. In fact, there's probably a PR being written right now about yet another Oreo cookie flavor. But for now, there is Choco Chip.
The name itself raises questions. Choco Chip could be a cutesy name, which is fine, but then Oreo really commits to the phrase by also calling the creme Choco Chip. I guess, unlike Cookie Dough Oreos, these are not made with "chocolatey chips", which is also a dubious "ingredient". Choco Chip just takes it one step further outside the zone of a real food item.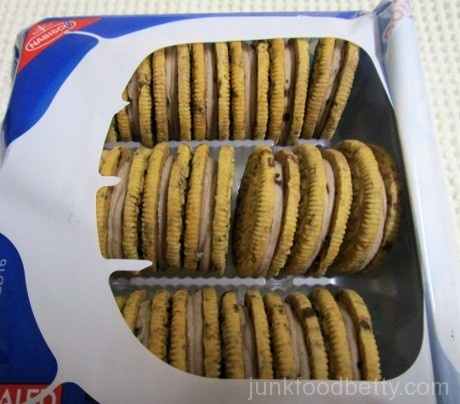 When I opened the package I took a big ol' whiff, and the smell was like the memory of chocolate chip cookies combined with something artificial…maybe the creme. It was an interesting olfactory sensation. It's like chocolate chip cookies, but if this was a dystopian future and everyone had forgotten the recipe, so they just tried to make them from their grandmothers' memories of their mothers' kitchen.
As has been my habit when trying new Oreo flavors, I tried the cookie part first. I was pleasantly surprised to find that it did not, indeed, taste like a dystopian cookie memory; instead, it tasted like an almost-there Chips Ahoy! cookie. It had a very satisfying crunch – typical of an Oreo – and extra-crunchy bits that, while I had no illusions about being actual chocolate chips, added an extra layer of texture.
I'd honestly be curious to see how these Oreos stacked up against the newly-released Chips Ahoy! Thins.
But, as we all know, there's two parts to an Oreo, and arguably the most important part is the creme filling. Like the cookie, it was flecked with a darker chocolate color, but again, these were not chocolate chips. Unlike the cookie, however, they added no different texture to the creme.
What was most notable about the filling was how much it didn't taste like a chocolate chip cookie. Alone, it had a light, fake chocolate taste with a bit of an odd aftertaste, as well as Oreo's typically over-sweet creme flavor.
Chocolate chip cookies have a distinct taste even without the chocolate chips, and the creme in Limited Edition Choco Chip Oreo Cookies totally failed to capture that flavor. It didn't even manage to get a good chocolate flavor going.
The cookies, however, had a nice, chocolate chip cookie-esque flavor to them, which was bolstered by the crunchy texture and the added crunchy bits. I started to wonder if I was just imagining the extra crunchiness, so I ate way more Oreos than I usually can tolerate in an attempt to figure it out. My conclusion? I had a stomachache, and I'm pretty sure I wasn't just imagining them.
When you eat a Choco Chip Oreo as a whole, you get a sad juxtaposition of good and bad, chocolate chip cookie and Choco Chip weirdness. If only they could have made the creme match the cookie; then they would have had a real powerhouse Limited Edition flavor on their hands.
I might just wind up twisting the rest of these apart, eating the cookies, and using the creme to make some sort of weird golem sculpture. After all, Halloween is right around the corner, friends!
Limited Edition Choco Chip Oreo Cookies
Score: 2.5 out of 5 Inceptioned creme golems
Price: $2.50
Size: 10.7 oz package
Purchased at: Walmart
Nutritional Quirk: The Choco Chip-iest ingredient listed is cocoa, which is depressingly far down on the list.