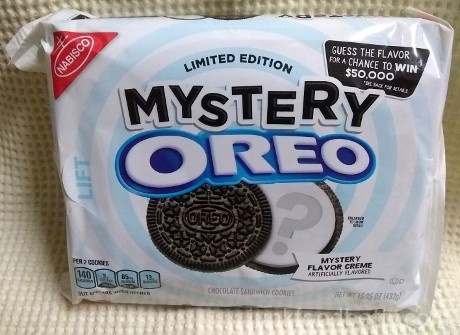 Here we are, at peak Oreo. No double-colored creme, no dyes that will turn your poop pink, just two chocolate cookies and some white filling. Just like a classic Oreo.
Except the flavor is a complete mystery. After years of pumping out weird flavors, Oreo just went, "Eh, you guys figure it out."
Gotta say, digging the packaging, though. Simple yet striking, it definitely stands out in the sea of blues and yellows that are the many other existing Oreo flavors. The light blue swirl is a nice touch. oooOOOooo Twilight Zone! I'd like to think that in this, the month of all things spooky, it was a subtle Halloween nod by Oreo.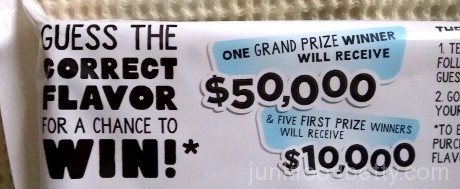 They won't make you guess the flavor for free, though. They're running a contest, because of course they are. Guess correctly and you could win a cool $50,000. I think that's one dollar for every flavor of Oreo they've come out with in the last ten years.
Look at them. They look so innocent. Like you're about to have a nice time with some Oreos and a glass of milk.
Mystery Oreos have taught me that looks can fool you.
All you have to do is stick your snout in the package and the mystery is over. It's Froot Loops. Or Fruity Pebbles. Pick a multi-colored, very artificially-flavored sugary fruit cereal. Mystery solved, can I have my money now, please?
But that raises the question, what about Fruity Crisp Oreos? They came out just last year, and purportedly tasted exactly like Fruity Pebbles. (Of course, this is one of the flavors I skipped, due to Oreo fatigue. It figures.) So did Oreo just get insanely lazy?
Well, there's smelling, and then there's eating. My husband asked the all-important question as he tried a Mystery Oreo with me in solidarity: "Is the cookie part of the mystery?"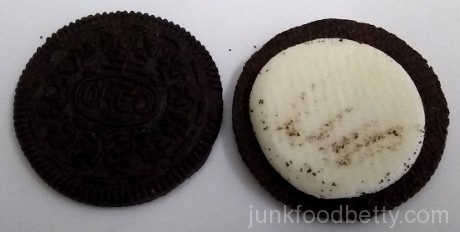 I started to say no, but as I popped the creme-less cookie into my mouth, I thought, oh you sneaky bastards. You made the cookie taste like Fruity Pebbles, too, even though they look like the regular chocolate!
Wrong. At least, partially.
The taste of the creme is so overpowering that for the first few chews, I thought it was all fruity, all the time. But then the chocolate flavor started creeping in, and I realized what a real mistake these Mystery Oreos were.
When eaten as a whole, Mystery Oreos are a terrible combination of cloyingly sweet, artificial-tasting fruit cereal and chocolate cookie. This is different from Fruity Crisp Oreos, which used the more neutral Golden Oreo cookie. Attempts to dislodge the flavor from my mouth have been futile. Please leave my mouth, Mystery Oreos.
So the final guess I'm going to make for Mystery Oreos is "That Time As a Kid You Thought Mixing Fruity and Cocoa Pebbles Was a Good Idea, and Lessons Were Learned".
100% spot on. Now give me my money, Oreos.
Limited Edition Mystery Oreo Cookies
Score: 1 out of 5 serious cereal mystery mistakes
Price: $3.49
Size: 15.25 oz. package
Purchased at: Safeway #1717
Nutritional Quirk: "natural flavor, artificial flavor, chocolate". Oreo gives nothing away. Except chocolate.