Nabisco has really gone off the rails with their Oreo flavors. If I sound like a broken record, that's because Nabisco has really gone off the rails with their Oreo flavors. This makes it really hard to come up with something unique to say about all these new Oreo flavors. Don't get me wrong – I love variety. But this is getting exhausting. So exhausting I'd just like to get down to business. Cookie business.
Marshmallow Crispy Oreo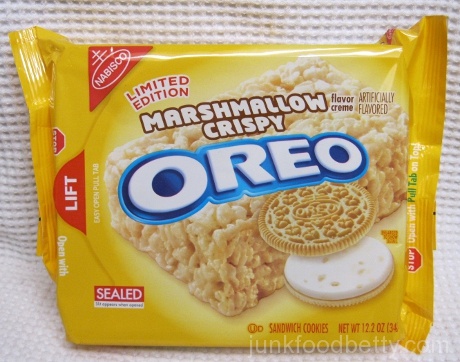 Right off the bat, Marshmallow Crispy Oreos and I start off on the wrong foot. Upon seeing the package, all I wanted was a Rice Krispies Treat, and then I wanted an Oreo-shaped Rice Krispies Treat sandwich with Oreo filling.
Knowing from the package that neither of these are what I would find inside, I swallowed my prejudice, as it were, and dove into what registered-trademark-respecting Marshmallow Crispy Oreos really are.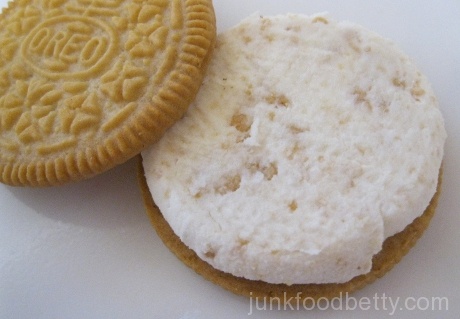 I have to say, first impressions were pretty damn close to what the picture on the package promises: a Golden Oreo with marshmallow filling that contains little crispy bites.
Since I figured I'd get the best impression of the filling by doing what everyone does with their Oreos, which is lick the crème, I…licked the creme.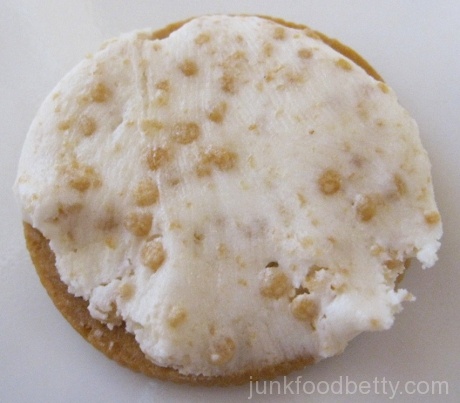 It makes me mildly uncomfortable to put a picture of something I licked with my disgusting human saliva on the Internet, but I was so impressed with the number of crispy bits in the filling that I had to share. The open, un-licked cookie just doesn't do it justice.
Defying the odds, the crunchy bits stayed crunchy in the creme and had that Rice Krispies-esque taste and texture. The creme itself did have a bit of a marshmallow taste to it, but it was a lot sweeter and came closer to the flavor of regular Oreo filling than I would have liked.
Unfortunately, that "regular Oreo" feeling came full circle when I ate a Marshmallow Crispy Oreo as a whole. The two Golden Oreo cookies already had a bunch of crunchiness to them, which made the crunchy bits in the creme pretty much disappear.
If you ask me, the best way to truly enjoy Marshmallow Crispy Oreos is to eat the filling separately and then use the Golden Oreo cookies to…uh…I dunno, dip into some cake frosting and then go into a complete sugar coma? That's the only way I can think of to really make Marshmallow Crispy Oreos stand out from regular Golden Oreos.
Cookie Dough Oreo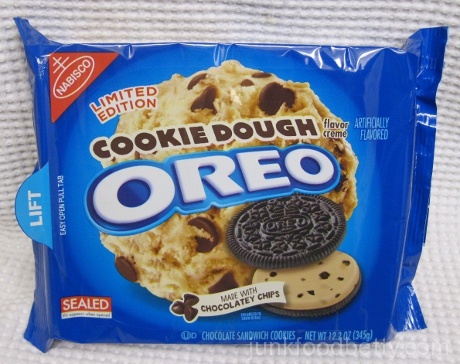 If you're to fall for the packaging on these cookies, the Cookie Dough Oreo looks a hell of a lot like a chocolate cookie, and is "made with chocolatey chips". This verbiage sends up red flags, as "chocolately chips" sounds a lot like "not actual chocolate chips" or maybe "chips, but not really chocolate in nature".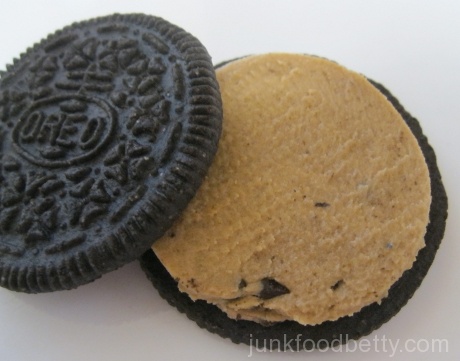 Upon opening my first cookie, I feared I'd never know the truth either way, as there did not appear to be any chips of chocolatey or chocolatey non-chips at all.
I tried a second cookie at random and found it to be a little more cookie dough-looking.
I've eaten my share of cookie dough back in the day, laughing in the face of E. coli or salmonella or whatever the hell they say is wrong with eating raw cookie dough. Given that I'm pretty sure my bones are made of expired Slim Jims and my blood is mostly processed cheese sauce, I just don't have these kinds of concerns. I'm sure one day this will come back to haunt me, possibly in the form of coming back up to haunt me, but I like to live dangerously.
Enough about telling kids it's okay to eat raw eggs; the point here is that I know what cookie dough tastes like, and I can definitively say that none of the flavors of this dangerous but delectable treat are present in Cookie Dough Oreos. There's not even a chocolate chip texture.
In fact, the creme in these cookies tastes kind of like…a mocha caramel coffee drink? What the hell?
I was so flummoxed by this that I broke my rule of not reading other people's reviews until I'd posted my own and went in search of other people's opinions on these cookies, certain that somehow my tongue had gone haywire. Sure enough, The Impulsive Buy shared my sentiments almost exactly, reassuring me that I had not had a stroke.
That said, mocha caramel coffee Oreos are delicious. The problem, obviously, is that these are not Mocha Caramel Coffee Oreos, these are Cookie Dough Oreos, and, given that, they fail everything that cookie dough actually is, taste- and texture-wise.
Both Marshmallow Crispy Oreos and Cookie Dough Oreos disappointed my taste buds on some level. The former with its lack of distinct marshmallow flavor and disappearing crunchy bits, and the latter with its lack of chocolate chips and, well, cookie dough-ness.
That said, I'm not kicking either of these limited edition flavors out of my cupboard. Unlike Limited Edition Watermelon Oreos, there's absolutely nothing offensive about either flavor. While Marshmallow Crispy is just rather pedestrian, Cookie Dough is straight rockin', although not for any reasons its namesake would imply. Given that neither will be around long, I encourage readers to give them both a try.
Limited Edition Marshmallow Crispy Oreo and Cookie Dough Oreo
Score (Marshmallow Crispy): 3 out of 5 trademark infringements.
Score (Cookie Dough): 3.5 out of 5 WHY AREN'T THESE CARAMEL COFFEE OREOS
Price: $3.00 each (on sale; regular price $3.69 each)
Size: 12.2 oz.
Purchased at: Safeway #1717
Nutritional Quirks: Chocolate is the last ingredient listed in Cookie Dough Oreos. "Chocolatey", indeed.