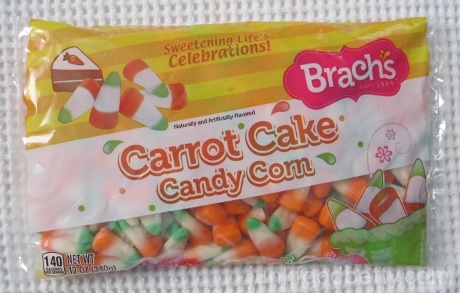 I'm always for new holiday-related junk food. Even if it's somewhat uninspired or just plain gross, I'm willing to try it, especially since odds are likely I'll never see it again, or at least until next year.
There have been items I've really enjoyed, like Mission Sugar & Cinnamon Tortilla Chips and Scary Blackberry Ghoul-Aid. There have also been holiday items that made my mouth sad, like White Chocolate Peppermint Pringles and Disney Candied Apple Candy Corn.
Speaking of candy corn (talk about a suave segue), here we have yet another candy corn that isn't supposed to taste like candy corn! Isn't that exciting?
The answer is no. Remember how I said I'm all for new holiday food in the first sentence of this review? I'd like to directly contradict that by saying that I'm really tired of candy corn. Hell, I was tired of candy corn when it was just candy corn-flavored candy corn. Now things are really getting out of hand.
So now, here we are, with Brach's Carrot Cake Candy Corn. Brach's, the original candy corn offender.
If you're going to try to get me to eat carrot cake candy corn, you're going to have to do better with your packaging than a slice of cake and a vaguely Easter-looking basket with no handle. Seriously, no handle? I mean, I want an Easter bunny and some cute looking little chicks, but at this point I would settle for a tisket with a tasket. Sigh.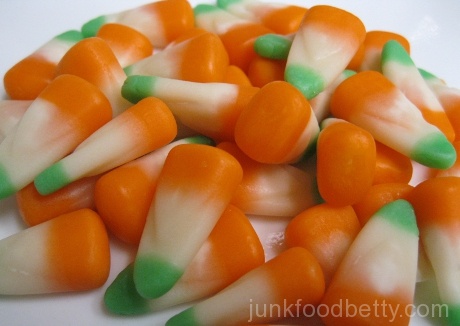 Well, at least the corns are kinda cute. The colors are vibrant and appropriately carrot-y.
When I first opened the bag and took a whiff, all I got was that weird plastic-like smell of regular candy corns. My brain went, "Oh no…oh wait, this could actually have gone much worse, so be thankful, nose." And when I first popped a handful – looking back, throwing back this amount was a brazen move that could have gone terribly wrong – all I could taste was candy corn.
However, that flavor gradually gave way to distinctive but subtle notes of cinnamon and nutmeg that actually gave the corns a reasonable facsimile of the taste of carrot cake.
There was no hint of cream cheese frosting, which pairs so well with a nice, moist slice of carrot cake, but maybe that's asking too much. Also, that initial taste of regular candy corn never quite went away, which, unfortunately, went a long way in removing the suspension of disbelief that you weren't actually eating what is, essentially, a Halloween candy.
As I expected, the texture was also exactly the same as regular candy corn, which is neither a positive nor a negative; it just is, because these are candy corns.
I wouldn't call Brach's Carrot Cake Candy Corn offensive, but I can't say I was blown away, either. They weren't gross, but they weren't great, either. If I found a small bag of them buried in the plastic grass of my Easter basket (with handle) amongst the Reese's Eggs and giant chocolate bunny, I wouldn't throw them in my parents' face. I mean, it's not like they're black licorice jelly beans. I'm not a monster.
However, after one handful, I was already over carrot cake-flavored candy corns, so the other 11 ounces in this giant bag will probably sit in my cupboard for about six months before I need the room for whatever the next crazy flavor of Oreos is.
Brach's Carrot Cake Candy Corn
Score: 2.5 out of 5 tiskets without taskets
Price: $2.29 (on sale; regular price $2.69)
Size: 12 oz. bag
Purchased at: Safeway #1717
Nutritional Quirks: It's candy corn that tastes sort of like carrot cake; what more do you want?