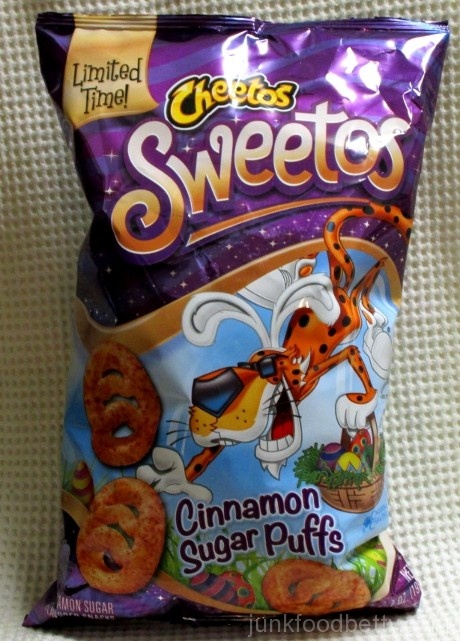 I love that Cheetos has been engaging in the holiday spirit lately. The holidays usually belong to the world of candy and cookies. First there was Bag of Bones, and now there's Sweetos Cinnamon Sugar Puffs.
On paper, the name shows no affiliation whatsoever with a holiday, but on bag, Cheetos Sweetos are Easter Central.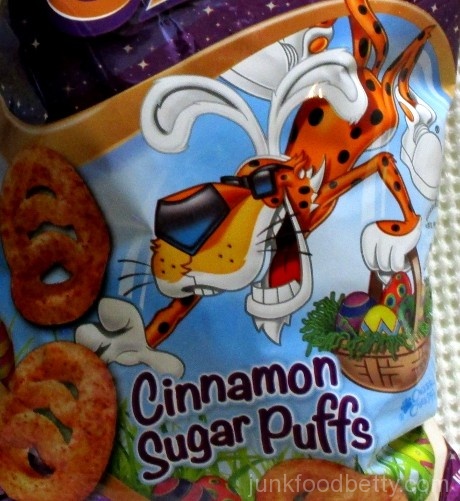 Chester Cheetah, one of my favorite snack mascots, is totally ready to party. He's rocking the same cheap bunny-ear headband you yourself could buy at Party City, but he refuses to part with his trademark sunglasses. Then again, the sky is blue and the grass is green, so maybe he's just being smart and protecting his eyes from the springtime sun.
He's obviously on an Easter egg hunt, and he's already grabbed some sweet finds for his basket – I spot "Monster Eyes" egg, "Charlie Brown, pastel style" egg, and what looks like a timely tribute to Barney the dinosaur.
But Chester's after the best eggs of all – that's right, Sweetos are shaped like decorated Easter eggs!
Except…why is this not in the name? Why not call them Sweetos Eggos? Oh…wait. Right. Actually, I can't think of a single Easter pun that would work in this context, which is a rare  for me. So I guess I should stop bashing Cheetos for going with "Cinnamon Sugar Puffs". Rhyming Cheetos and Sweetos is good enough for me.
When I first heard of Sweetos, I was pretty excited (like I do) and brought them up in conversation several times. Each time, I got the same response: "Ew, gross!"
I don't understand this knee-jerk reaction at all. What's with the immediate revulsion to the idea of cinnamon sugar puffs? My brain instantly went to Taco Bell (like I do) and their Cinnamon Twists.
I haven't purchased these in at least a decade, what with having to save that precious stomach room for one extra Meximelt, but Cinnamon Twists are a tasty treat and I dare you to say otherwise. It's the closest thing you're going to get to a churro without going to the fair. Or Disneyland.
Upon opening my Sweetos bag, I was hit a strong, delicious aroma that I immediately recognized: Cinnamon Toast Crunch. Cinnamon Toast Crunch is one of my favorite cereals, so I was off to a good start.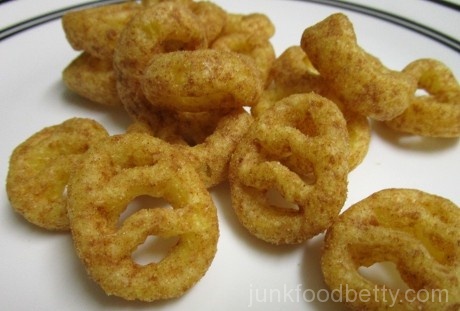 Cheetos Sweetos (why yes, I do enjoy saying that) could taste like dog turds and I still couldn't deny them the kudos that the snack's shape deserves. Each one is distinctly egg-shaped instead of just oval, with a larger base and narrower tip. And each one has two "stripes" that work both aesthetically and as a support structure to the shape. Despite their delicate texture, which was way less dense than a regular Cheeto, very few of my Sweetos were broken.
And yes, I was totally right – they taste a lot like Taco Bell Cinnamon Twists. Vindication, naysayers! They were very light and airy, but all had a generous amount of flavor dust on them. That's another good reason to include the stripes – more surface area for the dust to cling to!
If only that dust carried more sugar. This is Cheetos Sweetos' biggest downfall – the cinnamon is fine, but I found the sugar coating to be lacking. If I'm going to eat a cinnamon sugar snack, I want it to be cavity-inducing. This left them tasting a little flat.
The corn base is so airy that it tastes like almost nothing, which is kind of the point. The cinnamon and sugar should mask all corn. Again, the cinnamon does its job, but there's only a little bit of sugar.
I might be wrong, but I can't think of any snack out there on store shelves that's like Cheetos Sweetos Cinnamon Sugar Puffs. And, since these are a Limited Time flavor, soon they'll be gone forever, too.
I was going to say that I wish Cheetos Sweetos would stick around forever, but I kind of enjoy that such a thing is only available for a limited time. This is probably because I have to believe Sweetos will be back for another holiday. Tiny flag puffs for 4th of July, maybe?
Limited Time Cheetos Sweetos Cinnamon Sugar Puffs

Score: 3 out of 5 Easter Bunny Chester Cheetahs
Price: $2.49
Size: 7 oz. bag
Purchased at: Fry's Foods
Nutritional Quirk: With brown sugar, sugar and molasses listed as ingredients, you'd think my sweet tooth would be more entertained.