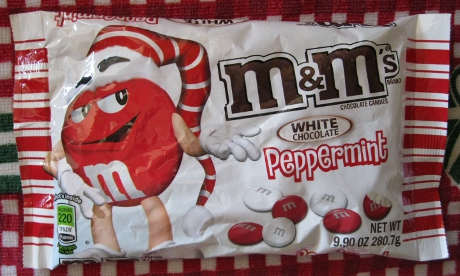 It's Christmas Eve, and I have a couple of holiday-themed items left to review and no time to review them! I'm like a frantic last-minute gift-shopper. Unfortunately, I can't just go to JC Penney and pay them to wrap these reviews up for me. Although the idea of attempting that is amusing.
This is my way of apologizing for what will be a short review. Short but sweet. Like candy!
What a terrible segue.
M&Ms White Chocolate Peppermint are a new edition to the melts-in-your-mouth family this holiday season. They follow another white chocolate holiday M&M – White Chocolate Candy Corn.
I'm not quite sure why they decided to go with white chocolate for this flavor. Regular chocolate goes quite well with peppermint – why not work with that? Oh, wait – Mint Dark Chocolate M&Ms already exist. Maybe they figured making a Milk Chocolate Peppermint would be too similar?
Enough speculation. My brain doesn't have time for this. It's already thinking about ham. Christmas ham, of course; I don't just sit around thinking about ham all the time. That I'll admit to on the Internet.
M&Ms usually puts some effort in the packaging department, and White Chocolate Peppermints are no exception. Red and white stripes adorn the sides, obviously meant to represent the stripes on a candy cane.
Red M&M was an obvious choice to represent this flavor, and he's wearing what I would call a Santa hat, except it has stripes and hangs down to his feet, which honestly looks more like some sort of Dr. Seuss accessory than what Mr. Claus would wear, but hey.
I'm really into Red M&M's facial expression and gesturing. His outstretched arms say, "Hey, check out these White Chocolate Peppermint M&Ms, hm? Nice, right?" His half-lidded eyes and bizarre mouth configuration give off a distinct "Ladies, maybe you want some minty chocolates?"
His eyebrows seem to have migrated onto the fur trim of his hat. I have no interpretation for that one.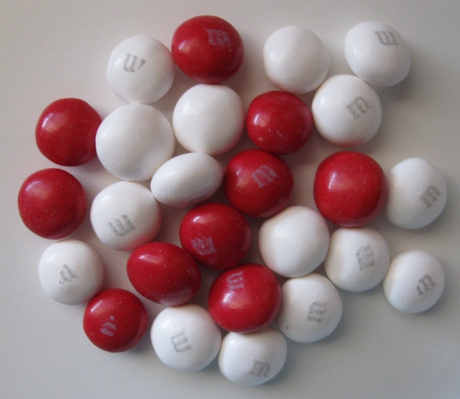 White Chocolate Peppermint M&Ms are about the same diameter as regular M&Ms, but seem a bit fatter. As I expected, one whiff from the bag filled my nostrils with the scent of candy cane. Not just peppermint – candy cane. An important distinction, and one that makes me wonder why M&Ms didn't call these White Chocolate Candy Cane. It is both more accurate and more festive!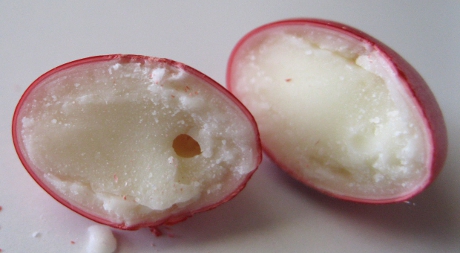 It would have been fun to see some red candy bits inside the M&Ms themselves, but these innards look like your typical white chocolate. Upon shoving a handful into my mouth, however, I was greeted with minty candy cane goodness. It was like sucking on a candy cane itself, minus the part where the end of the cane turns into a point sharp enough to kill someone and/or jab your gums painfully.
The crunch of the outer shell helped to add even more candy cane…ness to the M&Ms, and my mouth was transformed into a minty Christmas wonderland. The accuracy of the flavor was spot-on. However, candy cane is a strong flavor, which means that it completely overwhelmed the flavor of the white chocolate.
Going back to my original query as to why these M&Ms are white and not milk chocolate, I think they actually made a smart choice here. The white chocolate is naught but a delivery system for the peppermint flavor. It lends the texture of chocolate, but knows not to interfere with this decidedly Christmas taste.
At the risk of sounding like a broken record, I'm still baffled in regards to why M&Ms didn't call these White Chocolate Candy Cane. Everything from the packaging to the color of the candies to the taste itself screams it, and yet they went with peppermint. While I find this to be a sadly missed opportunity, rest assured that if you need to get your candy cane fix, you can stop sneaking around stealing decorations off the Christmas tree and just grab a handful of M&Ms White Chocolate Peppermint instead. Unless you like stabbing yourself in the gums.
M&Ms White Chocolate Peppermint

Score: 4 out of 5 HEY DID I MENTION THESE SHOULD BE CALLED CANDY CANE AND NOT PEPPERMINT ENOUGH TIMES
Price: $2.99
Size: 9.90 oz. bag
Purchased at: Target
Nutritional Quirks: Not much unexpected here – sugar, sugar, and more sugar. No mint or artificial flavors listed, so I'm guessing "natural flavor" means "minty elf blood".
Candy Blog and The Impulsive Buy also reviewed M&Ms White Chocolate Peppermint.