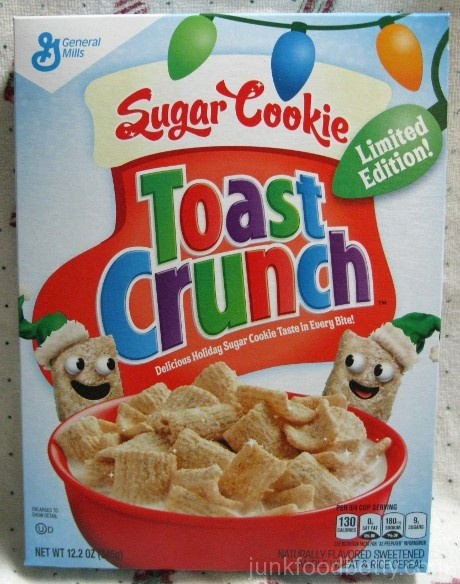 Cinnamon Toast Crunch has always been one of my favorite cereals. It's one of those cereals that blows past guys like Lucky Charms on the unhealthy scale and lands straight on "I'm basically eating dessert for breakfast". Cinnamon and sugar cereal that leaves you with cinnamon-sugar cereal milk – what's not to like?
For the holidays, we now have a limited edition version, which is Sugar Cookie Toast Crunch! Wait, what the hell is sugar cookie toast? I guess just Sugar Cookie Crunch wouldn't get the entire brand name across.
Besides the appeal of eating sugar cookies for breakfast, there was another obvious selling point for me on this cereal, and I'm pretty sure you can guess what it was. Sure, the Christmas lights and stocking are a nice touch, but the obvious draw here is googly-eyed cereal squares.
Well, more specifically, googly-eyed sugar cookie cereal squares wearing green Santa hats and looking absolutely overjoyed as they grin at each other over their drowned brethren. If there were actual googly eyes glued to each box of Sugar Cookie Toast Crunch, it would be my favorite cereal of all time.
Unbeknownst to me, these squares have a name, and that name is Crazy Squares. I always associated Cinnamon Toast Crunch with a fat chef wearing glasses, but the times have a-changed. While I will always have a place in my heart for Fat Toast Chef, Crazy Squares are pretty awesome, and you will see why when I show you the activity panel on the back of the box.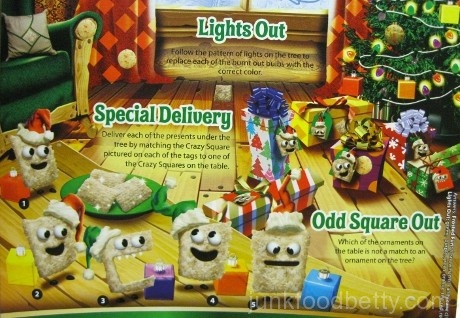 There's a whole bunch of stuff to do on this wonderfully festive panel. Crazy Squares are super into the Christmas spirit, with gifts and a tree festooned with glowing lights and ornaments.
The best part of this whole picture, however, is the Squares themselves. They are so happy. Well, I'm not quite sure what the guy on the far right is. He's…he's Special Square.
Can you tell which Crazy Square is my favorite? If you immediately guessed "the guy that Square #2 is really hoping is about to eat Square #4", then you are absolutely correct.
My favorite activity is called "Frosted Fun", and is described thusly: "The Crazy Squares have licked some picture puzzles of their favorite holiday things on the frost on the window. Can you guess the word each picture is creating?"
I'm sorry, what? They've licked some pictures onto the window? I have to assume this is the work of Special Square.
But what glorious work it is. Hold on, I got this:
a. "ninja bro"
b. "dapper old man"
c. "shitty birthday with vegan parents"
d. "squirrel rocking a snowboard…with bells"
No need to look at the answer key. Nailed it.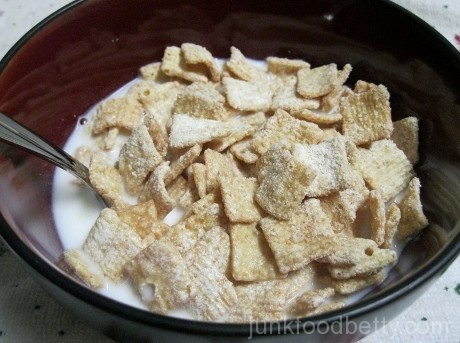 Here is the cereal itself. Look at it! You did a good thing, Sugar Cookie Toast Crunch. Each piece, to varying degrees, looks like it has been dusted with a heavy coating of snow. Of course, we all know that snow is actually sugar, which is almost as good as snow.
The underlying structure and texture of this Crunch is almost identical to Cinnamon Toast, although perhaps a tad thinner. But does it actually taste like a sugar cookie? I wouldn't say so offhand. The sugar is definitely there – from the look and the taste, it seems more like confectioner's sugar, which is very sweet but also has a nice, melty quality to it. There's also a lovely hint of vanilla in there.
I could definitely see eating Sugar Cookie Toast Crunch on a cold Christmas morning and digging the snowy vibe as I ingest unhealthy amounts of sugar and solve holiday puzzles. And that sugar and vanilla combo makes for some excellent cereal milk. While the flavor itself isn't exactly unique and could easily transfer over to a regular cereal, all the bells and whistles make Sugar Cookie Toast Crunch a fine limited edition Christmas offering.
Sugar Cookie Toast Crunch Limited Edition Cereal

Score: 4 out of 5 carnivorous Crazy Squares
Price: $2.99
Size: 12.2 oz.
Purchased at: Target
Nutritional Quirk: At a surprisingly low 9 grams of sugar per serving, this cereal is way less teeth-rotting (and contains a lot more vitamins and minerals) than a can of soda.