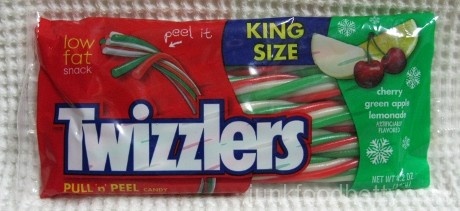 Hey Twizzlers, what's…what's going on, here? You obviously have a Christmas candy out. I can see it. We can all see it. It's right above these words, in all its red, green and white glory. There are even snowflakes on the package.
And yet, what are you calling it? Twizzlers PULL 'n' PEEL cherry green apple lemonade. There are many things wrong with this name, starting with going from all caps to no caps and ending with the fact that Twizzlers is patently refusing to acknowledge that this is Christmasy or even holiday-y in any way. You've already got stripes going – make candy cane shapes! Make wreaths! Cherry rhymes with merry, for fuck's sake!
Now that I've gotten this glaring oversight out of the way, I just realized I haven't had Twizzlers in ages. I'm pretty sure the last time I ate a Twizzler, it was after I'd used it as a straw to drink some Dr. Pepper. This was before the time when Twizzlers could be pulled and peeled, or filled with sour goop. A simpler time, when a Twizzler was just a Twizzler.

Not that I object to the pulling and peeling of Twizzlers. I think the constant presence of string cheese in a household of no children is a testament to that. There's something satisfying about pulling apart long strings of….whatever, and bonus points if it's candy.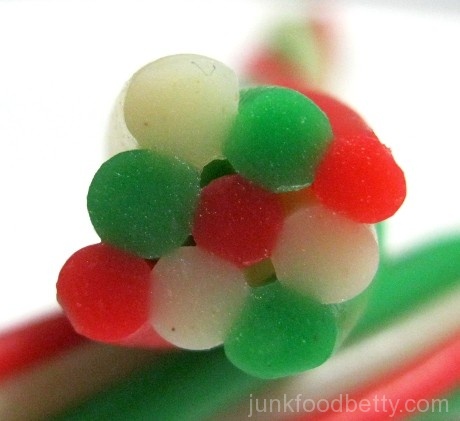 Each rope of Twizzler PULL 'n' PEEL boasts nine separate strands of Twizz. On this one, cherry won the game of tic-tac-toe.
The flavors themselves are unspectacular. Together, it's mostly a gummy, waxy candy. Separately, the strands go as follows. Cherry: a nice, artificial cherry taste, without any of that medicine flavor. Green apple: strangely flavorless, tasting mostly of plastic. Lemonade: a little sour with a hint of lemon.
But the flavors aren't the real appeal here. The real fun is pulling apart the strands. This can prove somewhat difficult to do, as Twizzlers are sticky by nature and the strands are very compact. Green apple and lemonade pull apart with little effort, but cherry is strangely thinner than the rest, resulting in a lot of tearing.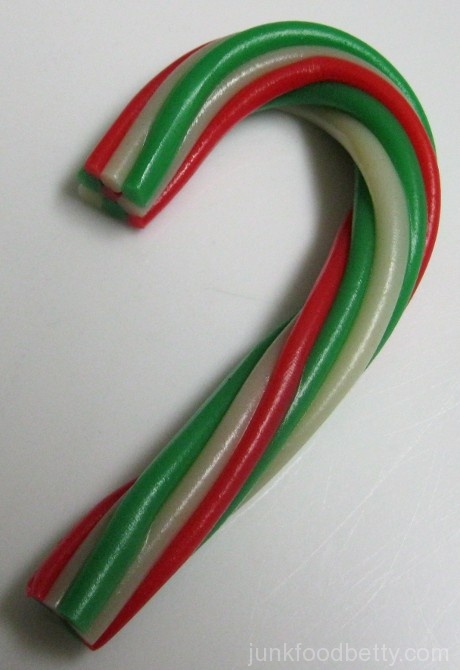 Since Twizzlers seemed unwilling to admit their Christmas affiliation through both packaging and candy design, I took it upon myself to do so. Look at how gosh-darn festive that candy cane is. It would never fly as a tree decoration, as the only way I could get the shape to stay was to affix it firmly to the plate, but it made me happy nonetheless.
After pulling and peeling the candy, I was left with a bunch of Christmasy strands, which is how I wound up spending a night playing arts & crafts with Twizzlers.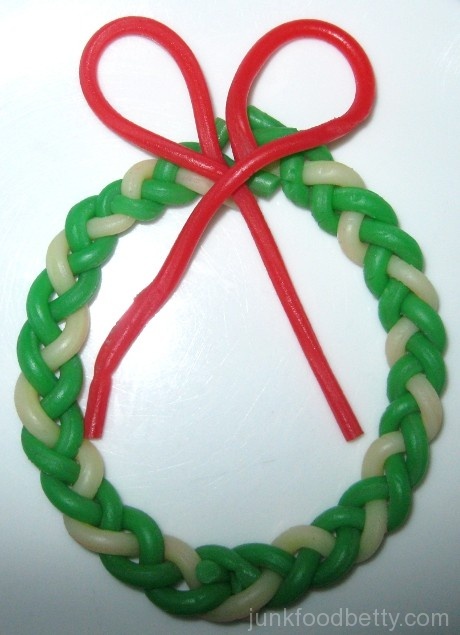 I can't say I'm not proud. Not only was it fun, but it also really put me in the Christmas spirit, which usually takes an act of Charlie Brown or Garfield to accomplish. And that's when I read the back of the package: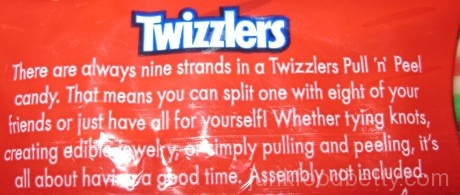 I was wrong about you all along, Twizzlers. It's not that you didn't have Christmas in your heart. It's that you wanted me to find the Christmas spirit in my heart. In a world of gizmos and gadgets, Twizzlers proudly proclaims "assembly not included" and encourages you to get creative and play with your food.
Well played, Twizzlers. Well played. I'd craft a Twizzlers heart for you, but that wreath already took more time than I'd care to admit.
Twizzlers PULL 'n' PEEL cherry green apple lemonade

Score: 4 out of 5 Grinch hearts growing
Price: $1.00
Size: 4.2 oz.
Purchased at: Target
Nutritional Quirk: Tastes like plastic, but feels like fun.