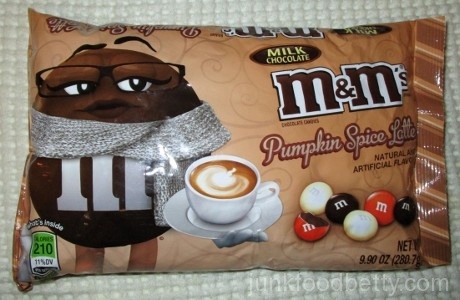 If you've girded your loins for an avalanche of pumpkin spice reviews here on Junk Food Betty, prepare to ungird. I just can't deal with the sheer amount of pumpkin spice that is out there on store shelves and in fast food restaurants.
That said, between the time I purchased these M&Ms and me actually getting around to writing this, I've already bought two more pumpkin-flavored items to review. Fuck me.
If that makes it sound like a lot of time has passed between purchase and review, it hasn't really. It's just that I have to buy pumpkin spice-flavored items or I will starve to death. And, admittedly, a little time has passed.
Why? Because these M&Ms are such a snooze-fest to me. The only reason I got them at all is because M&Ms got clever and tacked "Latte" on to the end of the flavor name. "Pumpkin Spice? Fuck 'em. Pumpkin Spice Latte? Well in that case…"
I don't pay a lot of attention to M&Ms, but am I the only one who didn't notice they added a second sexy female M&M? When did that happen? Last I knew, there was only one female M&M, Green, and she always creeped me out.
I just did some research, and apparently she was added in 2012. And is called Ms. Brown. And is voiced by Vanessa Williams. I'd like to thank my DVR for allowing me to skip over commercials and never notice she existed, until now. Damn you, Pumpkin Spice Latte M&Ms! Now I'm aware that there's more than one creepy lady M&M out there.
Ms. Brown does look appropriately comfy in her scarf, though. And don't think I missed that hipster-barista pumpkin design in the latte foam, either. I will give M&Ms props for that little touch.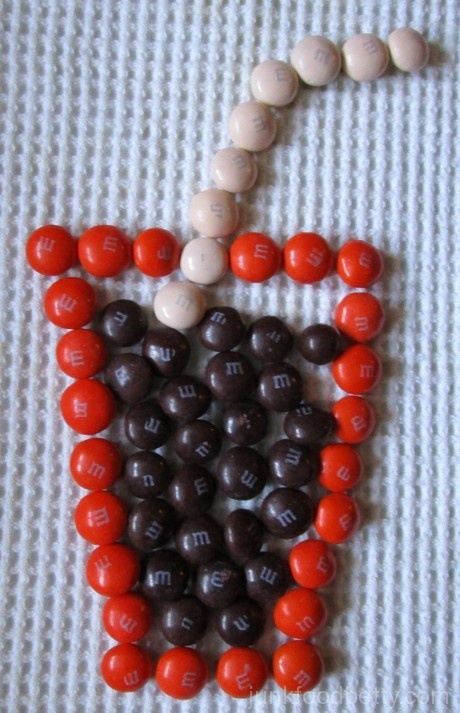 As you can see, the candies are appropriately orange, dark brown and cream colored. As you can also see, I had a little fun. This is obviously an iced latte because there's a straw.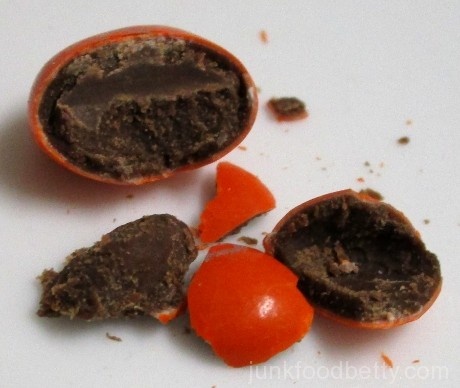 The candies are larger and fatter than regular milk chocolate M&Ms. They're closer in shape and size to Peanut Butter M&Ms, I think.
I never tried Pumpkin Spice M&Ms, but I can tell you one thing – Pumpkin Spice Latte M&Ms nailed it. At first, all I got was chocolate, but then that familiar taste of pumpkin spice invaded. It didn't come on too strong though, just a light cinnamon and pumpkin flavor that really went great with the chocolate.
Just when I thought I'd gotten all I was going to get out of it, the aftertaste left me with the distinct impression of a latte. Like a real latte, it was heavy on the cream and sugar and light on the coffee, but that taste was definitely there.
While I spent the first part of this review shitting all over pumpkin spice products, I now have to come to you and say that Pumpkin Spice Latte is the best M&Ms flavor I've had in a long time, and possibly my favorite holiday M&M flavor of all time. Whaaaat? I know it's crazy, but the pumpkin spice was subtle and warm instead of pungent and cloying, it worked great with the milk chocolate, and they even managed to hit that latte flavor. It was a little faint, but it was a tall order for M&Ms and they completely pulled it off.
Now I want M&Ms to come out with a whole line of coffee-flavored candies. I also have a stomachache due to eating more M&Ms than I should have.
Pumpkin Spice Latte Milk Chocolate M&Ms

Score: 4.5 out of 5 creepy female M&Ms
Price: $3.19
Size: 9.9 oz. bag
Purchased at: Target
Nutritional Quirk: No surprises (like M&Ms using actual pumpkin) here, just the dark magic of natural and artificial flavoring.