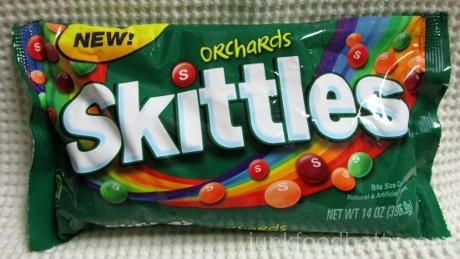 I'm taking liberties in calling Skittles Orchards "new", but they're still the newest Skittles, so I'm okay with that. I was actually aware of (and excited for) these when they came out, but then something distracted me, probably something important like a slow-motion video of a dog failing at catching food, and time got away from me.
But now here we are! Not only with a bag of Skittles Orchards, but with a Very Important Topic that I've been wanting to discuss for a long time.
Lime Skittles.
If you've read this site for any amount of time, I'm sure you can smell a rant coming, and your cybernose would be correct. Shit's about to get real.
You see, in early 2013 and with understandably no fanfare, Lime was ousted in favor of Green Apple in every bag of Original Skittles. No big deal, right? WRONG. YOU ARE SO WRONG. And if you don't believe me, look at the over 200 (and still rising) comments posted on Candy Blog's coverage of the change.
I'm going to take a controversial stance here: green apple sucks. Lime is awesome. And this replacement isn't isolated to Skittles; it seems like green apple is the go-to for green candy and lime has just been thrown aside like common trash. Lime is the Jon Snow of candy flavors, and, much like that Watcher's fate, everyone knows it's totally unfair. Unfortunately, unlike Jon Snow, I don't see redemption in Lime's storyline. Spoiler?
Skittles did throw Lime a bone, however – in what can in no way be a coincidence, Darkside Skittles came out at almost the exact same time Lime disappeared, and Darkside includes the mysteriously-monikered Midnight Lime. Which is exactly like regular Lime, except you can no longer mash it together with it's friend Lemon unless you buy a bag of Original to do so.
So, yeah. You could say I have strong feelings about Lime Skittles.
What does any of this have to do with Skittles Orchards, you ask? While I would feel perfectly justified in saying "Nothing at all, I just needed to get that off my chest," Skittles Orchard also includes Lime! Spoilers?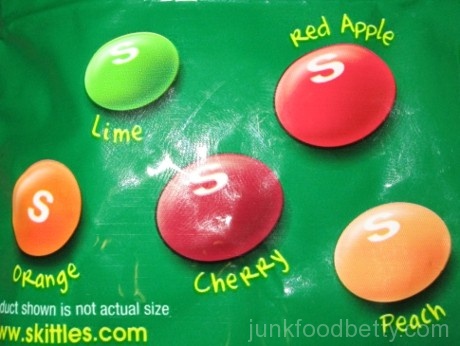 I'm happy to report that all the fruit flavors represented in Orchards do, indeed, actually grow in orchards. I know this sounds like a simple point to get right, but you never know when it comes to snack foods.
If you grew up in SoCal, like I did, you automatically know that oranges grow in orchards because your grandparents loved to point out exactly which part of your home city used to be one. At length.
If you married someone from the East Coast, like I did, you know red apples grow in orchards because you get to hear about family outings to go pick apples. At length.
If you majored in English in college, like I did, you know that cherries grow in orchards because you had to read The Cherry Orchard by Anton Chekhov and then write about it. At length.
If you live in Georgia…well, I've never lived in Georgia, but I'm sure anyone who does is intimately familiar with their orchards.
As for lime, well, I drew conclusions based on my citrusy upbringing. I'm actually convinced that Lime was included in Orchards solely due to the outcry of Skittles lovers everywhere who were just outraged about the Green Apple change. I also assume they purposefully dodged that bullet again by making the Apple flavor Red.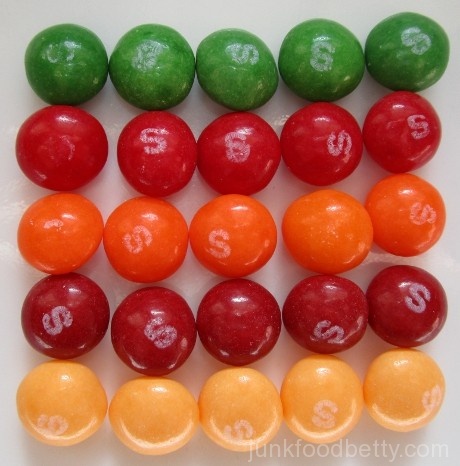 Lime: It seemed like Orchards Lime was a little darker-colored than Original Lime, but that old flavor was definitely there. Juicy and a little tart. I missed you, Lime!
Red Apple: I was looking forward to this, as it's an interesting new flavor to include, albeit a perfect fit for Orchards. I'm pleased to report that Red Apple has almost nothing in common with its Green Apple kin. It was not at all candy-like, like Green, and had an earthy apple flavor that was actually a little bitter and not very sweet. It's a strange flavor for a candy, but it's definitely unique.
Orange: I feel like this was a more aggressive orange flavor than the one in Original, but I'm pretty positive my mind was just playing tricks on me. I mean, c'mon, it's Orange.
Cherry: Unlike what the back of the bag would leave you to believe, Cherry and Red Apple were remarkably similar in color. Unless you're eating your Skittles in good lighting, chances are you're going to get them confused. Sorry, moviegoers. Minus the surprise of getting Red Apple in with your Cherry, there was nothing new here. Bright, juicy cherry flavor, mercifully with only a hint of that cough medicine taste I hate so much.
Peach: I've never been a fan of peach-flavored candy, and Skittles did nothing to change my mind here. That said, in the name of objectivity, the peach flavor was bold and juicy, so if you're a fan of peach candy, Peach Orchards will do you just fine.
Skittles Orchards is a perfectly fine bag of candy, but there's not much new under the sun here. Orange was obviously straight out of the Original vat. Lime is lime, which, yay, but that's already present in Darkside's Midnight Lime. It's been a while since I've had a bag of Wild Berry Skittles, but I'm pretty sure Cherry is just Wild Cherry from there.
I was going to say that Peach is already in Skittles Desserts, but a quick search tells me that I'm wrong. So, okay, two out of the five flavors are unique. Given the glut of candies out there, that's not too bad.
Even though I don't like peach flavoring, Peach really popped. Anyone who likes that flavor will like this Skittle. As for Red Apple, I have mixed feelings. It's a very unique flavor, but I'm not sure it belongs in a bag of Skittles. I just don't think it's sweet enough for most candy lovers and feels out of place, even though it's thematically correct. Plus, why so close in color to Cherry?
I'm always happy to see a new Skittles flavor hit the shelves, so I really don't have too many gripes against Skittles Orchards. It's a cute idea and it has Lime in it, and I feel like Peach is a flavor that should already exist in Skittles form. That said, Red Apple is a misstep and the other flavors are recycled, so I think I'll stick with my Darksides.
Skittles Orchards

Score: 3 out of 5 LIME LIME LIME LIME
Price: $2.49
Size: 14 oz. bag
Purchased at: Target
Nutritional Quirk: Lime.