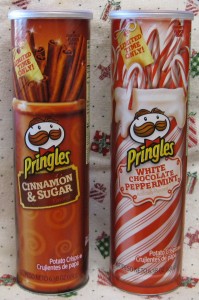 In my last post about Pumpkin Pie Spice Pringles, I mentioned that Pringles went insane three times this holiday season, and that I would get to the other two at another time. Well it turns out that time is now!
Reviewing Pringles twice in a row is a bit of a challenge, since I blew my preamble wad on the last review, what with the discussion about feeling like a cheap whore after eating Pringles since they are not actually chips and what have you. A friend of mine suggested some freestyle rapping, at which point I grabbed his face, got Batman Close, and asked him if I looked like the kind of person who would freestyle rap.
After he ran away crying, I looked at the blinking cursor mocking me on my monitor and actually gave it some consideration.
Realizing that it was sad that it had come to rapping about poppin' and not stoppin', I decided maybe it would be best to just jump into things. Then I realized Kris Kringle rhymes with Pringle, and hit ctrl+b before I lost my shit completely. Oh my god, I can't stop rhyming. Please help me.
Limited Time Only Pringles Cinnamon & Sugar

Sometimes I feel like the title of my posts ruins the fun. It's a necessary evil, but it's a total spoiler. I just want to get the elephant in the room out of the way and say that Cinnamon & Sugar Pringles are not the most exciting part of this review. Sorry guys, but it's true.
However, in my family we had a rule on Christmas morning that you had to open your stocking before you could open your presents. So let's wade through this metaphorical menagerie of oranges, toothbrushes, Hot Wheels and dollar bills before we get to the big-ticket item. It's only proper.
Now, don't get me wrong – cinnamon sugar flavored potato crisps are still sound weird and unnatural, even if they may seem tame in comparison to the other Pringles in this review. But then I remembered last year's experience with Mission Sugar Cinnamon Tortilla Chips and realized that maybe I shouldn't judge a can by its cover.
That said, let's judge a can by its cover.
Like Pumpkin Pie Spice Pringles, Cinnamon & Sugar gets all meta with their can-on-a-can design. C&S doesn't get anything as cool as a can-shaped pumpkin, though; instead, they get some little swirlies that don't have much to do with cinnamon, sugar, or Christmas in general. Pft.
As if to make up for this, the metacan is stuffed to the gills with cinnamon sticks. I'll admit that it's probably difficult to represent sugar in any way that wouldn't make it look like a pile of snow and/or blow (the rhyming, it haunts me), so I guess those little twinkles on top of the sticks are supposed to be sugar. That, or magic.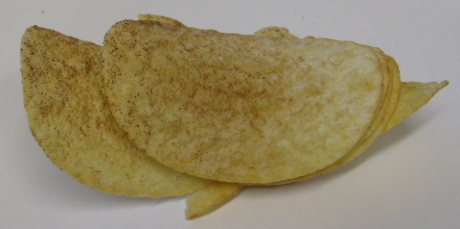 Trust me, it's not magic. As I popped the top, I was met with the odor of cinnamon almost as strong as those damn pine cones they put in the front of grocery stores every Christmas that make me sneeze. I was okay with that, though; I took it as a good sign.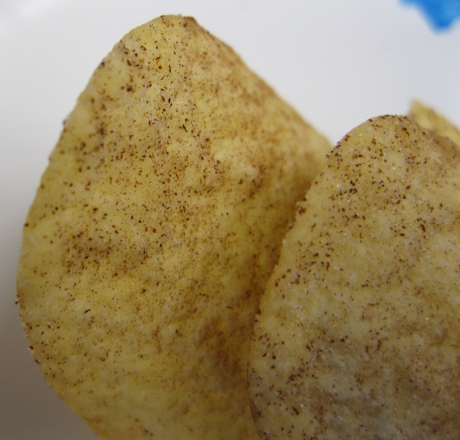 And indeed it was. There was a heavy dusting of both cinnamon and sugar on each potato crisp, and both flavors were pleasant and worked well with each other. Because the flavors were so strong, they blocked out most of the flavor of the actual potato crisp, which was a good thing.
Note the word "most", though. You can't keep a mediocre potato crisp down, so inevitably I got some Pringles flavor creeping in at the end, ruining the fun cinnamon and sugar party.
Limited Time Only Pringles Cinnamon & Sugar aren't completely awful, they just aren't in any way impressive. Furthermore, there's no real reason for them to exist. Do you want Pringles? Buy some Pringles. Do you want cinnamon and sugar? Buy a coffee cake or some shit. But really, who wants Pringles and cinnamon/sugar? The answer is no one. Well, there's probably someone out there. But not the type of person I'd want to associate with.
Limited Time Only Pringles White Chocolate Peppermint

We've arrived. White Chocolate fucking Peppermint fucking Pringles. Again, there is no reason for these to exist. This is a road that can only lead to bad things.
To add insult to injury, this was my White Whale. Call me Ahab. I went to two different Walmarts and two different Targets just to find these goddamn things. Like I didn't hate the idea of eating them already, they made me go to two Walmarts. In the spirit of the Christmas season, I mangled a public domain song in their honor:
Pringle bells, oh Pringle bells
Pringle hate in my heart
Oh, how sad it is to walk
With an empty goddamn cart
Yeah, it's no good. I should have stuck with Kris Pringle.
When I finally found these Pringles, it was a bittersweet victory, for obvious reasons. As I was checking out, the cashier rang up the can, and then looked at it, seemingly puzzled. "Huh, I've never seen these before," he said, which is telling, since he worked there. I take this as proof that I was the first and only person to buy these, because they are stupid.
I should know better than to engage people in conversations when I'm buying review food. Case in point: the Double Down incident.
But I never learn my lesson, and for some reason I felt the need to explain my purchase, so I casually mentioned that I review weird foods on the internet.
Whoops.
The cashier then launched into this thing about how when he likes to try weird foods, a statement that I for some reason found unsettling from the start, he goes to the nearby Vietnamese market, where you can "try things like durian". He was super into telling me about this place, which really had nothing to do with what I'd said, and which I already knew existed. For some reason he left the can of Pringles on the counter as he bagged the rest of my purchases.
This left me wondering if he'd just become distracted, or if he left them out like some half-drank water bottle somebody picked up while they were shopping. Did he think I would be needing them immediately? That I would have the urge to rip off the top and start munching on them in the parking lot? I have no idea. I just wanted him to stop talking. So I bagged them myself, which for some reason felt even more embarrassing than just buying them.
Also, you can't fool me, Target cashier. I know what durian is.
The White Chocolate Peppermint Pringles can is deceivingly cute. Awww, it's a candy cane can, with white chocolate melting out over the top, and a bunch of candy canes inside! The white chocolate also resembles the top of a Christmas stocking, or maybe snow. Or maybe it's trying to escape, because it knows it doesn't belong in a can of Pringles.
Even the Pringles man seems to be looking up at the candy canes with an expression that says, "Really? We're going to do this?"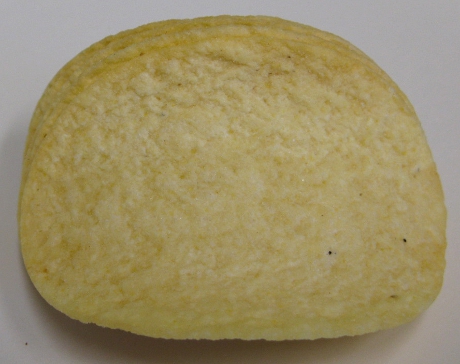 So yeah, here are these fucking White Chocolate Peppermint Pringles. They look fairly innocent. I am not fooled.
When you pop open the can, there's a smell akin to ripping open a box with a Barbie doll inside on Christmas morning. Just vague plasticness. There's really no peppermint or white chocolate smell at all. Is this a good sign or a bad sign?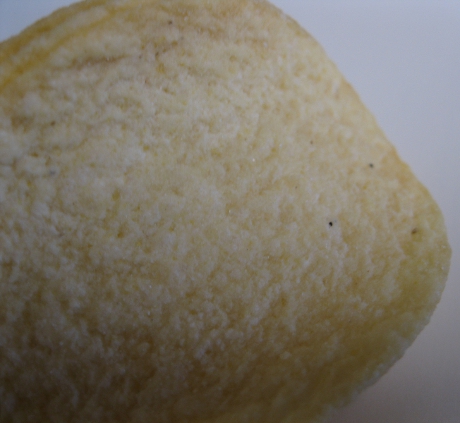 Oddly, there were little black flecks sprinkled on most of the otherwise white dust-covered Pringles. If Pringles were chips, I'd chock that up to a little bit of burning during the frying process. But Pringles are like plyboard, and I'd never seen these flecks on any other Pringle. Why are they there? Then again, we're talking about White Chocolate Peppermint Pringles. None of these things should be there.
I had no idea what to expect when I tasted these Pringles. There are times when I hope something will actually taste like what it says it tastes like, and then there are times when I pray that things taste nothing like what they're supposed to taste like. In the case of White Chocolate Peppermint Pringles, I was hoping for the latter.
Unfortunately, my hopes were dashed.
These Pringles tasted exactly like how they're supposed to, and my taste buds wanted to go to their special place and pretend this wasn't happening. They tried desperately to pretend they were experiencing the best spinach artichoke dip in the world, or the most juicy, flavorful steak.
But try as they might, my taste buds could not deny what was happening. There was no happy place. Immediately upon hitting my tongue, there was the unmistakeable and rather strong flavor of white chocolate.
This was soon engulfed by a strong peppermint. But not just any peppermint – it really did taste like candy cane peppermint. In fact, it tasted like someone had shoved a candy cane right in my mouth. Unwillingly. The flavor powder got on my lips, so that even after I'd choked down the chip, it felt like I'd just applied a coating of holiday-themed lip gloss, complete with mild mint burning sensation. My poor lips, even they were not safe.
Should I give points to Pringles for nailing a flavor so unlikely for a potato crisp? No, because they're gross. They're gross and disturbing. Do you pop a mint right before you dive into a plate of nachos? Of course not. White chocolate and peppermint have their place in the Christmas flavor spectrum. They even go well together. But Limited Time Only Pringles White Chocolate Peppermint are so very wrong, and I'm sure they were created purely for the Internet hype machine that loves bizarre foods. If you don't trust me, make a batch of instant potatoes and stir in a white chocolate candy bar and some crushed candy canes. Enjoy, you freak.
Limited Time Only Pringles Cinnamon & Sugar

Score: 2 out of 5 piles of blow. I mean snow. I mean sugar.
Price: $1.50
Size: 6.38 oz. can
Purchased at: Walmart
Nutritional Quirks: Both cinnamon and sugar are listed as ingredients, which makes the flavor powder on these Pringles more "real" than the crisps themselves.
Limited Time Only Pringles White Chocolate Peppermint

Score: 0.5 out of 5 Kris Pringles looking disgusted
Price: $1.52
Size: 6.38 oz. can
Purchased at: Target
Nutritional Quirks: Is it the anhydrous milk fat or the sweet cream solids that make these so magical? I can't decide!
Dinosaur Dracula, So Good and The Impulsive Buy also braved these holiday Pringles.