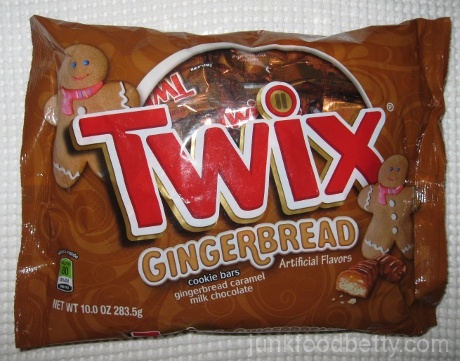 Twix bars are one of my favorite chocolate treats. It's the perfect combination of crunchy cookie, creamy caramel, and chocolate.
It is because of my love for this balance of flavors that I hesitate to try any variations. On the other hand, I generally give points any time an established snack food gets on the holiday train. And, given the Christmas-related flavors they had to choose from, I find gingerbread to be more encouraging than, say, peppermint. Peppermint and caramel does not seem like a good idea.
I gotta say, I'm finding this intro pretty weak. I have no special stories about Twix; Twix didn't murder my parents or cause some sort of dramatic, humiliating grade school incident, like the time I got my arm caught in the back of my desk chair in second grade and the maintenance guy had to come get me free in front of the whole class.
That is a true story. Just like when I went to Target to buy these Twix Gingerbread Cookie Bars and there was only one bag left. Just as I was reaching for it, Batman swooped in and tried to steal it from my hands.
An epic battle ensued; I knocked over a display of ornaments while I dodged Batman's barrage of Batarangs and fought back using a Nerf gun I'd modified to shoot fruitcakes. He then stopped to tell me some sad tale about how Twix killed his parents, and while he was distracted, I strangled him from behind with a strand of Christmas lights and made off with the precious bag of candy.
Victory was mine! Stupid whiny Batman.
Okay! I feel better now. Let's get going.
Simple packaging, but effective and also darling. Those androgynous gingerpeople look so cheery with their smiley faces and pink scarves. They're probably happy because they know that they are there just as Twix spokescookies and will not be the victims of a mastication beheading.
Hard to see in this picture because metallic wrappers are my mortal enemy, but the individual Twix wrappers have teensy little gingerdudes (or gingerladies; I'm being so politically correct today!) on them, which is a cute touch.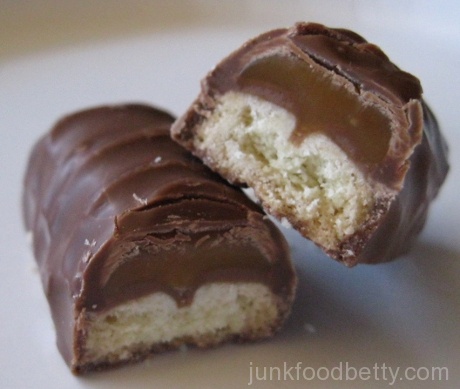 Each bar is "fun size", good for about two bites each, or one bite if you're one of those weird, annoying people who shoves entirely too much food into your maw at once. Don't be that guy.
If I'd taken two seconds to read the bag, I wouldn't have felt the need to bite the top off one of the bars to figure out that the gingerbread flavor is in the caramel, not the cookie. This may seem like a strange choice, since gingerbread men are cookies, but I think it was wise. Keeping the original texture of the Twix cookie kept that cookie/caramel/chocolate combination that I so enjoy.
As for the gingerbread flavor itself, I can say with happiness that Twix nailed it. It was all there – the brown sugar and molasses taste with ginger and cinnamon in the mix. Somehow, Twix fit all that in there and still managed to keep the integrity of the caramel flavor, not just its texture.
Twix Gingerbread Cookie Bars fill my mouth with Christmas and joy. All the things I love about Twix remained intact, and they managed to get that perfect gingerbread flavor in there.
I have no complaints about Twix Gingerbread Cookie Bars, but I will say that, at least to me, gingerbread is a sometimes flavor. For some reason, it just seems weird to eat gingerbread at any other time of year than Christmas. I'm happy to enjoy Gingerbread Twix in December but go back to good ol' original come New Year's.
Twix Gingerbread Cookie Bars

Score: 4.5 out of 5 Batarangs
Price: $3.19
Size: 10 oz. bag
Purchased at: Target
Nutritional Quirks: Not one damn ingredient listed that actually indicates gingerbread. Hooray for artificial flavors!