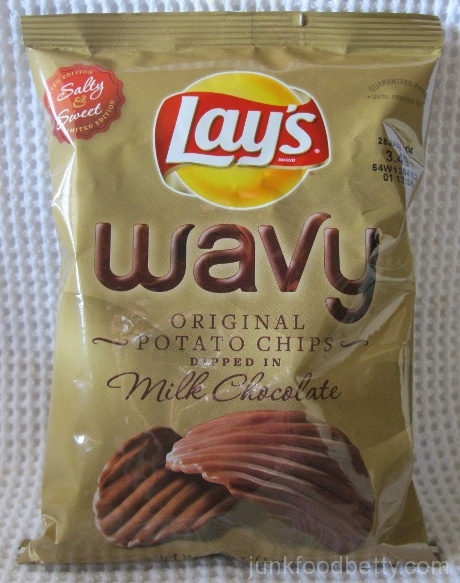 People (and by people, I mean the Internet, of course) seem to be all in a tizzy over these new Lay's Wavy Original Potato Chips Dipped in Milk Chocolate. When I first heard of them, I thought they sounded gross. But the more I thought about it, the more they made sense. Sweet and salty snacks have been around for quite a long time.
Kettle corn. Chocolate-covered pretzels. To be even more specific, Ben & Jerry's Late Night Snack ice cream has "fudge-covered potato chip clusters", and it's been a popular flavor for years now. Heck there's even a Wikipedia entry for chocolate-covered potato chips, which is definitely not the oddest Wikipedia page I've ever seen, but doesn't exactly seem necessary.
In light of all this, LWOPCDiMC really don't seem that crazy, after all. I guess it's just the idea that this is the first time a snack titan like Frito-Lay has taken it on. It's also a limited edition item, and given the season, I'm guessing you're supposed to eat them for Christmas?
The packaging certainly isn't Christmasy, but it does has a pleasing aesthetic. Lay's managed to cram four different fonts into the chips' name, but they all have a nice flow to them, as does the background. Despite being rather monochromatic, it has a certain elegance to it, like a glass Christmas tree ornament with a delicate filigree design. It's the belle of the chip aisle ball.
It was a little disconcerting to pick up a snack-sized bag of chips and have it feel so…hefty. That was the chocolate at work, obviously. I didn't see any full-sized bags of LWOPCDiMC, which made sense when I thought about it; the weight of so many chocolate-covered chips might end up crushing the bottom ones.
With the idea of chocolate-covered potato chips settling more easily in my mind, several key questions arose, and I was ready to get under the mistletoe with these chips.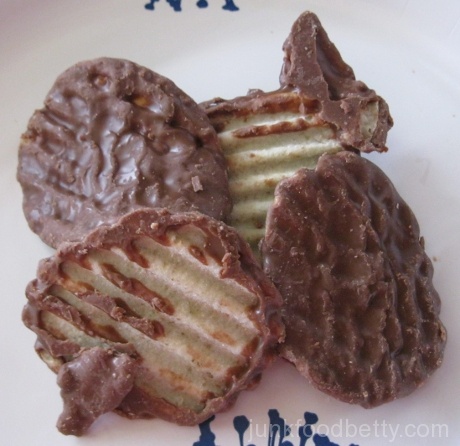 The picture on the front of the bag led me to believe that these were chocolate covered chips. I should have paid attention to the super-long name of the product. These are chips dipped in chocolate. And in an interesting way: I would have expected one end to be dipped, but instead, one side was dipped.
One of my key questions was, what is the quality of the chocolate? The answer, as best as I can describe, is "middlin'". There's an obvious hierarchy of big-name chocolate, and I would put it well above Palmer, but just a step below Hershey's.
The quantity of the chocolate on each chip was substantial. Despite having one side of the chip (mostly) naked, the layer of chocolate was quite thick, and also quite rich.
The chocolate and chip dynamic was interesting. Lay's was going for a sweet/salty dynamic, and while there was some salty undertones to cut through the chocolate, it didn't seem nearly as salty as a regular Wavy Lay's chip. It was also hard to detect the flavor of the potato chip under all that chocolate.
What the chip did add was a welcome crunch. The thickness of Wavy Lay's bore the brunt of the chocolate well, and I was impressed at the amount of completely intact chips in the bag. They weren't quite as crunchy as the chips would have been on their own, but the combination of chocolate and crunch worked great together. It was kind of like eating a thin Crunch bar.
I half expected to dislike Lay's Wavy Original Potato Chips Dipped in Milk Chocolate, but I was pleasantly surprised to be proven wrong. The chocolate was of a fair quality, and the Lay's Wavy chips added a bit of salt and, best of all, a crunch that worked perfectly with the sweetness of chocolate.
I would have liked to have had a bit more of a balance between the two – I found the chocolate a little too rich to eat a whole bag at once, and the potato flavor of the chip got overwhelmed by its sweet counterpart. All in all, however, I think anyone who enjoys a sweet treat with a bit of salt would enjoy Lay's Wavy Original Potato Chips Dipped in Milk Chocolate.
LWOPCDiMC don't strike me as a gimmick or one of those things people would eat for the weird factor. These chips are something you could set out at your Christmas party that people who like chocolate with a bit of salt and crunch would enjoy just for what they are.
Lay's Wavy Original Potato Chips Dipped in Milk Chocolate

Score: 3.5 out of 5 gettin' intimate with potato chips under the mistletoe
Price: $3.49
Size: 5 oz. bag
Purchased at: Target (exclusive)
Nutritional Quirks: Get ready to satisfy 22% of your recommended daily saturated fat needs with just one ounce of chips. Hey, 'tisn't the season for eating healthy, people.