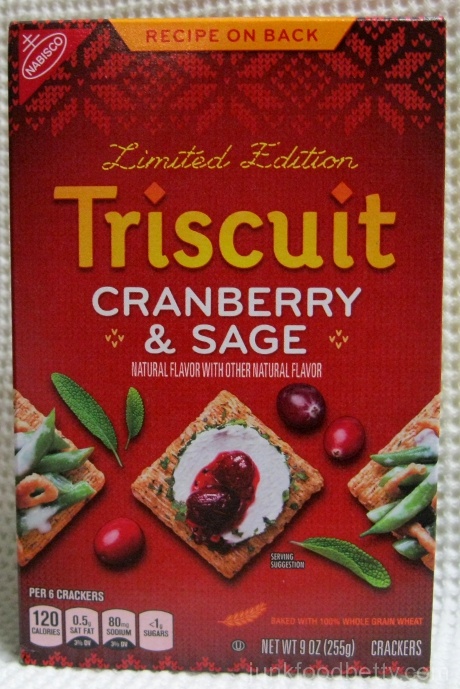 Oh, Triscuit.  You've made some wonderful flavor combinations in the past, like Rosemary and Olive Oil and Fire Roasted Tomato and Olive Oil.  In retrospect, you sure are using a lot of olive oil.
But this combination of cranberry and sage does not seem like a match made in heaven.  Oh, don't worry, I get it – THANKSGIVING.  You know what else goes together at Thanksgiving?  Alcohol and bitter family gatherings.  Maybe you could combine those with some olive oil.
Okay, okay, I'm pre-judging Limited Edition Triscuit Cranberry & Sage Crackers a lot, here.  That's bad food journalism.  And if I were a food journalist, I'd feel bad about it.  But this is my website so I can say what I want.  We'll see if I have to eat my words later on.  Eat them on a Triscuit.
What I can say is that at least the box is adorable.  It's like the classic ugly Christmas sweater, which is just perfect if you ask me.  I also like the cranberries smushed onto some white stuff bookended by Triscuits covered in green bean casserole.  The white stuff is herbed goat cheese, by the way, and I wasn't joking about the casserole.  The box even says it.  Triscuit is owning these ideas.
Here's another amazing idea they're owning, speaking of eating it on a Triscuit: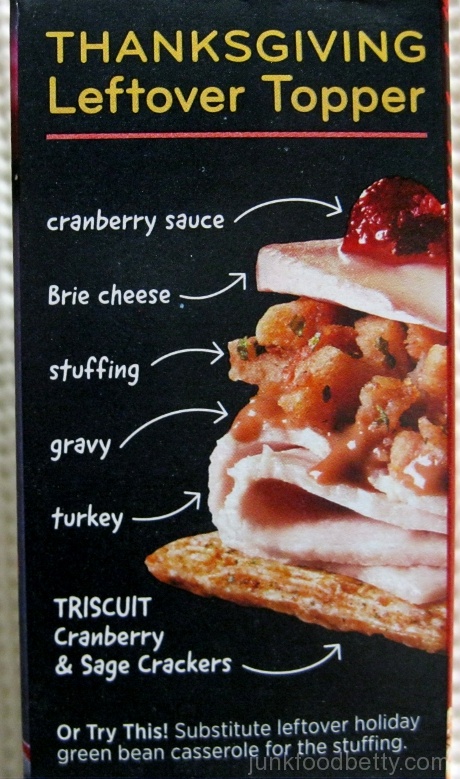 I always laugh at the serving suggestions on cracker boxes, but I have to say that this one takes the cake.  A Triscuit is 2 x 1.75 inches.  Yes, I measured a cracker.  So what Nabisco expects you to do the day after Thanksgiving, when you are hungover from either booze, food, or the unrelenting presence of family members, is try to manipulate the following items onto a cracker smaller than the spoon you used to shovel dressing onto your plate:
Two pieces of turkey, folded.  If you can accomplish this on a Triscuit, you are either amazing, or your Thanksgiving turkey came out of a Hillshire Farms container, which is sadder than putting leftovers on a Triscuit.
Gravy.  Known for staying put, and there's no way it wouldn't immediately leak out.
Stuffing.  If the above statement about the turkey is true, no birds were stuffed in the making of this Thanksgiving dinner.  Just call it "Stove Top" instead.
Brie cheese.  Yeah, because whoever is attempting to assemble this monstrosity has that on hand.
Cranberry sauce.  The cherry topping to this impossible Thanksgiving sundae.
Triscuit also recommends substituting green bean casserole for stuffing.  Boy, they are really pushing that shit.  Maybe they're in bed with Del Monte.
Now that I've had my fun with Triscuit, it's time to get down to the actual cracker.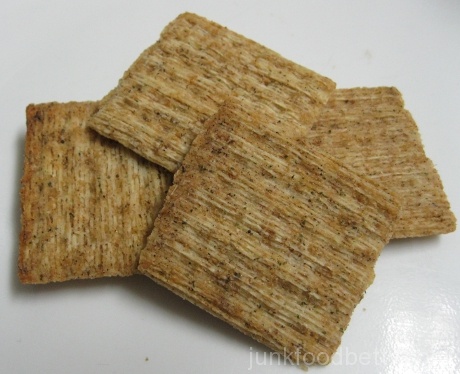 The crackers themselves had inviting little flecks of what are, presumably sage, on them, and when I opened the box, I was met with the unmistakable smell of cranberry.  Fully committed, I shoved a whole 2 x 1.75" cracker in my mouth.
What I tasted was some sort of Thanksgiving miracle.  The flavor of cranberry – real cranberry – flooded my mouth.  It's hard to type this with a straight face, but the flavor actually had the sensation of being juicy, which makes no sense when you're discussing a wheat cracker.  There was a little sweet, but not too much, and that signature tart of cranberry.
Worried that I might have been struck with sudden-onset synesthesia, I went to the box and checked out the ingredients.  Sure enough, right up there on the list was cranberry juice concentrate.  Triscuit didn't just pump some artificial flavor into their crackers; they went whole-hog and put in the real thing.  Well, as real as you can get when you're manufacturing a wheat cracker, I suppose.
After the initial cranberry burst came a nice, slow onset of sage, which is also listed as an actual ingredient.  It was earthy and savory, but not at all overpowering.
Limited Edition Triscuit Cranberry & Sage Crackers never should have worked, but somehow, they did.  The burst of real cranberry combined with the subtle but earthy flavor of sage is both unique and refreshing, and really did have that Thanksgiving flavor.
Do I want to eat these every day?  I do not.  While the sensation of eating a juicy wheat cracker was something to experience, I can't say that fruit wheat crackers are a thing I want to add to my permanent snack lineup.
On the other hand, that sage would go great with a few other authentic spice flavors to make a nice stuffing-flavored cracker.  While juicy, fruity crackers aren't my thing, I think the record will show that I'm down with some savory Thanksgiving-flavored snacks.
Limited Edition Triscuit Cranberry & Sage Crackers

Score: 3.5 out of 5 heavily pressed olives
Price: $2.99
Size: 9 oz. box
Purchased at: Target
Nutritional Quirk: Contains the actual ingredients in the name!