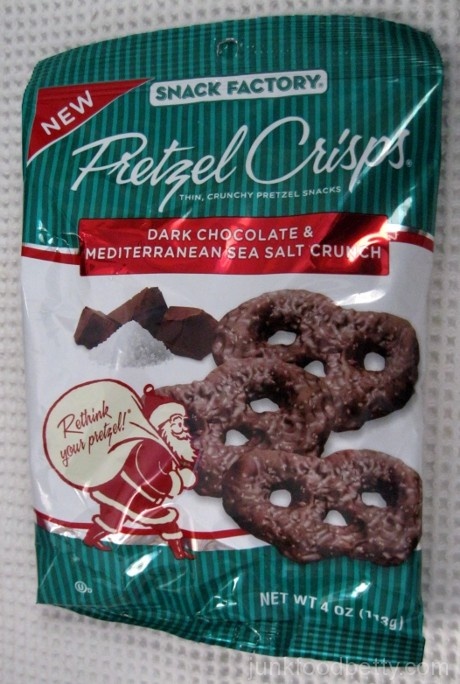 I'm not sure why these Dark Chocolate and Mediterranean Sea Salt Crunch Pretzel Crisps are special for Christmas, but they're new and their packaging is obviously Christmas-themed. Shiny red-and-green packaging, and you can't tell me it's a happy accident that that pile of sea salt just so happens to look like a mound of snow.
And, of course, there's good ol' Saint Nick, who appears to be tiptoeing across the front of the bag for fear of waking the sleeping snacks. Santa is begging you to "Rethink your pretzel!", which I assume is a reference to the "crisp" part of these Pretzel Crisps.
In case you aren't aware, Pretzel Crisps are like pretzels that have had the middle sliced out of them and then the outsides stuck back together. Sort of like if a pretzel and a cracker had a baby – they're thinner and lighter than regular pretzels, but they keep all the good parts, like the crunch and the distinctive flavor.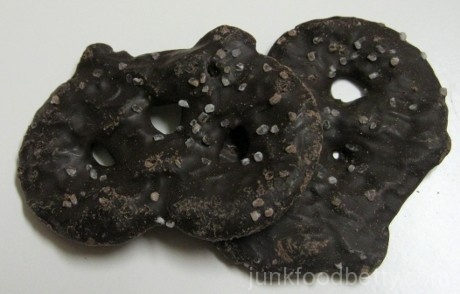 These Pretzel Crisps have been dipped in dark chocolate and covered in sea salt, supposedly of the Mediterranean variety, although I cannot verify that claim.
The Crisps themselves maintain their crunchy texture, even having been subjected to a heavy chocolate. I would say that this goes well with the texture of the chocolate, but the chocolate is of the very cheap variety, which is one of the biggest problems with these Pretzel Crisps.
In addition to lacking the smooth texture of good dark chocolate, it also lacks the depth of flavor. Instead of being dark and rich, it is instead just plain ol' bitter, overshadowing the chocolate notes.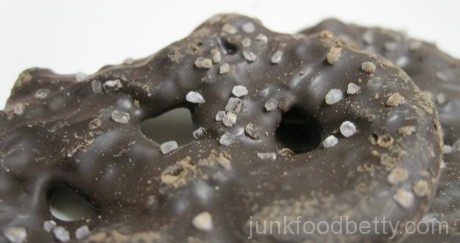 The other problem with these Pretzel Crisps is the salt. Salt and chocolate can go very well together, but the salt here was just overwhelming, even more so than the bitterness of the chocolate.
I don't know if this was some sort of superpower Mediterranean sea salt, but after just a few pretzels I had to drink a full glass of water, and I'm general a salt vampire, so that's saying a lot.
Pretzel Crisps can be quite tasty for the reasons given above, but Dark Chocolate and Mediterranean Sea Salt Crunch fails to deliver on both of the flavors in its name. The chocolate is too cheap and bitter, and the salt is too…salty, which is a weird thing to say about a pretzel. Maybe the Santa on the package is trying to sneak past so he can deliver his presents without having to eat them.
Snack Factory Pretzel Crisps Dark Chocolate and Mediterranean Sea Salt Crunch

Score: 1 out of 5 hastily gulped glasses of water
Price: $2.99
Size: 4 oz.
Purchased at: Target
Nutritional Quirk: If you can get through an entire 4-ounce bag, you'll have consumed almost 80% of your recommended daily amount of sodium. Sounds about right.