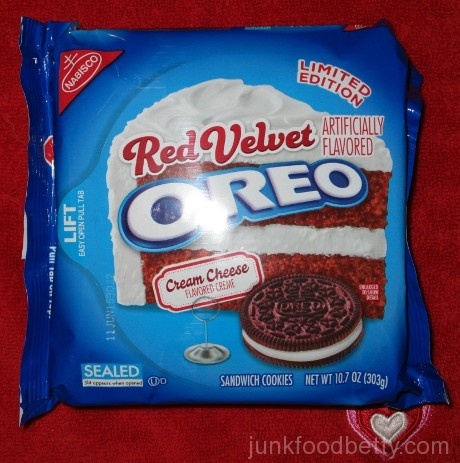 It should come as a surprise to no one that Oreo has come out with a Limited Edition flavor to coincide with Valentine's Day. I am surprised but relieved that they didn't come out with a fish-flavored one for Lent.
And, of course, if you're going to make a V-Day-themed cookie, you're going to make it Red Velvet. The Valentinesinesiest of all cake flavors, and easily translatable into cookie form. Especially when we're talking about the already chocolate-flavored Oreo.
In fact, this seems like a much more organic iteration of America's favorite sandwich cookie than, say, Watermelon. Or Candy Corn. I could go on, so much so that I'm starting to appreciate Red Velvet Oreos before I even taste them.
The package doesn't exactly scream Cupids and hearts, but we all know the reason they're here. I must say, that's a lovely looking piece of cake. It makes me want the cake more than the Oreo cookie contained within the package.
In case you weren't aware, red velvet cake is really just a chocolate cake that's colored to look red. What sets is apart, besides the food coloring, is the cream cheese icing.
I do so love cream cheese icing. I can't say that about a lot of cake icings – store-bought cakes put six inches of sickeningly sweet icing on their cakes, resulting in me throwing a tantrum if I do get the piece with the flower. I'm not that fond of rich chocolate frosting.
I really can't drum up much enthusiasm about frosting in general unless it's cream cheese or Funfetti. And who doesn't love Funfetti?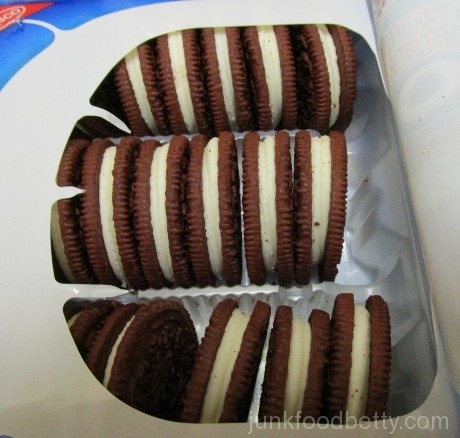 The smell upon opening the package was distinctly of cream cheese frosting, and was pleasant and inviting. The creme filing seemed a little bit yellower than usual, which is on par with cream cheese frosting. All very encouraging.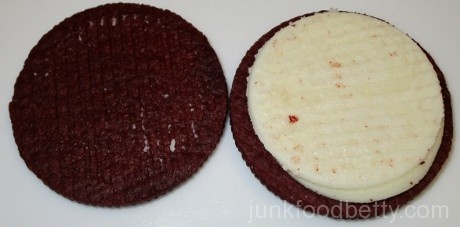 Like the package, the cookies were that signature red velvet brown-red color, causing me to wonder what would happen to my poop if I ate too many of them. Call that literal toilet humor, but it can really happen. Look it up! I'll let you put together the search string on that one.
After classic Oreo separation, I tasted the cookie on its own. To my complete lack of surprise, it tasted exactly like an original Oreo. Absolutely no difference whatsoever, besides the red dye and my disturbing thoughts about that subject.
Of course, I was expecting the real difference to be in the cream cheese filling, and that's where I found it. I was expecting a larger cream cheese frosting presence, but instead I first tasted the traditional Oreo creme filling flavor and texture. Followed closely by that, however, was the distinct taste of cream cheese frosting. And it was delicious!
While the chocolate Oreo and the cream cheese filling worked great together, I soon discovered one problem, which is that I was overwhelmed by sweetness after just two cookies. They didn't seem like they were that sweet while I was eating them, but it crept up on me. I realized that it wasn't so much the sweetness but the richness that was getting to me, which is a problem I sometimes experience with cream cheese frosting, too.
Limited Edition Red Velvet Oreos are a cute little Valentine's Day-themed snack to have around the house. While the cookie contains 0% originality, the filling does bring the flavor of cream cheese icing, which is great. The only drawback is that the filling is somewhat rich. Is this why the package is smaller than regular Oreos?
Oh right, and you might also poop red.
Limited Edition Red Velvet Oreo

Score: 4 out of 5 literal toilet jokes
Price: $2.99
Size: 10.7 oz.
Purchased at: Target
Nutritional Quirk: Not a lot to report here, unless you count "sugar coma".