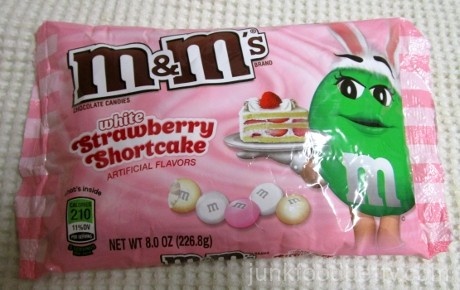 Hey guys, scrambling for that last-minute Valentine's Day gift? Well look no further, because M&Ms has got you covered with their new White Strawberry Shortcake candies!
No, no, put your car keys down, I was joking. If you throw a bag of M&Ms in your wife's face for V-Day you are definitely not going to be getting any V.
In case you weren't aware, strawberry shortcake is a dessert made with with strawberries that have been mixed with sugar to bring out the fruit's delicious juices, which are then placed on a white cake and topped with a bunch of whipped cream. At least, that's how I know it.
Strawberry Shortcake is also a cartoon character I grew up with and loved. My favorite of her friends was Plum Puddin because she wore glasses and was a nerd, but she was a cool nerd. (This was before being a nerd was cool, btw.)
I just found out that the new Plum Pudding lost her glasses and teaches hip-hop dance now. I guess girls don't need a genius role model with poor eyesight to look up to anymore? Well, color me disillusioned.
While I could probably talk about Strawberry Shortcake for far longer than any adult should, I need to get to these M&Ms.
Representing White Strawberry Shortcake M&Ms is, of course, Green M&M, aka the sexy one. Of course, because it's Valentine's Day! I'll save you my rant on how gross it is that they made a sexy candy and- wait, why is she wearing bunny ears? Did I get confused? Is this an Easter candy?
…Oh. Ohhhh noooo. Green M&M is dressed up as a sexy Playboy bunny for Valentine's Day. Just off-bag is her fluffy ass thing to complete the outfit. This is so disturbing. I'm going to just get to the candy instead.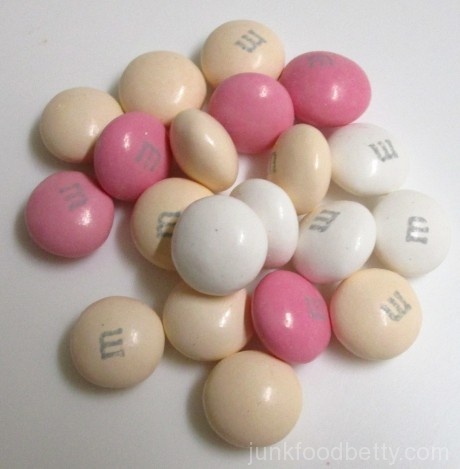 I'm guessing pink is supposed to be strawberries, white is representing the whipped cream, and that off-white color is supposed to be the shortcake. This is just a color choice, mind you; all the candies taste the same. But it would be cool if they really did separate the flavors.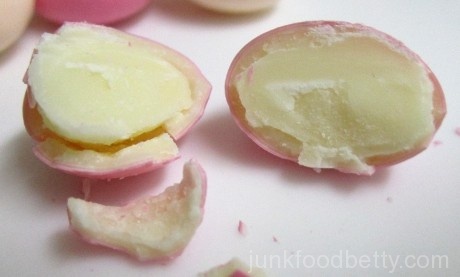 M&Ms went with white chocolate for this flavor, which was the obvious choice since there's no chocolate in strawberry shortcake, unless you decide to break protocol. And it works here, because it sort of adds the sweet whipped cream aspect to the candy.
As for the strawberry, it definitely isn't shy. Of course, it doesn't actually taste like strawberry the fruit, because this is candy. Instead, it tastes a hell of a lot like a strawberry Starburst, which is objectively the best Starburst. So yay!
White Strawberry Shortcake M&Ms are very sweet, but it's an artifically-flavored white chocolate candy, so I can't really knock them there. I'm really not sure why they decided they added Shortcake to the description, because there's absolutely nothing cakey about them, and I honestly would have been impressed if they'd managed to incorporate that into the candy.
Instead, what you're really getting is a white chocolate M&M with a strong strawberry-candy punch. They're just sort of…okay. They're really, really sweet though. After about a dozen of them, I felt like I needed to brush my teeth because I could feel the cavities forming.
My lasting impression of White Strawberry Shortcake M&Ms is just "meh". If you like white chocolate and strawberry Starbusts but you feel weird eating them at the same time (and you should), this here is your thing.
M&Ms White Strawberry Shortcake

Score: 2.5 out of 5 creepy Playboy Green M&Ms
Price: $3.19
Size: 8 oz. bag
Purchased at: Target
Nutritional Quirk: Nothing quirky here, just sugar, sugar and more sugar.