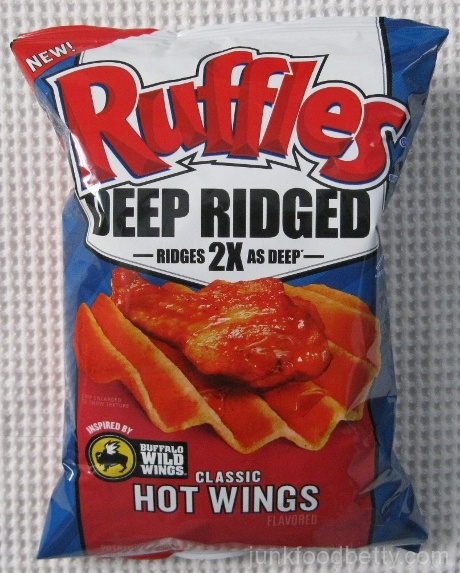 Dear Ruffles,
How deep do your ridges have to go until you're satisfied? I mean, you already made ULTIMATE ridges that are HARDERCORE, whatever that means. Now you're making them 2x as deep? Where will it end? Ridges so extreme that they look like the EKG of someone having a panic attack? Just one giant chip per bag with sharp edges that make your gums bleed? How far is too far, Ruffles?
These Ruffles Deep Ridged chips aren't just Classic Hot Wings Flavored; they're Inspired by Buffalo Wild Wings Classic Hot Wings Flavored!
Does this excite you? It does not excite me, because I've never been to a Buffalo Wild Wings so I have no idea what their wings taste like. I'm not really a sports bar kinda gal, what with having no interest in sports, watching sports, or gathering with other people who like sports.
I also just found out by looking at their website that they call themselves B-Dubs, which makes me want to punch them in the face. "Hey brosefs let's go down to B-Dubs grab some Jag bombs and get supes trashed brah." This is only reinforcing my dislike of sports bars.
This is not Ruffles' fault, however, so I won't hold it against them. What I will hold against them is what's written on the back of the bag: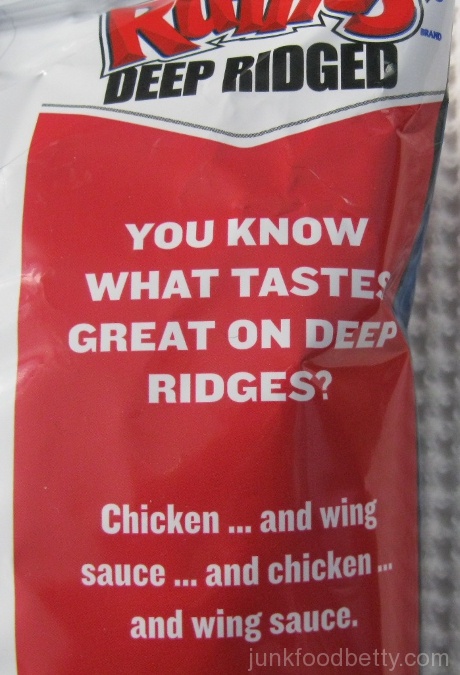 Chicken…and wing sauce…and chicken…and wing sauce…and what the hell is someone having a stroke? Also, I feel that implying that these flavors are what taste great on deep ridges means you're not supposed to dip them, which was what the Ultimate hardercore Ruffles were specifically designed to do. We have 2X deeper ridges for no reason at all, now. "Deeper ridges, just because we can."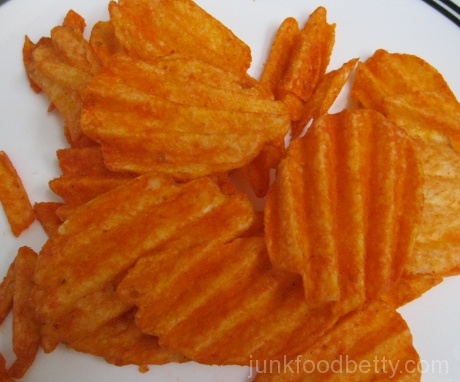 After all this bizarre marketing, I wasn't sure what to expect out of the chips themselves. I thought they might be overly thick, but they were about the same thickness as regular Ruffles; in fact, having the depth of the ridges makes them further apart, giving them a more delicate texture, but with lots of crunch.
The heat of hot wing flavoring was immediately evident and also had just the right level of burn. The vinegar taste was also there, but it knew its place as a backup player. Given the obsessive mantra on the back of the bag, I expected some chicken flavoring, but if it was supposed to be there, it got swallowed up by the hot wing heat and flavoring. I was perfectly okay with that.
I've had a lot of buffalo-flavored chips, but Ruffles Deep Ridged Classic Hot Wings have managed to climb pretty far up on the list. I refuse to believe the deeper ridges had anything to do with the flavor, and I don't think they'd hold up well with dip, but they did give the chips a different texture than regular Ruffles.
The heat and the vinegar were at just the right levels, creating a hot wing chip that, while not exactly original, managed to stand out just a little bit above some others. I have no idea if they taste anything like the sauce that Buffalo Wild Wings uses, but they're a perfectly fine choice to pick up on the go, so long as you've got napkins with you so you can wipe off the bright reddish-orange flavor dust.
Ruffles Deep Ridged Classic Hot Wings Potato Chips Inspired By Buffalo Wild Wings

Score: 4 out of 5 violent stabs to the face for whoever came up with the term "B-Dubs"
Price: $1.49
Size: 2 1/2 oz. bag
Purchased at: Walmart #2482
Nutritional Quirks: Actually contains chicken fat, but my mouth didn't know it.