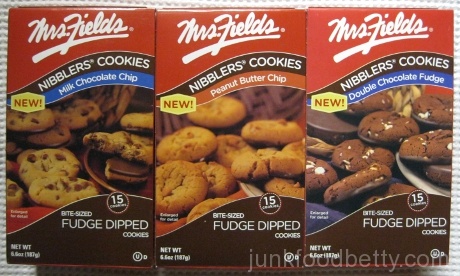 Mrs. Fields. To me, the name is synonymous with childhood trips to the mall with my parents: hours of agonizing shopping in boring department stores, where the only means of entertainment were hiding under clothing racks and touching things I was explicitly told not to touch.
My only relief: the promise of a trip to the food court afterward. Oh, the wonders! The choices! So much fast food, all in one place! What to choose?
Well, inevitably I chose Sbarro, because the only time I got to eat at Sbarro was when we went to the mall. For dessert, I would always get CheeseKorn from the KarmelKorn store attached to the Orange Julius, because I was a weird kid who didn't really like sweets.
While I walked around smearing orange dust on things when my parents weren't looking, my mom would munch on a Mrs. Fields cookie – another mall-only staple. At the time, the only thing that interested me about Mrs. Fields were the giant, pizza-sized cookies they'd always have on display.
I dreamed of one day getting one of those cookies, but every time I'd ask for one, my mom reminded me that I'd never actually eat it, which I had to admit was true. In hindsight, she should have just acquiesced and then taken the whole thing for herself. Opportunity missed.
The days of having to walk past a Hot Topic just to get a Mrs. Fields cookie are finally over, however – the First Lady of Cookies is finally breaking into the grocery store game, introducing her Nibblers cookies to Kroger stores nationwide in three flavors: Milk Chocolate Chip, Peanut Butter Chip and Double Chocolate.
All three varieties have some things in common: first off, they are, indeed, Nibblers – they're about the size of an Oreo, as opposed to the larger size of other Mrs. Fields cookies or even a regular Chips Ahoy. They also have all had their previously bare bottoms dipped in fudge. Let the fudge and butt jokes commence.
I was mailed these cookies courtesy of Mrs. Fields, and I was worried about what kind of shape they'd be in when they arrived, given the high temperatures and the nature of the cookies. I figured I'd wind up with one giant, melted cookie mess, which, don't get me wrong, had a certain appeal – the idea of a giant chocolate chip and fudge cookie wad holds a certain allure.
Mrs. Fields had it covered, though – each box of Nibblers contains a plastic tray that holds each cookie separately, and it's further protected by foil packaging. My Nibblers were still a little melty, but for the most part, they remained intact and unbroken. Not the most eco-friendly packaging, but effective!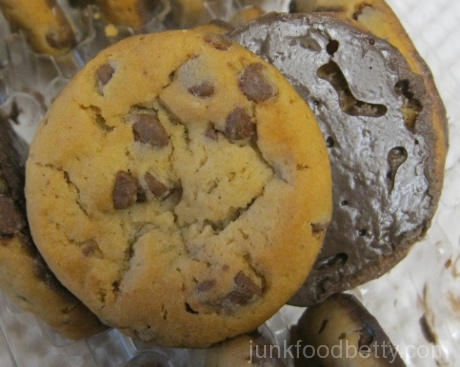 I went with Milk Chocolate Chip first, it being the most pedestrian-sounding of the flavors. The fudge-dipped bottom started melting the instant I touched it, making me once again thankful that the cookies were kept apart from each other.
Chewy Chips Ahoy are one of my favorite cookies; I much prefer soft cookies to hard ones. These Mrs. Fields Nibblers were like a slightly upgraded version of those cookies. There was a little bit of a crunch on the top which quickly gave way to the chewy innards. The two textures mixed together nicely.
The milk chocolate chips, which were mini to match the size of the cookies, were evenly distributed in almost all the cookies in the package. The cookie flavor itself was spot-on for a chocolate chip cookie – not overly sweet and baked just right.
The fudge bottom added more chocolate goodness without being too overwhelming, although I think calling it "fudge" is a bit of a misnomer; it tasted much more like melty milk chocolate.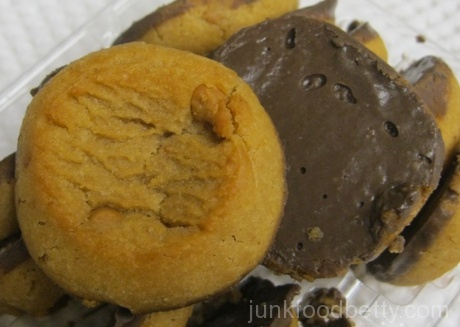 I was most excited to try the Peanut Butter Chip Nibblers, because soft peanut butter cookies are great and peanut butter cookies with chips and dipped in chocolate can only be better, right?
Well, yes and no. The sad news is, there are no chips in these Peanut Butter Chip Nibblers. At least, not that I could see or feel. Which raises fundamental questions about the name of these Nibblers. I'm straight confused.
The good news: these cookies are delicious. My mom used to make soft peanut butter cookies for Christmas, and I've never found any brand confection that could compare. Grandma's Cookies were the closest I could get, but Mrs. Fields blows those out of the water, and adds a nice milk chocolate – er, fudge – finish to boot.
I just wish there were peanut butter chips. Sniffle.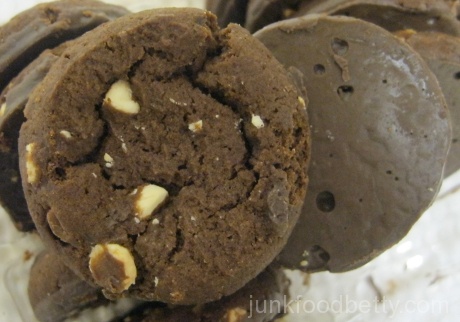 I figured "Double Chocolate" would mean "double milk chocolate", but I guess it means "milk chocolate and white chocolate chips", although it's also fudge-dipped, so technically it's triple chocolate. Again, confusing name.
I was surprised at both the lack of richness of the chocolate in these chocolate cookies and also how much the white chocolate chips contributed to the flavor. I figured the chips would disappear under the chocolate flavor of the cookie, but it was actually the chips that took over in the flavor department.
While these Nibblers do actually live up to their Double Chocolate name, chocolate lovers are going to be ultimately disappointed at the lack of richness in the cookie itself.
Mrs. Fields Nibblers are generally delicious and almost too easy to eat – I found myself having to force myself to put the packages away before I plowed through the entire box and got about 500% of my daily recommended value of saturated fat.
I thought Milk Chocolate Chip was a little too pedestrian, given that it was pretty close to Chewy Chips Ahoy. I fell in love with Peanut Butter Chip, even though they had no chips. Double Chocolate Chip was pretty good, but I felt like the white chocolate chips did most of the work and the cookies themselves lacked chocolate's signature richness. And the fudge dipping wasn't really fudge-y, but still added a little something extra to each of the chips. Including sticky fingers.
Overall, Mrs. Fields Nibblers are a solid cookie offering. The biggest question for me is the price – I got mine for free courtesy of Mrs. Fields, but they're available at Kroger stores nationwide in a 15-count box. A quick Internet search didn't yield a price point. But if they're not mall-price expensive and you're a fan of Mrs. Fields and soft cookies, they're worth a try.
[Disclaimer: These Nibblers cookies were provided for free via mail courtesy of the kind people at Mrs. Fields. This is no way influences my review of the products, and, in the nature of full disclosure, I still hate the mall.]
Mrs. Fields Nibblers

Score (Milk Chocolate Chip): 3.5 out of 5 cheesy orange fingers
Score (Peanut Butter Chip): 4.5 out of 5 mysterious lack of chips
Score (Double Chocolate Chip): 3 out of 5 gooey fudge-covered bottoms
Price: Free
Size: Box of 15 cookies
Purchased at: Received in the mail (but available at Kroger stores nationwide)
Score Quirk: Surprisingly, there's only 120 calories per serving of two cookies. I would have expected a more heart attack-inducing number.