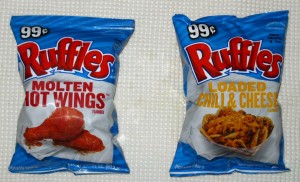 Ruffles are not one of Frito-Lay's products that gets a lot of new family members. Doritos seem to fuck like rabbits, producing a new flavor every two seconds, and Cheetos get a lot of play, but Ruffles are just…Ruffles. Ridged and thicker than Lay's, original Ruffles are the perfect chip for dipping. There's a few flavors, like Authentic Barbecue and Sour Cream & Onion, but they're pretty pedestrian. I do have to say, I love their Cheddar & Sour Cream. But generally, Ruffles have been one of the quietest of all the Frito-Lay children.
Until now! Ruffles has come out with not one, but two new Ruffles flavors, and I'm excited about both of them. Molten Hot Wings and Loaded Chili & Cheese? Hells yeah, sign me up for flavor country! I would have just been happy with Hot Wings, but these are Molten Hot Wings. Chili & Cheese gets my blood pumping (Fritos Chili Cheese chips rock), but these are Loaded Chili & Cheese. How are they loaded? Onions on top? Sour cream? Or just really drunk? It is a mystery, and I hope it's a delicious one.
You might be thinking that Frito-Lay just up and decided to give Ruffles some love. But there's an ulterior motive going on here. A sinister ulterior motive.
Okay it's not that sinister. It's just silly.
If you read Frito-Lay's Snack Chat blog, and I know you don't, you would know that there's a theme going on here. Ruffles Molten Hot Wing and Loaded Chili & Cheese are being released with a buddy, Doritos Pizza Supreme. Are you seeing a theme here? Have you noticed that, on some recent Sundays, there's suddenly the smell of grilling and the sound of yelling in the air? Did you perhaps wonder when church got so damn exciting? If so, you're probably a nerd who doesn't watch sports. This means you probably didn't know the Super Bowl is happening this Sunday. A friend of mine called the Super Bowl a "football contest" today. I'm pretty sure he didn't get the theme.
In other words, yes: Frito-Lay is trying to convince you that, instead of making (or ordering) real hot wings, chili cheese dip, and pizza for your big Super Bowl party, you should just lay out three big bowls full of these chips. Don't take it from me, they pretty much lay it out like that in the blog: "The crunch of Ruffles Original with the bold, hearty flavors of chili cheese and hot wings. Who needs a meal when you've got these to snack on?"
I NEED A MEAL. If I were to go to someone's Super Bowl party and see nothing but Ruffles laid out on the coffee table, I would overturn the table in a fit of rage, break a bottle of beer over it, and stab the party host in the face. Motherfucker trying to just feed me chips. I bet the beer is non-alcoholic, too. Bitch be trippin'.
Leaving behind any talk of food/chip substitutions and physical assault, let's just see how they taste.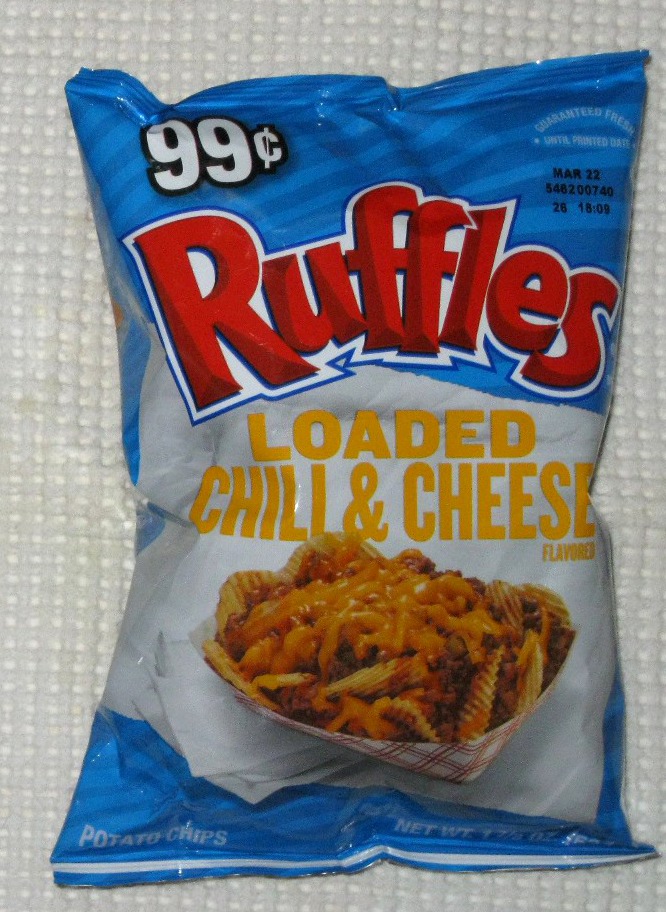 Loaded Chili and Cheese
After looking at the back of the bag, I now see what they mean by loaded: "You know that dream where all your favorite food is piled high and ready to go? It's not a dream. It's Ruffles Loaded Chili & Cheese Flavor. Chili? Check. Cheese? Heck yeah. Onions and peppers. Bingo. Now put all that on a chip. Pinch yourself, you're really awake. Okay, now hit yourself. Oh well, it was worth a shot."
I want to find the person that wrote this little gem. I've seen some pretty out there back-of-bag descriptions, but this one is just plain funny. First of all, I don't think I've ever had that dream. And if I did have that dream, it would look more like a steak smothered in onion dip, artichoke dip, pesto and cheese sauce, bangers and mash, all topped off with a pickle. Somehow that doesn't sound too appetizing.
By the way, I punched myself in the face after I finished reading the bag. I always obey the bag.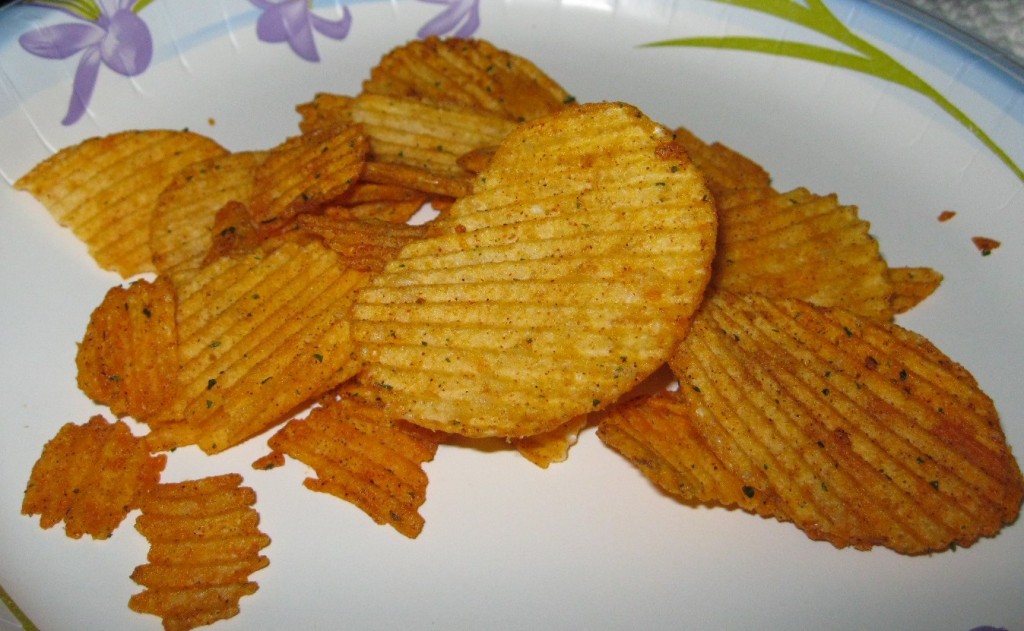 Unsurprisingly, Loaded Chili & Cheese Ruffles taste a hell of a lot like Chili Cheese Fritos. Heck, they probably just used the same flavor powder with some minor modifications. But you know what? I don't care. I love Chili Cheese Fritos and I love Chili Cheese Ruffles. They don't taste exactly the same, since Ruffles are potato chips and Fritos are corn chips, but it works either way.
If you've never had Chili Cheese Fritos before, let me explain the Ruffles for you. They basically taste like chili powder mixed with cheese powder. There's also a little onion and garlic flavors thrown in there, too. The Ruffles do have some different ingredients than the Fritos, which results in a larger depth of flavor, particularly in the onion region. I couldn't really taste any peppers, but that's okay. I don't really consider peppers to be a standard in chili cheese dip, but maybe that's just me.
Loaded Chili & Cheese Ruffles get a thumbs up in my book. The chili flavor is pretty aggressive, which may not appeal to some pussies people, but I found it to be just right.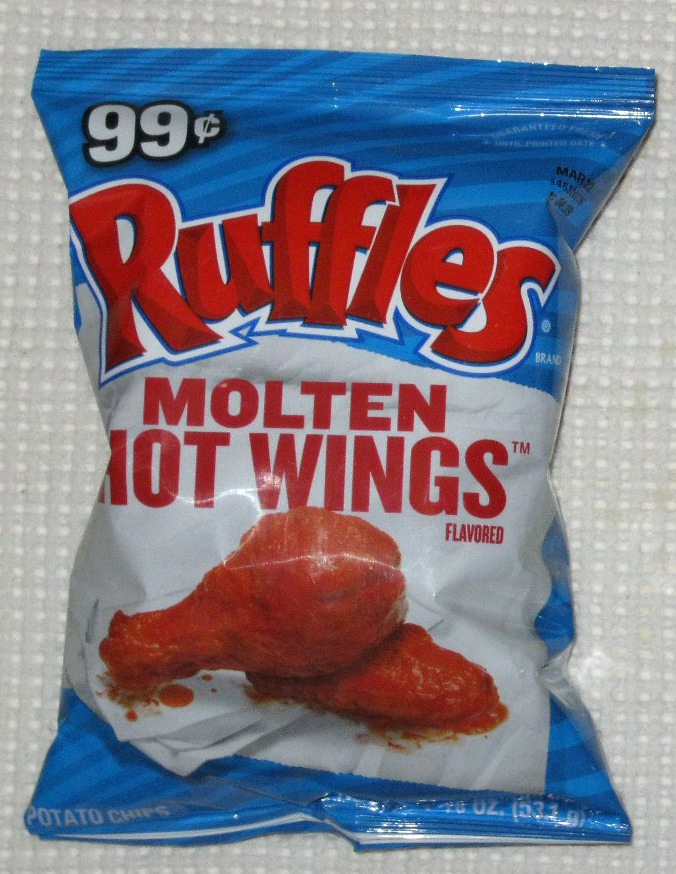 Molten Hot Wings
Let's check out what kind of crazy is on the back of this bag! "You. Your buds. The game… What's missing? One word, "Wings." Dripping with sauce and ready to wash down with your favorite beverage(s). Wait, it gets better. It's Ruffles Molten Hot Wings Flavor and it's all on a chip. So now what's missing? Two words, 'personal cheerleaders.' Dream big, chief."
First of all, you're not doing a very good job of selling these chips as a replacement for hot wings. "What's missing? Meaty chicken wings covered in delicious sauce. You know what's better? Eating potato chips." Not exactly the same experience.  Most guys would choose meat over potato chips.
Speaking of guys, what kind of sexist fuck wrote this blurb? Personal cheerleaders? "Chief"? Don't call me chief. I am a motherfucking lady, you punk-ass little bitch. How dare you assume that only guys are going to eat Molten Hot Wings? My outrage is palpable.
I wouldn't mind some hot personal cheerleaders, however. The more vapid, the better! Honey I ain't paying you to talk, I'm paying you to cheer me on every time I finish another beer. Or someone makes a touchdown or something. Whatever.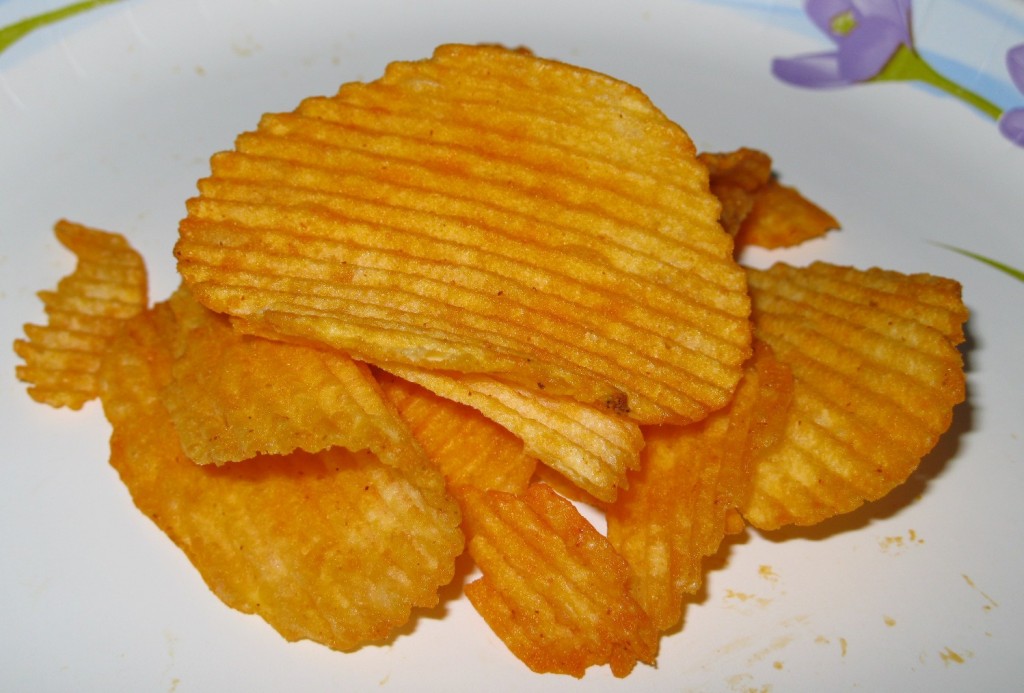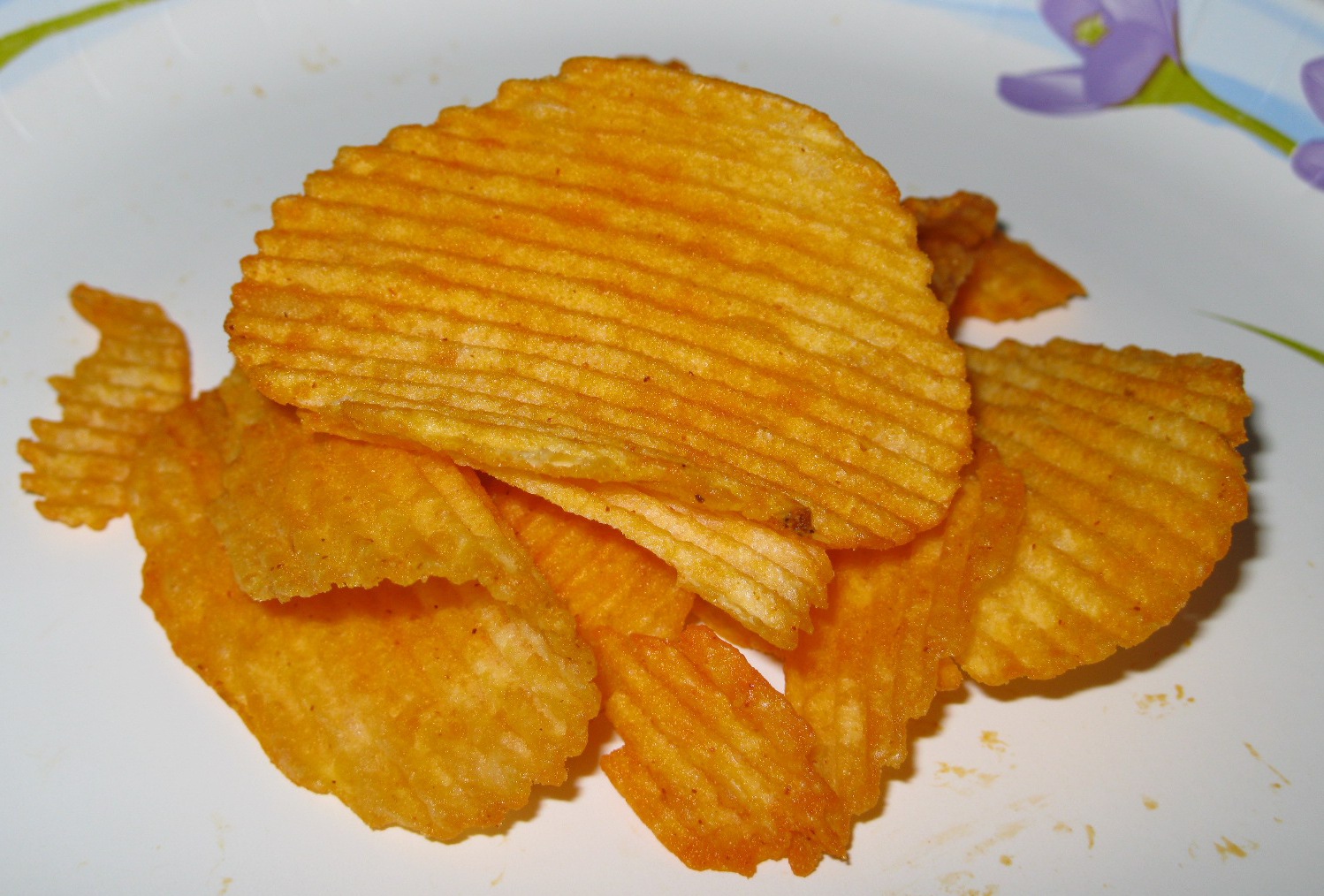 Given the picture on the bag and the whole "molten" angle, I expected these chips to be fire engine red. Not so much. Don't be deceived, however; these chips pack a surprising punch. They're pretty fierce, but in a buffalo sauce sort of way more than say, a jalapeño spicy sort of way. My mouth puckered. That signature vinegar component of buffalo sauce is definitely there.
There was an underlying flavor that I had trouble identifying, until it finally hit me: chicken. Son of a- I'M TIRED OF BEING AMBUSHED BY MEAT-FLAVORED CHIPS! DAMN YOU AND YOUR FLAVOR SORCERY, FRITO-LAY!
Honestly though, once I got done shaking my fist in the air and yelling at a snack food manufacturer while standing alone in the middle of my kitchen, I gave them a second try and really didn't find the chicken undertone all that bad. I would say it's the least disturbing of all the meat-flavored chips I've tried. Molten Hot Wings Ruffles would hit it off pretty well with some ranch dip. While not exactly molten, they do pack some heat, and I'll forgive Ruffles just for using the word "molten". I'm a big fan of creative adjectives in snack foods. And it sure as hell beats "XTREME".
I'm glad to see Ruffles getting more flavors. Fortunately, I actually enjoyed both Loaded Chili & Cheese and Molten Hot Wings, even though the former seems to just be a slightly different iteration of Chili Cheese Fritos and the latter has an undertone of…chicken. I'd still cut a bitch if I went to a Super Bowl party and all they had was Ruffles, but the cuts would require less stitches. I'd even leave some chips for them after they got back from the hospital.
(Note: Brand Eating also reviewed Ruffles Loaded Chili & Cheese Potato Chips and The Impulsive Buy reviewed both of them.)
Ruffle Loaded Chili & Cheese Potato Chips

Score: 4 out of 5 sexy food dreams
Price: $0.99
Size: 1 7/8 oz. bag
Purchased at: Fry's Foods
Nutritional Quirks: Contains red and green bell pepper powder, even though I couldn't taste it. I've never seen bell pepper powder before. More Frito-Lay sorcery!
Ruffles Molten Hot Wings Potato Chips

Score: 3.5 out of 5 personal cheerleaders
Price: $0.99
Size: 1 7/8 oz. bag
Purchased at: Fry's Foods
Nutritional Quirks: Contains chicken fat, chicken broth and chicken powder. Chicken powder sounds ominous, but is probably just bullion. I'm a little disturbed that my potato chips have chicken fat in them, though.