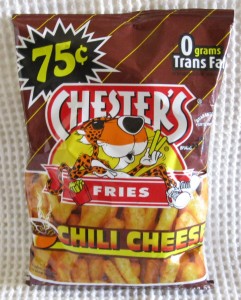 Today, a seemingly normal snack food that is shrouded in mystery. Chester's Fries Chili Cheese Flavored Corn & Potato Snacks.
First, the procurement of said snack. I have never heard of these before in my life. Apparently, these have been showing up in the vending machine at my husband's work off and on for a while now. A strange choice of offerings, given that most work vending machines I've seen (and I've seen my fair share) usually go with more traditional offerings, like original Lay's or Rold Gold pretzels. If you're lucky, you might score some Miss Vickie's. But not this vending machine. This machine had gone rogue.
Somehow, these Chili Cheese Fries managed to slip in there. Or, more precisely, managed to slip out. The bag says 75 cents, but my husband scored them for free. During an innocent trip to the break room, he spotted them sitting on the counter. Alone, possibly even lonely; I can't truthfully speak for the state of mind of the snack itself. He looked around, searching for an owner; the room was empty, fluorescent lights buzzing quietly, Formica tables bereft of employees shoveling bland Lean Cuisines into their mouths. No one was there to claim this odd bag of snacks. No one was coming back for them. Chester was officially an orphan.
So, my husband took them under his wing. No snack left behind. And now, like a de facto foster mother who is just in it for the paycheck, I will pass judgment on them.
There's one more small mystery to this case. Much like whoever abandoned this bag of Chester's Fries Chili Cheese, Frito-Lay seems to have abandoned them, as well. I couldn't find them anywhere on F-L's website, which extensively catalogs each flavor of each brand they carry. And trust me, that is an extensive list. They have Chester's Flamin' Hot Fries, but no Chili Cheese. I'm starting to wonder if this vending machine comes from the same magical source as the one that dispenses these.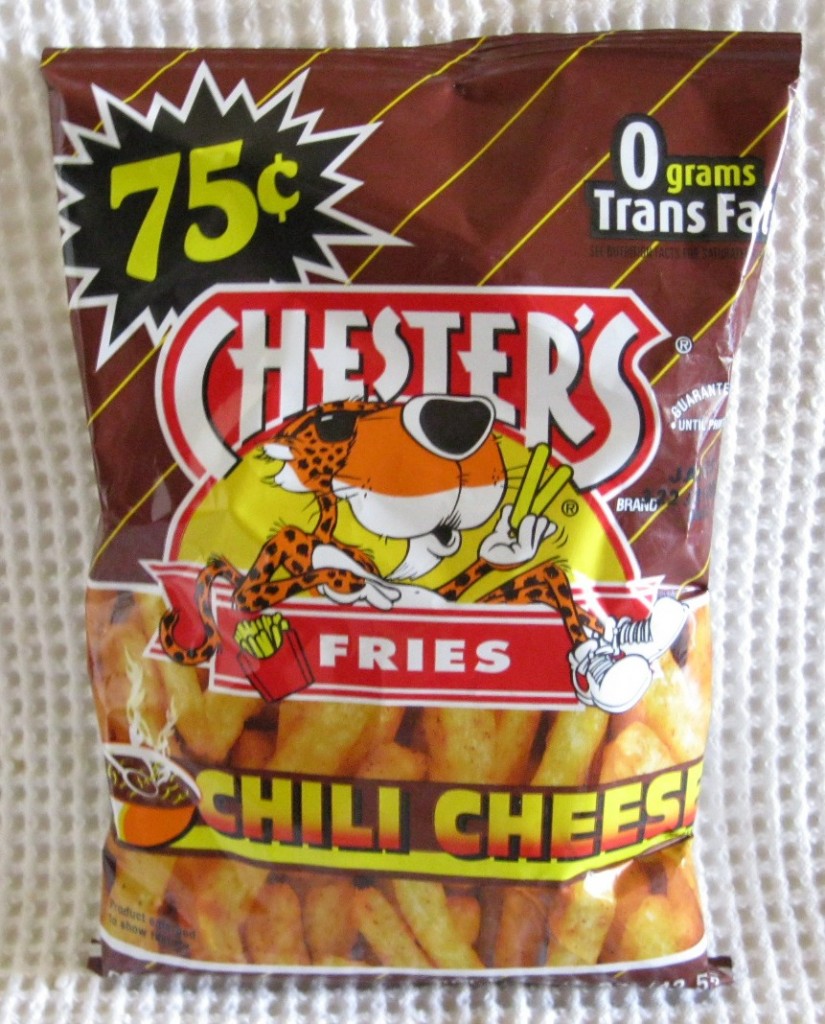 The bag is pretty straightforward. There's Chester, keepin' it cool like he does, lounging around, eating his fries. There's a picture of the fries, which the bag also informs me have been enlarged to show texture. To be honest, they do look like real seasoned fries. In the picture, that is.
There's also a cartoon bowl of chili with cheese on top, which actually looks more like a bowl of mud with some yellow seagulls stuck in it. And then there's the "guaranteed fresh by" date. Jan. 25. My husband only gave these to me a couple of weeks ago. Perhaps this explains the abandonment of the Fries. It also shows that perhaps this is not the most popular snack in the vending machine. I'm just hoping it's Jan. 25 of this year.
Lucky for you readers, I'm a rogue. I don't play by the rules. You can take my badge and my gun, but I'll still conduct my own investigation. Expiration dates are for sissies.
The back of the bag describes these fries as "crispy, crunchy french fry-shaped snacks with a rich, hearty chili & cheese flavor. Satisfy your french fry fix with Chester's Fries Chili Cheese Flavored Corn & Potato Snacks!" I appreciate a snack that actually uses the ridiculously long full name of their product anywhere other than on the front of the bag. It also says I can learn more at www.fritolay.com. This is obviously a lie. I always obey what the back of snack bags tell me to do, so I feel a little betrayed. Of course, if these expired Jan. 25, 2005, perhaps they were on Frito-Lay's website at that time. We'll never know.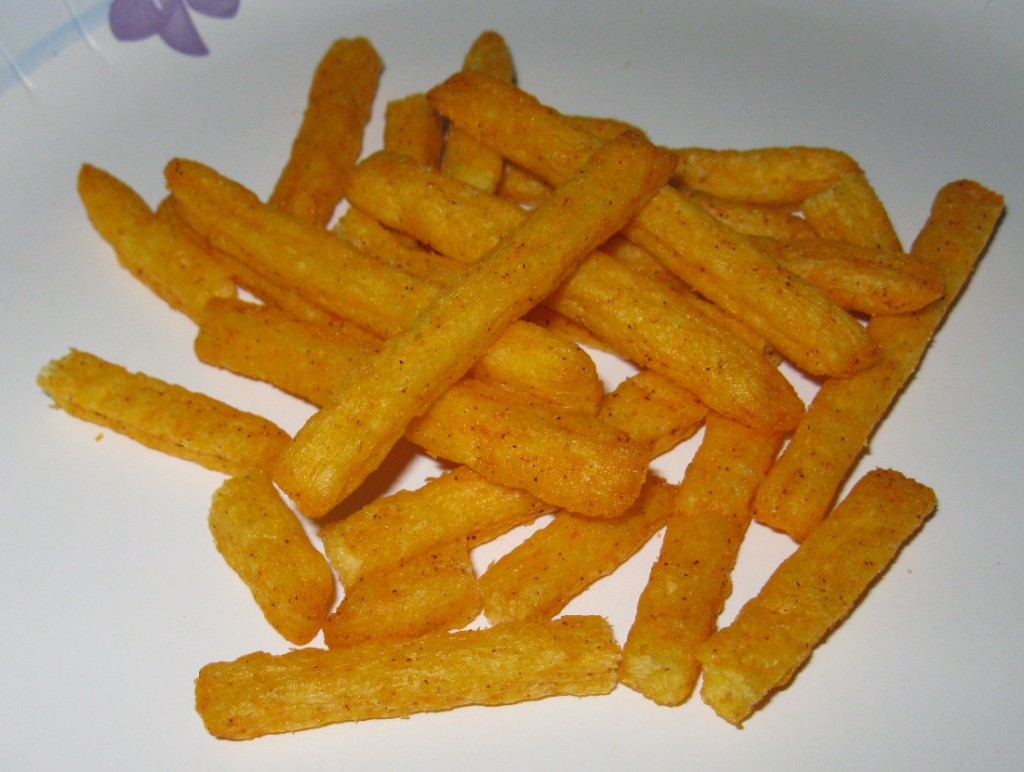 Chester's Chili Cheese Fries do not taste like french fries. They will not satisfy your french fry fix. They are, however, pretty good. The fries seem to be designed to each be a uniform 2.5 inches long, but given the various transports my bag endured, I'm not surprised some of them were broken. As you can see, they aren't exactly the same color as the fries on the bag. The texture and density of them are pretty similar to Planters Cheez Balls, which no longer exist, which not only breaks my heart on a daily basis but also makes the comparison relatively useless. Let's just say they're less dense than Cheetos, but a little more dense than Cheetos Puffs.
I was surprised by the flavor. Considering they are, or perhaps were, part of the Frito-Lay family, I expected them to have the exact same flavoring as Chili Cheese Fritos. Instead, I got a much more subtle flavor. The cheese tasted a lot like Cheetos cheese but not as strong, and the chili seasoning had the flavors of other chili-flavored snacks, but again, it's more subtle, which actually allows the cheese a little more room to shine.
I don't know if you'll ever be able to find Chester's Fries Chili Cheese Flavored Corn & Potato Snacks. Maybe they're everywhere and I'm just unobservant or live in the wrong area. Either way, Frito-Lay seems to deny their existence. I may never see them again, but I have to say, I enjoyed the bag I had. In a world of snacks that punch you in the mouth with aggressive flavoring, these fries had a subtle but pleasant flavor, which also allowed the flavor of the corn (and potato I guess, I couldn't really taste much of that) and the tasty texture to come through. Chili and cheese have obviously been done before, but it's the Cheez Ball-esque composition that I really enjoyed.
And for the record, they weren't stale at all. Expiration dates are bullshit. Unless you're dealing with milk. Don't fuck with milk.
Score: 3.5 out of 5 Internet petitions to bring back Planters Cheez Balls
Price: Free, but someone else allegedly paid 75 cents
Size: 1 1/2 oz. bag
Purchased at: Lovingly rescued at an undisclosed break room location
Nutritional Quirks: Expired by 3 months (or 10 years, depending), but still tasting fresh!