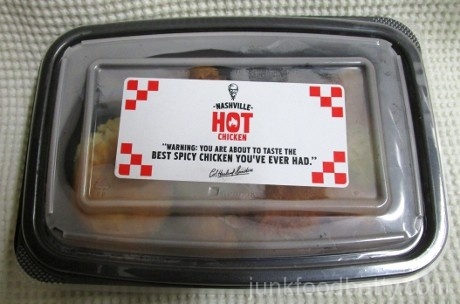 I always get excited when KFC comes out with something new, because they're pretty unique in the fast food arena in that they're not coming out with a new menu item every week. In fact, I've been doing this review thing for [checks imaginary watch] seven years now and I can count my KFC reviews on one hand.
Can we also talk about the new Colonel? If you gave me five million guesses as to what Norm MacDonald would be doing in 2016, I never would have guessed "being Colonel Sanders". Also, that would be a really exhausting game. "Being Burt Reynolds" probably would have come up at least a dozen times.
Okay, focus. KFC's new Nashville Hot Chicken was first test marketed in Pittsburgh. Just joshing, it was test marketed in Nashville.
…Wait, no, it really was test marketed in Pittsburgh. What?
Perhaps they were afraid Nashvillains, which I am totally calling people from that city from now on, would disapprove, and Nashville Hot Chicken would never live to see its nationwide release.
You see, Nashville Hot Chicken is a real thing, with a storied history that would be far too long for me to explain here, and is already explained very eloquently in that article.
To put it overly simply, Nashville Hot chicken is fried chicken that's hot, and it comes with dill pickle slices. Count me all in.
KFC's website sucks at telling you about their menu options, so I'll inform you right now that you can get Hot Chicken in 1-piece, 2-piece or 8-piece options. I found this odd, and dubbed them "Why Bother, Decent Lunch, and Fat Man Party Time".
They also offer Tenders, but I forgot to note their quantities because stop being a pussy and just eat your bone-in chicken. (I'm allowed to say that because I used to be one of those pussies.)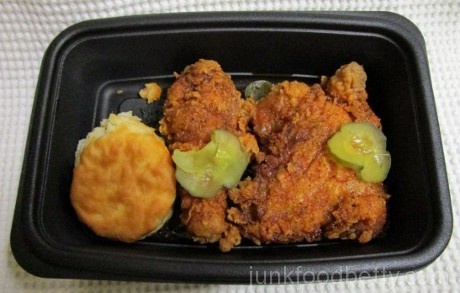 I chose Decent Lunch, which came with a biscuit and a small coleslaw. I was not aware of the latter part until I got my Decent Lunch home. Nobody asked me what side I wanted. I would have chosen mashed potatoes, of course. The last time I ate KFC coleslaw was about 20 years ago. It turns out I still hate it.
Oh, right, the chicken. Here's how KFC's "we'll tell you about our food but not how much you can buy" website describes it: "Get that flavorful, spicy, smoky Nashville Hot Chicken. Now with pickles! It's finger lickin' hot! (The chicken, not the pickles. The pickles are more like soothing lozenges for your mouth.)"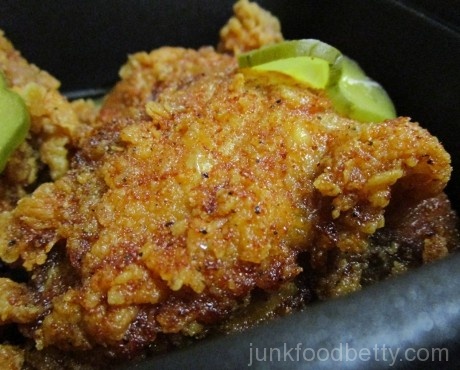 Here's how I describe it: not smoky, barely spicy. Quite the review, right? Honestly, though, that's about it. The chicken was moist, which was good. The batter was crunchy and medium-thick, which was also good. But the Hot was only a mild build of spicy heat, and I only detected a bit of smoky in a few bites. The bright spot was a mild peppery spice that worked well with the batter and the chicken.
Even the pickles were sad – they were the exact same ones you'd see on a shitty McDonald's burger. I'm not sure what I was expecting, but I felt like the pickles were part of the whole experience, so they should have been better.
In the end, I was left with a red grease slick on my fingers that made me wonder why it was there when the heat wasn't. Sure, there was a little spice, but not enough to need a pickle lozenge. I feel like KFC did a disservice to the name Nashville Hot Chicken.
In its defense, it was a lot better than the bucket of regular KFC chicken I bought along with it, which had a super-thin batter and was soggy like it had been sitting around for half a day. Has KFC's regular chicken declined, or does my local restaurant just suck?
So, I've spent the majority of this review shitting on KFC's Nashville Hot Chicken, and now I'm going to turn around and tell you to try it. It's actually pretty tasty; it just fell short of my expectations in both the spicy and the smoky departments. But hey, it's something new and different from KFC! That doesn't come around too often, so give it a go.
Or, if you live in Nashville, get some real Hot Chicken.
KFC Nashville Hot Chicken

Score: 3 out of 5 pickle lozenges
Price: $5.79
Size: 2-piece meal
Purchased at: KFC #D212071
Nutritional Quirk: No nutritional info on their website, but I could tell from the red grease slick that covered my fingers that this is not health food.