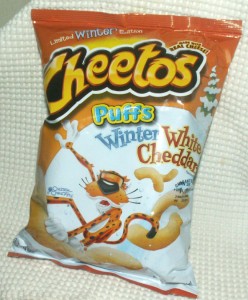 Limited Winter Edition Cheetos Puffs Winter White Cheddar apparently really wants you to know that it's winter. I'm sure those of you who live in the Northeast are already well aware of that. Nevertheless, Cheetos wants a reason for the season. Actually, they want a reason to make limited edition Puffs. Winter is often white, because of snow. White cheddar is (somewhat) white! Boom. I'm disappointed they didn't make the Puffs in the form of snowflakes. Perhaps that technology is not yet available.
Cheetos already makes White Cheddar Puffs, but they're only available in their Natural line of products. This means that instead of organic corn meal, cheddar cheese and sour cream, Winter White Cheddar Puffs contain enriched corn meal, cheese seasoning, and MSG. But Chester Cheetah is riding a Puff like it's a snowboard! The back of the bag says "Strap on your gear because you're in for a ride."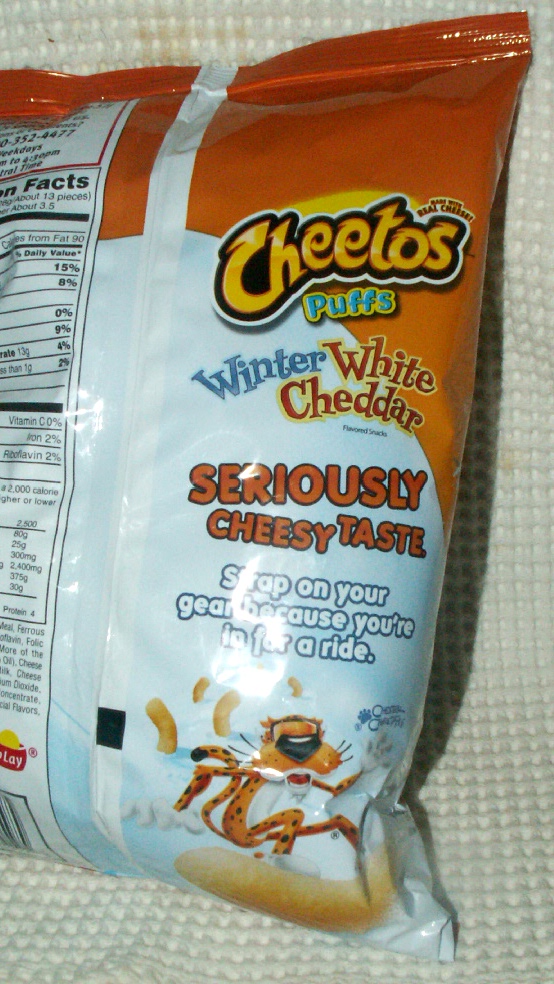 I'm assuming by "gear" he means your obesity-necessitated sleep apnea machine and by "ride" he means the ambulance ride you'll take when you forget to take your insulin. I'm just saying.
I just read on Frito-Lay's Snack Chat blog that Winter White Cheddar Puffs were only available through the end of December. I guess that shows you how long I've had them (in my defense they have not reached their expiration date yet) and also that you will not be able to eat them. I'm sorry. Egg on my face, eh?
Snack Chat also brought to me this interesting sentence: "The packaging even features Cheester Cheetah snowboarding, and they're made with real cheese." The "even" makes me feel like they're a little desperate. Wait, didn't I already explore this joke three paragraphs ago? It's disturbing to think that I've started mind-melding with Frito-Lay's marketing department.
The sentence is also worded in such a way that it reads like the two have something to do with each other. Snowboarding and cheese, together at last. Oh, and I just realized Frito-Lay blog writer "Katherine" spelled Chester's name wrong! With quality writers like Katherine, how am I not writing for Snack Chat already? Oh, it's probably because of unnecessarily scathing criticisms like these. Hm.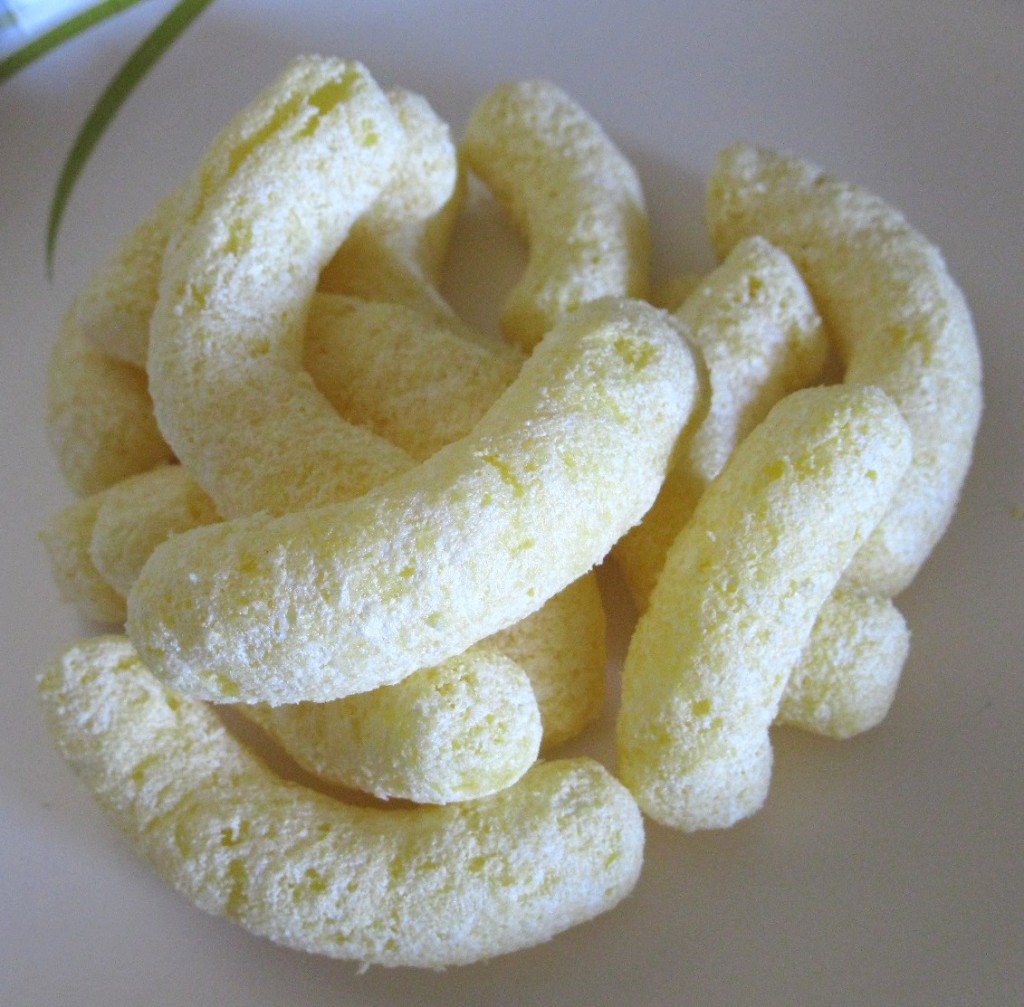 While the white cheddar on the Puffs is rather white, apparently they couldn't take a step further and bleach the enriched corn meal. This means the Puffs themselves are yellow, and they couldn't drench them in enough cheese seasoning to hide that fact. So the Winter White is more like Summer Sunset Pale Yellow. Ah well, at least you can still use them as a snowboard.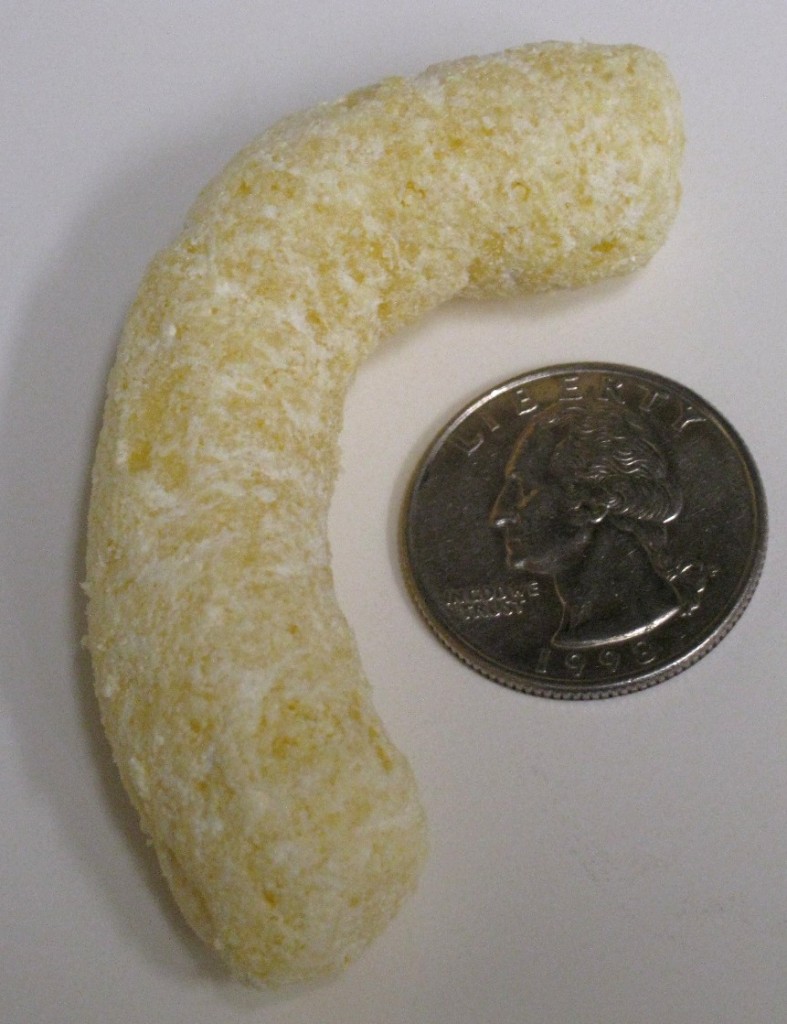 I've never had Cheetos Puffs before. I was surprised at how big they are. Any one of them could have replaced my index finger, if I wanted my index finger to always be crooked and Cheetos were medically approved to be used as finger transplants. One day, technology will catch up.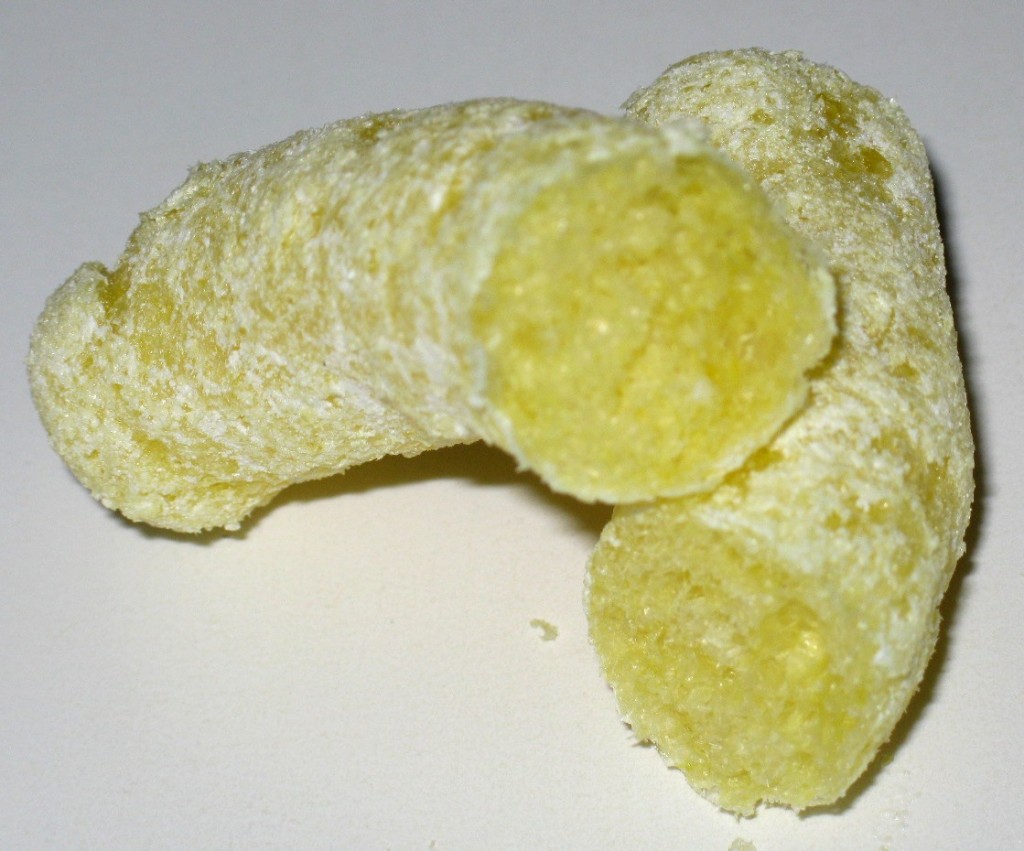 Cheetos Puffs are fluffy, crunchy and somewhat dense at the same time. They remind me a little bit of Planters Cheez Balls. The corn meal taste of Cheetos is definitely present, and the white cheddar powder compliments that flavor. I found myself going from "eat for review" to "see how I can fit a Puff into my mouth like I have a retainer" to "mindlessly munching while watching TV instead of writing review". At worst, that makes them inoffensive. At best, I seem to enjoy shoving giant Cheetos into my mouth.
Limited Winter Edition Cheetos Puffs Winter White Cheddar stands on a pretty weak gimmick, especially considering there's already a version of Cheetos White Cheddar Puffs out there with (allegedly) healthier and more "real" ingredients, but I like them anyway. I'm a sucker for limited edition products, even more so when they're trying to tie themselves to a holiday or season. Plus, you know, Chester Cheetah riding a Puff like a snowboard. You could pick up pretty much any white cheddar-flavored snack food and get the same flavor powder, but hey, why not have it on a Winter Puff? Oh, right, because they no longer exist. The texture of the Puff is interesting, although I wish they hadn't made them the size of my entire jaw. Will I Winter Puff again? Well, no, because I'm an asshole and waited too long to write this review, so now we all can't. But I may try the Natural White Cheddar Puffs just to see if the better ingredients add up to better flavor.
Score: 3.5 out of 5 Cheeeeeesters
Price: $1.29
Size: 3 1/4 oz. bag
Purchased at: Circle K
Nutritional Quirks: With the same serving size, Winter White Cheddar Puffs and Natural White Cheddar Puffs have the exact same amount of calories.  Natural has one less gram of fat.  Winter actually has 70 mg less sodium. So much for natural meaning healthier!