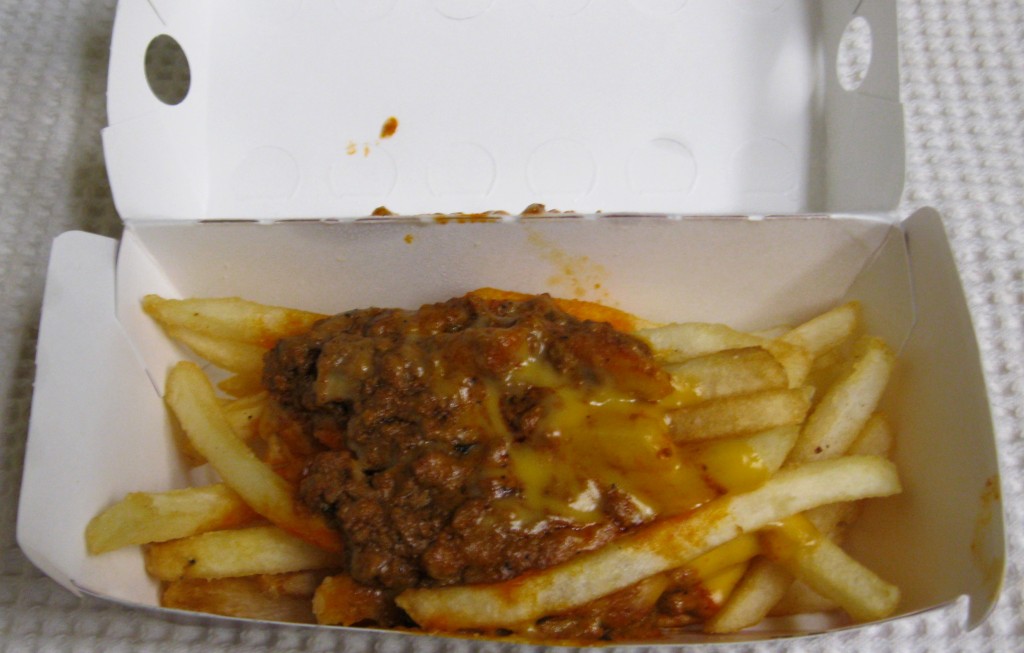 Jack in the Box revamped their french fries last year, which I reviewed over at The Impulsive Buy. I gave them a 7 out of 10, which some people objected to, but I don't even remember what they tasted like. People have strong opinions about fries, and they really want you to know those opinions. Fair enough. The point here is not that I possibly suck at judging fries, the point is that Jack in the Box has now put stuff on their fries. Namely, cheese sauce and chorizo. Chorizo! I do not believe I have ever seen a fast food restaurant that had anything with chorizo on or in it before. Kudos to Jack. In the competitive world of fast food one-upmanship, it's hard to find something unique.
There are Cheesy Fries and Chorizo Cheesy Fries available on the menu. I chose the latter because I figured I could tackle two birds with one stone. Interestingly, I've seen very little media coverage about these. No commercials, no emails…there's no promo on JitB's website, but the Cheesy Fries are in the menu section. No chorizo to be seen. The only real advertising I've seen is a big poster in the window of the restaurant itself. Just seems…odd.
Anyway. I love chorizo. I love chorizo even though it gives me terrible heartburn, every time. It's an abusive relationship, but chorizo always tells me baby, I'm sorry, it won't happen again. In the back of my mind I don't believe it, but I can't quit chorizo. So I was pretty excited to try these fries.
My husband was with me when I ordered the Chorizo Cheesy Fries, so he got an order, too. I opened mine up and was greeted with a sad box of fries with barely any chorizo on it. The other box fared a little better, so he made the ultimate sacrifice and let me have his box to photograph and eat. He's an honorable, courageous man. I'm organizing a 5k in his honor.
Even with the switch, there wasn't as much chorizo or cheese sauce as I would have liked. It may look like a fair amount in the picture, but it really wasn't. Look at all those naked outliers. I want my fries smothered and covered, and these fries were like, wearing a towel around their waists. Terrible analogy that I will not continue.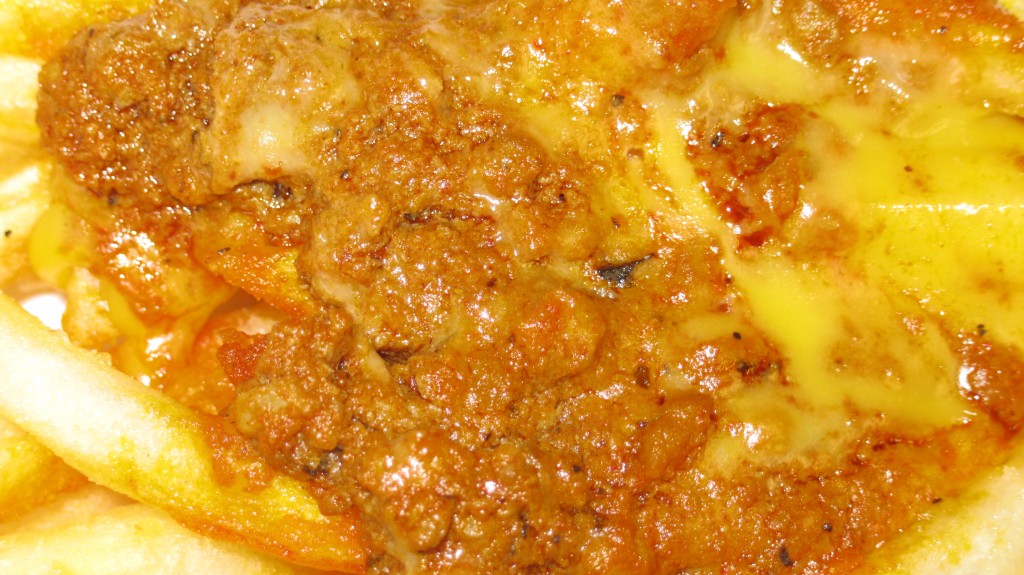 I know this picture looks disgusting. I know a lot of pictures I take of fast food look disgusting. But this one has an actual defense in that chorizo always kind of looks like a dog barfed up a bowl of chili. Don't judge a book by its cover, people. Chorizo has a really great personality and a great sense of humor. Your blind date with it will go fantastic, I'm just sure of it.
I was surprised by how authentic the chorizo tasted. I guess I've kind of gotten used to fast food that kind of tastes like real food. Taco Bell's ground beef kind of tastes like ground beef. McDonald's chicken nuggets kind of taste like real chicken. But this chorizo actually tasted like chorizo, with that delightful spicy sausage flavor. It was a pleasant surprise. It was also greasy as hell, but that's just the way chorizo is. And I wonder why I get heartburn.
Unfortunately, since there was so little cheese sauce and chorizo has a very strong flavor, the cheese sauce basically disappeared. That made me sad, because I really like JitB's Bacon Cheddar Potato Wedges, and I assume they used the same cheese sauce on these fries as they do on the wedges. Granted, the cheese sauce on the wedges isn't super flavorful, but they always pile it on and for some reason I really like it.
Overall, I enjoyed Jack in the Box's Chorizo Cheesy Fries. The fries were soggy, but that's to be expected, and that's why you get a fork. It was also really salty, but I dig that. It's the perfect drunk food, but I think I've established that I don't have to be drunk to enjoy that particular niche of edibles. I think if I get them again, I'll request double cheese and double chorizo, so that I can get the proper smothering (and extra heartburn) I was looking for. Hopefully, with a double cheese sauce, it will become a bigger player. The strong and authentic flavor of the chorizo helped me feel less sad about all those naked fries. I think Jack has the formula right, but the application wrong. A simple portion fix would really elevate Chorizo Cheesy Fries to the next level.
(Note: The Impulsive Buy also reviewed these fries AND the Cheesy Fries.)
Score: 3.5 out of 5 swigs of Mylanta
Price: $1.99
Size: 1 box
Purchased at: Jack in the Box #196
Nutritional Quirks: Since Chorizo Cheesy Fries aren't on Jack's website, I looked at the Cheesy Fries. With them already at 1,145 milligrams of sodium, I can't imagine what the chorizo would bring to the salt party. Have water nearby!