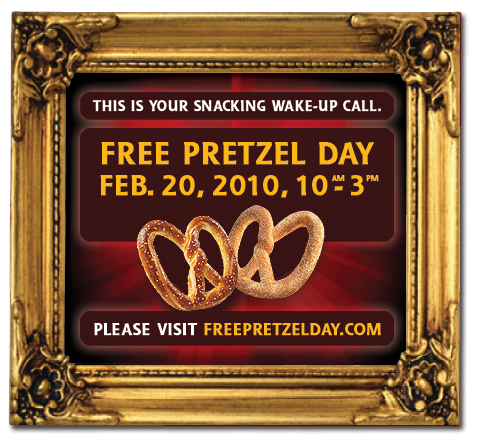 From Auntie's website:
"So eat a little later. No harm in that. Dinners can be reheated. After all, this isn't just some ordinary, been in the bag for who knows how long pretzel. No. This is fresh. This is warm. This is a taste unto itself."
Auntie Anne sure does make her pretzels sound delicious.  And they are, as anyone who has ever spent more than an hour in a mall knows.  So head down to your local Giant Building Full of Stores and Screaming Children and getcha self a free pretzel on Saturday, February 20, 2010 from 10am – 3pm.  Note: offer is good only on original or cinnamon sugar flavors.  Which is a shame, since the jalapeño pretzel is my favorite.  No word on if you get a free dip with your pretzel, but if you do, I recommend the Hot Salsa Cheese.  I just can't resist spicy, completely unnatural cheese dips.