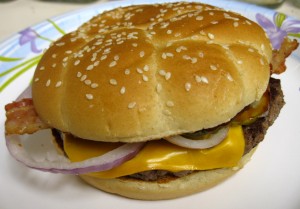 McDonald's has already introduced three other Angus burgers, and I have somehow managed to skip out on all of them. That's about to change, because they've just launched a fourth one, the Chipotle BBQ Bacon Angus, and I have it in my hungry little hands.
From the mouth of Ronald McDonald and his marketing team, "Make time for the bold taste of a third-pound* 100% Angus beef smothered in sensationally sweet 'n smoky Chipotle BBQ sauce, kicked up with crisp red onions, sliced pickles and two slices of American cheese, all on a toasted sesame seed bun."
For the sake of full disclosure, the asterisk leads to this message: "*weight before cooking at least 5.33 oz (151.1 gms). At participating McDonald's." Valuable information I'm sure you wanted to know.
I love chipotle. Chipotle is really hot right now (har har), which usually annoys me, because once a flavor gets hot it sneaks itself into every food possible. I wouldn't be surprised to see pomegranates on top of a hamburger at some point, since pomegranate is so in at the moment. I imagine marketing departments scrambling around, trying to figure out how to incorporate the latest fad flavor into every single item on the menu.
I just realized something. Fast food is a lot like fashion. That's creepy.
Anyway, I can't fault McDonald's for putting chipotle on a hamburger. My husband has been using chipotle in his hamburgers for years. Chipotle and meat go together great. I'm glad to see they're finally dating publicly. I even saw chipotle wearing hamburger's Letterman's jacket in home room the other day. They seemed happy together.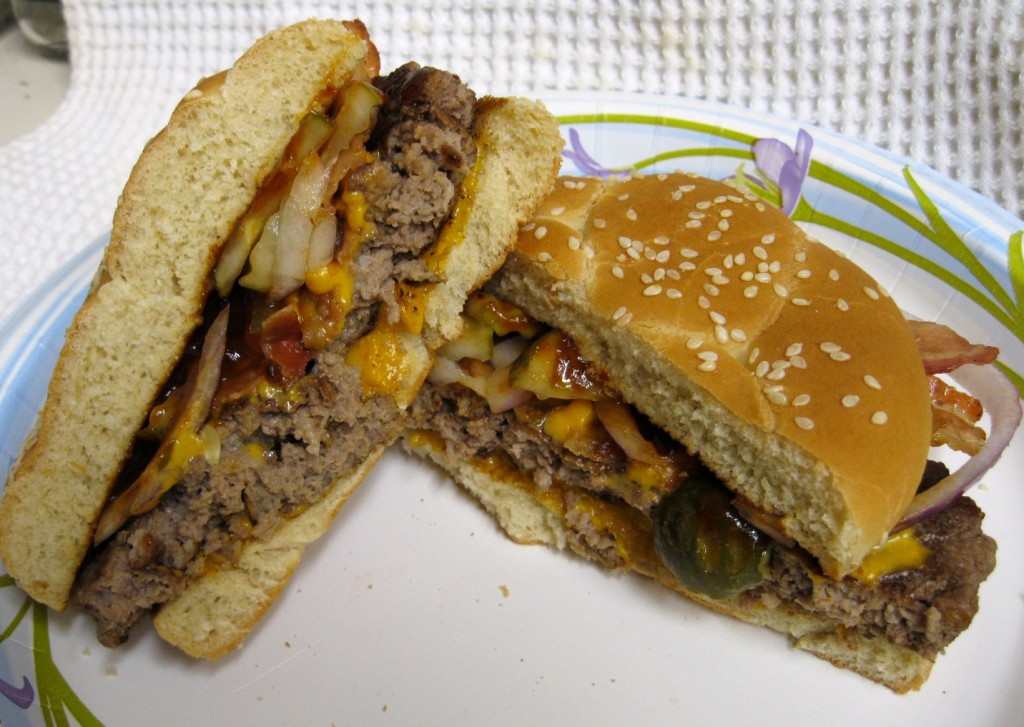 Let's start with the good: McDonald's Chipotle BBQ Bacon Angus is hefty. The Angus beef patty was large, juicy and flavorful, which was a surprise to me, compared to a regular McDonald's burger. The Angus really steps it up on quality and flavor. Also, the red onions were fresh and added a good crunch.
Sadly, those are about the only good things I can say about this burger. The BBQ sauce was okay, but there was nothing chipotle about it. Chipotle has a very distinct flavor – spicy, smokey goodness – and I worked hard, but just could not find it. Sure, there was some smokiness, but it was the kind that comes with BBQ sauce, not chipotle. If you'd blindfolded me and handed me the burger and asked me to describe it, I would have said it's a burger with BBQ sauce on it. The word chipotle would have never passed my lips.
Actually, I would have said it's a BBQ burger with Limp Bacon Syndrome. The bacon was plentiful, but it was the same sad little floppy strips you usually come across. I'll revise my blindfolded evaluation one more time: I would have said it's a BBQ burger with Limp Bacon Syndrome and a strangely overwhelming amount of pickles. Yes, that's right – the pickles. They were the most prominent flavor on the burger. I thought maybe it was just a fluke, so I asked my husband, who had also ordered a Chipotle BBQ Bacon Angus. He said he had been thinking the exact same thing. I didn't count the amount of pickles on the burger, but I should have. Perhaps it had the standard amount of pickles and they just didn't jive with the sauce, which made their flavor stand out. I don't know what it was. All I know is pickles, pickles everywhere. I don't think I've ever had such a pickle problem with a burger before, but there you have it.
I was really disappointed in McDonald's Chipotle BBQ Bacon Angus. I loved the hamburger patty and will probably try one of the three other Angus burgers as a result, but when you have something in the name that is impossible to detect (at least to me), sad bacon on what is supposed to be a high(er)-quality burger, and strangely overpowering pickles, you don't have a successful burger concept. Especially not for the price. I expected good things from the Chipotle BBQ Bacon Angus, and I didn't get what I wanted. I have to end this review now, because I have to go McDonald's and throw an inappropriate tantrum in the middle of their restaurant.
(Note: The Impulsive Buy, GrubGrade, We Rate Stuff and An Immovable Feast also reviewed this burger.)
Score: 2 out of 5 so many pickles
Price: $3.99
Size: At least 5.33 oz. before cooking
Purchased at: McDonald's #1[number didn't print on receipt]427
Nutritional Quirks: Pickles provide 10 mg of calcium.  Who knew?