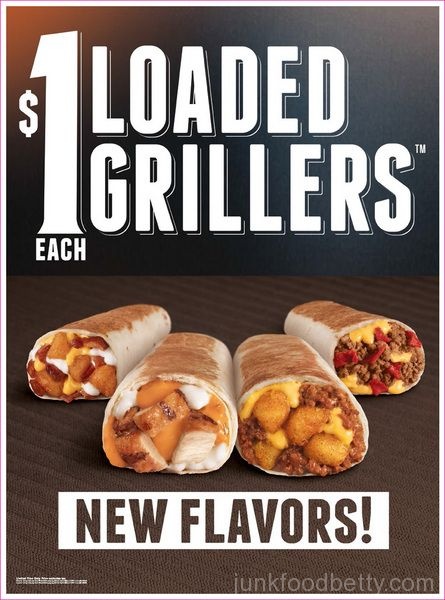 Starting on January 23rd, joining the two already-existing Loaded Grillers (Beefy Nacho and Loaded Potato) are two new Loaded Grillers designed to taste like popular appetizers all rolled up in a tortilla.
The first is the Chipotle Ranch Chicken Loaded Griller, "Taco Bell's take on a spicy chicken wing with ranch dip, and it includes grilled chicken, kicked-up chipotle ranch sauce and cool sour cream, all wrapped up and grilled for maximum portability."
The second is the Chili Cheese Fries Loaded Griller, "Our version of loaded chili cheese fries, featuring savory chili, crispy potato bites and warm nacho cheese sauce, all wrapped in a tortilla and grilled."
I'm honestly intrigued by both of these new offerings, although it sounds more like they should be calling them Stoner Grillers as opposed to Loaded Grillers.
I don't know what price Loaded Grillers usually go for, but for a limited time all four offerings will be sold for $1 all day long, as opposed to just during "Happier Hour" (2-5pm).